After listening to the latest Travelzoo (NASDAQ:TZOO) earnings conference call, we feel that the CEO and CFO are not effectively communicating with analysts. They clearly have a vision for the company but have difficulty gaining acceptance by an impatient investor base. They do know how to effectively manage their cash flow to produce earnings, perhaps at the cost of potentially higher growth.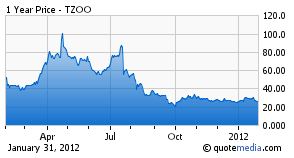 It is clear to us that management is constrained by its cash resources which their competitors abundantly have. This is the result of their majority shareholder's fixation on control of the company at the expense of constraining expansion. This could also be contributing to the large short-interest in TZOO.
With the combination of AOL, Inc. (NYSE:AOL), as we have suggested recently, we believe this management team could significantly grow their business in the bigger "sandbox" without the use of debt and return cash to their investor base by selling non-core assets.
Another observation we made is the lack of information of licensing income from the Asian market. It could be where pure profits are dropping to the bottom line for the company and is being overlooked as a real sweet spot for the company without the need for capex or additional headcount.
Recent price action in TZOO clearly shows that an earnings beat can be bittersweet if you can't articulate your growth plan. We believe the AOL combination would solve this problem.
Management must present a credible growth plan which investors believe for Travelzoo to achieve its potential.
We created ChaPaVe Partners and the Tactical Tender Offer to align minority shareholders' interests with controlling shareholders' interests. We know these companies are often very independent and therefore often overlooked by activist investors. By reasonably showing a path to a compelling opportunity for all shareholders, we look forward to a transaction to unleash real value for the both AOL and TZOO. We invite private equity firms and other long term investors to contact us to participate in this effort.
Disclosure: I am long TZOO.