UTStarcom (NASDAQ:UTSI) is one of the leading providers of Interactive Protocol (NYSE:IP)-based network solutions in Interactive (iD)TV, IPTV, Internet TV and Broadband for cable and telecom operators. The company was founded in 1991 and listed on the NASDAQ in 2000, the company has its operational headquarters in Beijing, China and research and development operations in China and India.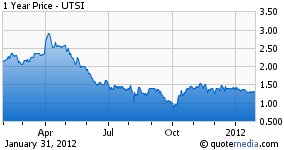 What are UTStarcom main products and services?
The company's focus is to design and sell IP-based telecommunications infrastructure products including the company's primary product suite of Internet Protocol TV (IPTV), and broadband solutions along with the ongoing services relating to the installation, operation and maintenance of these products. Collectively the company's range of solutions is designed to expand and modernize telecommunications networks through smooth network system integration, lower operating costs and increased broadband access. The company also provides the carriers with increased revenue opportunities by enhancing their subscribers' user experience. The majority of the company's sales have been to service providers in China and India. The company also sells to service providers in selective markets in Asia, Latin America and Europe.
The company's products are designed to integrate multiple functionalities and deliver multiple revenue generating services on a single technology platform, reduce network complexity and enable a migration to a new generation of network technologies. The company's multimedia communication solutions enable operators to provide IPTV, iDTV, internet TV, mobile TV and other industrial applications to their end users. The company's broadband solutions are designed to make carrier deployments, maintenance and upgrades both economical and efficient, allowing operators to earn a high return on their investment while reducing subscriber churn and increasing average revenue per subscriber.
The company's multimedia communications products include IPTV, mSwitch™ and Personal Access System (PAS) solutions. The company's broadband Infrastructure products include digital subscriber line products, multi service access node products and fiber optics products as well as corresponding service offerings, including technical support services.
Third Quarter 2011 Highlights
On November 9th 2011 the company reported financial results for the third quarter ended September 30th 2011.
Total revenues increased 35.7% year-over-year to $83.3 million in the third quarter of 2011 from $61.4 million for the corresponding period of 2010.
Net income attributable to UTStarcom's shareholders was $8.0 million, or basic earnings per share of $0.05, in the third quarter of 2011, compared to a net loss of $17.2 million, or basic loss per share of $0.13, for the corresponding period of 2010.
The company's cash, cash equivalents and short-term investments were $305.9 million as of September 30, 2011.
Cash used in financing activities for the third quarter of 2011 was $1.5 million for repurchasing shares of common stock of the company.
Sustained profitability remains as one of the principal goals for the company," said UTStarcom President and Chief Executive Officer Jack Lu. "Our cost restructuring efforts continue to show encouraging results as we recorded our second consecutive profitable quarter. In the third quarter of 2011, we announced the completion of our first end-to-end Internet TV solution for a cable TV network customer and launched five new products at the Beijing Telecommunications EXPO. Customers will look to us because of our ability to develop customized solutions that will enhance the subscriber experience. As we look to the quarters ahead, demand for our solutions and services is healthy and our focus will be on execution and expanding our revenue contribution from higher value-added solutions.
Business Outlook
The company reiterates the following outlook for fiscal year 2011:
Total revenues to be in the range of $300.0 million to $320.0 million, which includes PAS deferred revenue through the end of 2011 at the rate of $23.0 million per quarter.
Annualized operating expenses to be less than $100.0 million.
Break even in 2011 on a full-year basis.
UTStarcom Completes Cash Balance Confirmation Report
On November 16th 2011 the company announced the formal completion of the company's cash balance confirmation report.
UTStarcom's Audit Committee carried out an independent cash confirmation procedure by obtaining written confirmations from the seventeen domestic banks that the company holds cash and cash equivalents on deposit. By November 8, 2011, all seventeen banks had responded to confirm that, as of September 30, 2011, the company's cash balances in China totaled RMB 810.9 million, and US$10.6 million.
The majority of the banks the company deals with in China are leading state-owned banks. The company's cash balances are predominantly in savings and checking accounts. The confirmation process is a part of UTStarcom's annual year-end audit procedure.
As of September 30, 2011, UTStarcom's total balance of cash, cash equivalents, and short-term investments totaled US$305.9 million, with zero debt. 40% of the company's total cash is deposited in Chinese renminbi, 32% is deposited in U.S. dollars, and 20% in Japanese yen.
UTStarcom Announces Company Stock Repurchase Program of Up to $20 Million and Management Stock Repurchase Program of Up to $0.5 Million
On August 15, 2011 the company announced that its board of directors has approved a stock repurchase program of up to $20 million of its outstanding stock over the next 12 months. The stock repurchase program was approved by UTStarcom's board of directors on August 12, 2011, and became effective on August 15, 2011, for twelve months, through August 15, 2012.
In addition, UTStarcom's management team, which includes executive officers and senior executives of the company, will purchase up to $0.5 million of the UTStarcom's outstanding stock using personal funds over the next 12 months.
Conclusion
I recommend buying this stock under $1.96. The company has net cash $1.96 per share.
Disclosure: I am long UTSI.