In her 1977 essay, Holy Water, Joan Didion said the following in reference to decisions made about the allocation and movement of water for the residents of California:
"They make this morning decision according to supply and demand, which is simple in theory but rather more complicated in practice."
Welcome to the vexing world of dry bulk shipping, where the collective wisdom of owners, investors, brokers, private equity and journalists has failed to present a reasonable, effective manner in which to calculate and balance the supply/demand variables of this sector. After centuries of practice, one would imagine we'd all have a better handle on it.
Thus far in 2015, bulkers are being scrapped at record levels. Earlier this year, rates had finally gotten so preposterously low that shipowners were compelled to accelerate scrapping to reduce the global fleet.
The oversupply was exacerbated by weakening demand. Things had gotten so bad, some freight rates were below operating expenses. The increased ship breaking (seen below), or scrapping, seemed to be having a positive impact on the outlook for this sector, that is until fears of contagion from both Greece and China have thrown a wet rag on optimism.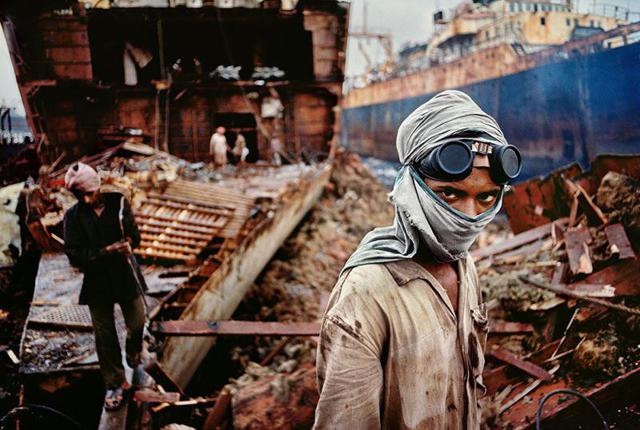 Image: Beetles and Huxley
The Numbers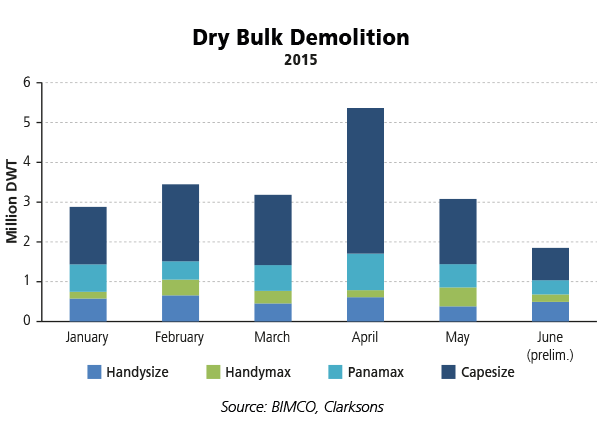 Image: BIMCO
A recent BIMCO report stated 52 cape-size vessels totaling 8.7M DWT were scrapped in the first four months of this year. An analyst at BIMCO said the fleet growth has actually been negative. That's something observers of this sector aren't accustomed to seeing. VesselsValue.com has provided this chart to highlight which countries have been leading the deconstruction of the order book: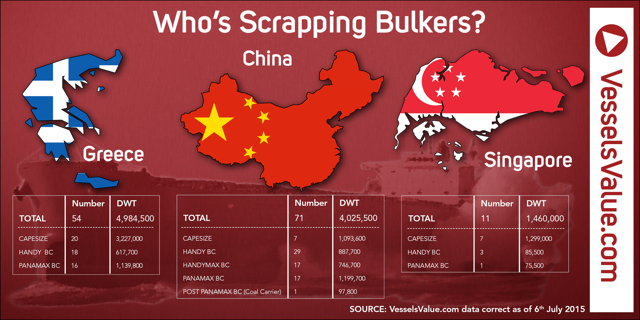 Image: VesselsValue.com
The predicament owners find themselves in has been created primarily by two factors: the surplus of cheap steel dumped on the market by the Chinese and the glut of ships sent to yards for scrapping has caused a drastic reduction in the scrap rates. Shipowners have traditionally worked cycles in their favor, scrapping ships when scrap prices were higher and freight rates were lower. But this year has put the owners in a quandary of sorts. They know the fleet must be reduced, but they can't get much for scrapping and have also been forced to scrap vessels that are younger than they'd prefer.
How much of an impact this will have on earnings will be evident as we close out Q2 and Q3. My guess is the lower cash flow from reduced scrap prices will be less urgent than the hand-wringing by owners would suggest. This chart from Alibra Shipping shows more rates moving sideways than downward, a small consolation, but better than the alternative. As those arrows turn north, the scrap story will lose relevance, in this context.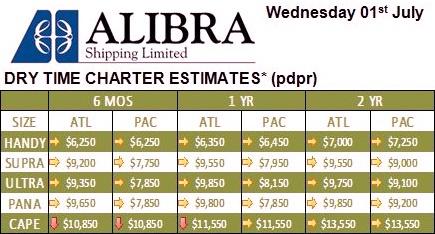 Image: Alibra Shipping
The trough in dry cargo rates seems, by most accounts, to be near an end. Not that it will shoot upward, but the necropsy shows signs of life. Though scrapping hasn't been profitable, it has helped the situation, along with second-hand purchases and reduced newbuild orders. Which brings us to the question; which companies are likely to come out stronger when this finally all turns positive? My sources tell me the two companies with the best access to capital are Navios (the Group) led by Navios Maritime Holdings (NYSE:NM) and Scorpio Bulkers (NYSE:SALT). I'm also watching Safe Bulkers (NYSE:SB), a favorite among some readers.
In the spirit of the Japanese proverb, "None of us is as smart as all of us." It would be interesting to read your comments and picks. Which bulk carriers are the strongest going forward and deserving of our investment funds?
Perhaps we should avoid the sector all together. A host of reports show the tanker sector is booming. I think the price of crude will go down before it recovers to more predictable levels. I've long ago given up on the prognostication business, but for now, low commodity prices should keep those tankers full and steaming.
Meantime, I like the management at both Scorpio and Navios. The satisfying Navios dividend appears safe through 2015 and likely 2016. Both Ms. Frangou and Mr. Lauro, the CEOs of Navios and Scorpio, respectively, are shrewd, thoughtful and have good teams around them.
Note: VesselsValue updates its records nightly. Specifics on charts and valuations posted here or elsewhere may change day to day.
Disclosure: I am/we are long NM.
I wrote this article myself, and it expresses my own opinions. I am not receiving compensation for it (other than from Seeking Alpha). I have no business relationship with any company whose stock is mentioned in this article.