Astronics Corporation (NASDAQ:ATRO) is a supplier of advanced lighting and electronics systems to the aerospace and defense industries. Some of the company's notable products include aircraft lighting, aircraft safety, enhanced vision systems, testing systems, antenna systems, and cabin power systems. The company has designing and manufacturing operations that can be broken down into 2 categories: aerospace and testing systems. In the aerospace sector, Astronics is unique in that it is one of the only companies that deals with all of the original equipment manufacturers who construct aircrafts in addition to the majority of airlines around the world. This market presence gives ATRO the advantage of low customer acquisition costs, which in combination with product area interest, is a key driver for organic revenue growth. In the testing sector, Astronics has expertise in both hardware and software, delivering automated test equipment to the commercial and defense markets.
ATRO is a company that has been doing everything right and consequentially has carved itself a profitable niche. It has all the makings of an under-covered stock poised to breakout and rightfully has what investors have termed the "small-cap advantage". Firstly it is an intermediary company, so end consumers have little to no clue about the Astronics brand or that the lighting, safety, and in-seat power systems in aircrafts are the company's products. In addition, there are only 4 analysts covering the stock, and stocks with little coverage have historically been undervalued compared to their peers with higher coverage. Along the same lines, there is only 67% institutional ownership, which is another signal that the stock is too small for large funds and institutional investors to invest in. Lastly, insiders hold 12.4% of the shares, which is always a bonus because the management team is incentivized to return value to shareholders. ATRO, as a defensive stock with a beta of 0.6, gives investors the uncommon combination of small-cap growth and low market correlation.
Revenue Streams
Astronic's revenue streams can be broken up into its aerospace segment that makes up approximately 75% of sales and its test systems segment that makes up the remaining 25%. The test systems segment includes test equipment and instruments, weapons diagnostic tests, and simulation systems. Its aerospace segment includes electrical power and motion products, lighting and safety products, avionics, and aircraft structures. As seen in the charts below, ATRO's commercial transport division comprising of lighting & safety and electric power & motion products, is its highest grossing division. Its key products are in-seat power, airframe power, seat actuation, aircraft lighting, and passenger service units.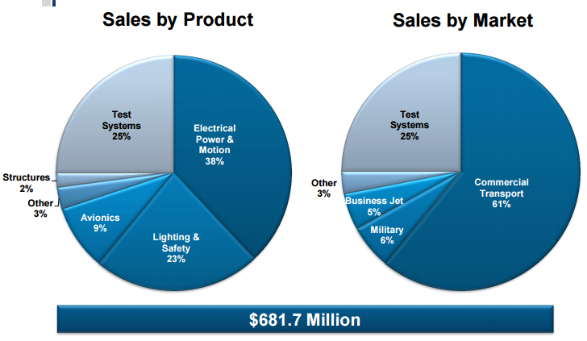 Source: Company
Aerospace Segment
| | | | |
| --- | --- | --- | --- |
| (in thousands) | 2014 | 2013 | 2012 |
| Sales | 494,747 | 330,530 | 254,955 |
| Operating Profit | 79,753 | 55,200 | 44,137 |
| Operating Margin | 16.1% | 16.7% | 17.3% |
Aerospace Sales by Product Line
| | | | |
| --- | --- | --- | --- |
| (in thousands) | 2014 | 2013 | 2012 |
| Electrical Power & Motion | 254,455 | 188,221 | 160,136 |
| Lighting & Safety | 148,212 | 102,233 | 69,597 |
| Avionics | 57,879 | 18,733 | 15,261 |
| Structures | 14,594 | 6,331 | - |
| Other | 19,607 | 15,012 | 9,961 |
ATRO's largest business segment is its aerospace segment, which set new records in sales, bookings, and backlog during Q1. When breaking down the income statement into the separate aerospace and testing segments, it is clear that aerospace has been delivering most of the bottom line profits. Not only has it seen significant year over year growth, but operating margins have also been holding steady even while the company is busy assimilating acquisitions. Furthermore, when breaking down the Aerospace segment into its product lines, it is important to note that revenues from each product line have been increasing healthily since 2012. Approximately 16% of sales growth was organic, and the rest was intentionally manufactured through strategic acquisitions that have been successful thus far as indicated by operating margins remaining at pre-acquisition levels even while overall revenue multiplies. Looking at only the past few years can be misleading, however. The airlines industry has been notoriously cyclical and any slowdown in plane building arising from a slowing economy can definitely result in negative headwinds for ATRO's main revenue stream.
Test Systems Segment
| | | | |
| --- | --- | --- | --- |
| (in thousands) | 2014 | 2013 | 2012 |
| Sales | 166,292 | 9,407 | 11,491 |
| Operating Profit | 12,401 | (3,756) | (4,985) |
| Operating Margin | 7.4% | (37.2)% | (43.4)% |
Sales by Market
| | | | |
| --- | --- | --- | --- |
| (in thousands) | 2014 | 2013 | 2012 |
| Commercial Electronics | 130,859 | - | - |
| Military | 35,433 | 9,407 | 11,491 |
When looking at the test systems segment, the increase in sales from 2013 to 2014 immediately jumps out. These incremental sales were driven by the acquisition of ATS, which provided $159.2 million in revenues for 2014 that previously weren't there. If you look at sales from 2013 and 2012, you'll notice that it is completely derived from the military market and operating margins were hugely negative. The ATS acquisition not only gave ATRO exposure to the commercial electronics industry, but it also boosted sales in the military sector and pumped up operating margins for the segment overall. While this acquisition provided much needed growth for this segment, forecasts for 2015 test system sales are in the range of $130 million to $160 million, which would be a pullback from 2014 sales. This indicates that the segment doesn't have the capacity for internal growth and might rely on further M&A deals to expand.
When compared to the aerospace portion of the company, the test systems segment does not gross as much nor does it have as strong of margins. Some of this can be attributed to greater headwinds from military spending, which is hugely variable depending on political proceedings and legislation. In addition, there has recently been bipartisan legislation to cut defense spending, further compromising this sector. Regardless, management doesn't see this sector as the key driver for future growth, viewing it rather as a stable cash generator and buffer to its more volatile aerospace segment.
Growth Outlook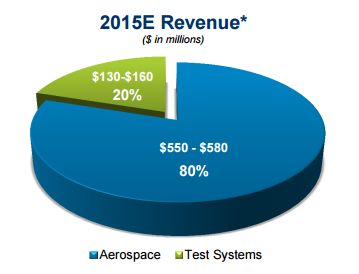 Going forward, Astronics looks to focus more on cultivating its higher-grossing and higher-efficiency aerospace segment. As seen in the pie chart above, this estimated 80/20 split for 2015 is 5% more weighted in aerospace than the 75/25 split for 2014. ATRO can grow its aerospace segment revenues in a couple ways, either through increasing the amount of equipment per aircraft or increasing the number of aircrafts being outfitted with the company's products. They are successfully doing both. The overall ship set content has historically varied around $10,000 per aircraft, but through their strategic acquisitions and burgeoning growth, they forecast ship set content to continually grow to reach between $100,000 and $500,000 per ship, which is 10x to 50x their current ship content.
The number of aircrafts equipped has been on a tear since 2002 and is still forecasted to grow through 2023. Looking at the graph below, Astronics has delivered products to an increasing number of commercial transport vehicles-from 600 in 2002 to almost 1400 in 2014. The ratio of heavy to light/medium aircrafts outfitted has steadily increased since 2009, which positively affects the top line since heavy vehicles require larger product volume than light vehicles. Furthermore the business jet segment, which saw heavy drop-off in demand throughout the recession and immediately afterwards, looks to ramp up production back to pre-recession levels as economic activity and demand for consumer discretionary luxury items gets back on track. As the graph shows, production has been on an upward trajectory since 2012 and is projected to keep growing at this pace.
Outlook for Commercial Transport Vehicles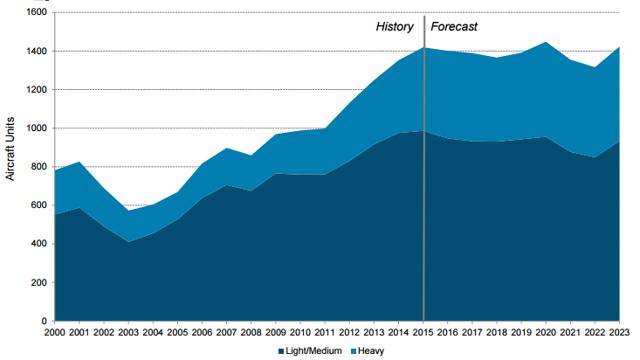 Outlook for Busines Jets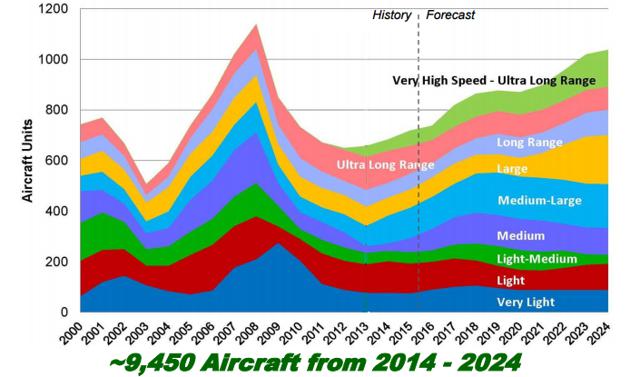 Recent macroeconomic trends also benefit ATRO's aerospace division; global passenger air traffic growth was 5.2% for 2013, 5.9% for 2014, and an estimated 7% for 2015. In addition, global airline net profits doubled from $6.1 billion to $12.9 billion between 2012 and 2013, and grew another healthy $6 million to $18.7 billion for 2014. This was due to a combination of lower oil prices that flowed directly to airlines' bottom line and an improved economy, which is highly correlated with demand for transportation and air travel.
With the drop in jet fuel prices this past year, the airlines industry has seen great profitability and the aerospace industry has tagged along for the ride. Demand for new commercial jets is fueled by airline profits in combination with the need to replace aging planes-the average fleet age of Delta (NYSE:DAL) is 16.9 years, United Airlines (NYSE:UAL) is 13.6 years, and Allegiant Travel (NASDAQ:ALGT) is 22 years. Orders for Boeing (NYSE:BA) and Airbus set records in 2014 and backlogs contain more than 8 years of production. This trend is expected to continue throughout 2015 as a stable economy and revitalized airline sector prop up demand. Since Boeing is ATRO's largest customer-purchasing $235,000 in content for the Boeing 777 and $100,000 in content for the Boeing 737-recent trends in combination with an 8 year backlog gives ATRO a consistent stream of revenues. ATRO's products aren't only in Boeing aircrafts though. They can be found in a diverse group of aircrafts ranging from high-end jets to commercial airliners to military helicopters. This list includes the Airbus A380, Airbus 350, Pilatus PC-24, UH-60 Blackhawk, V-22 Osprey, among others and is expanding quarter to quarter.
Q1 Results
Revenue for the quarter was $161.6 million, up 15% over Q1 last year and if you take away acquisition growth, revenues were still up 10%. Net income was 6.6% of sales and diluted EPS was $0.47 compared to $0.33 a year ago. The aerospace segment was up 16% with record revenues of $142 million and made up 88% of total business. The largest product line, the electrical power & motion segment, was up 5.7% to $70 million.
The Q1 numbers were either higher than consensus estimates or were in line. However, when comparing the Q1 numbers to Q4 of 2014, there are some trends that look disturbing at first glance. For example, in Q4 net income was 11.1% of sales compared to the 6.6% of this quarter, and gross revenue was down 2.7% this quarter compared to Q4. However, in the earnings call, CEO Gundermann diffused investor fears by attributing the decline to the much smaller tax burden of the last quarter due to a R&D tax credit of $3.5 million. In addition, ATRO had a write-down that led to a pre-tax benefit of $4.5 million last quarter. The combination of these two blurred the Q4 financial results and more than made up for the key differences between the discrepancies between last quarter and this quarter.
The most important takeaway from the Q1 results is perhaps the backlog, which was a record $378 million. This is due to the strong level of bookings in the past two quarters-$158 million and $235 million. In addition, the largest product lines all saw substantial increases compared to Q1 of 2014. In-seat power sales were up 13% to $59.7 million, Electrical Power & Motion was up 5.7% to $70 million, Lighting & Safety was up 20% to $42.1 million, and Avionics was up 36% to $17.4 million. As the product lines making up the bulk of net income, Gundermann has reaffirmed that these products equipped on commercial transport vehicles will be the key drivers for the next two quarters.
On the release of the earnings call on May 11th, the stock dropped almost 5% to $68.73 and has only regained modestly since then. Investors misinterpreted first quarter results, focusing on the fact that revenues were lower than last quarter without taking into account the explanatory accounting details. Furthermore, all financials landed within their expected ranges. Future guidance looks strong as the company reinforced their 2015 revenue estimates, and Q3 in particular is estimated to hit a new record.
Financials
With a trailing PE of 27.3 and a forward PE of 20.5, ATRO is growing into its valuation. Furthermore, the forward PE is lower than the S&P's average of 22.6, which is impressive considering that ATRO is a fast-growing small-cap company. ATRO has a long-term growth forecast of 38%, which implies a forward PEG of 0.5 and a PEG of 0.7 even if earnings don't grow. Year-over-year revenue growth is also the highest within the aerospace & defense Industry. Looking at the graph below, gross margins stumbled during the 2008 recession but have been back up to above 25% amidst the company's growth phase, a strong indicator that the company isn't sacrificing efficiency as it continues to seek expansion opportunities.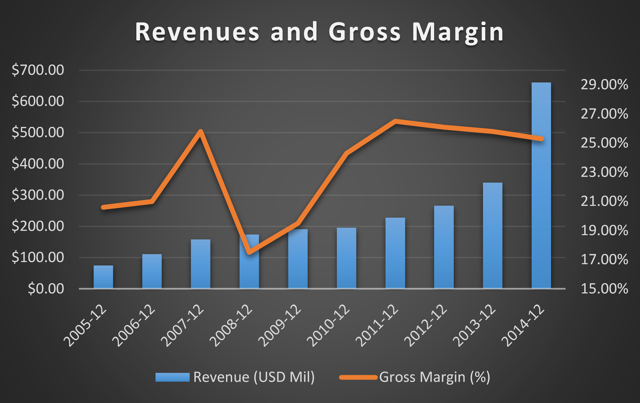 Source: Morningstar
Since ATRO has a significant amount of debt on its balance sheet, it is important to also look at its EV/EBITDA because this ratio takes into account company debt that the P/E ratio doesn't. The company has an EV/EBITDA ratio of 14.03, which is higher than the aerospace/defense industry average of 11.23, but we believe ATRO will grow into this valuation as well. The management team purposefully saddled itself with this debt before interest rate hikes to fund their M&A growth strategy as cheaply as possible. The company's capital structure is sound even with a 44.1% debt-to-capital ratio; interest coverage has been higher than the industry average for the last 5 years. This is spectacular considering the number and size of recent acquisitions, including Peco for $136 million, AeroSat for $12 million, PGA Electronic for $31 million, and EADS N.A. for $69 million. Looking at the charts below, it is clear that 2014 was an explosive year for the company. ATRO is positioning itself for the long haul, as it focuses on bookings, the backlog, and reinvesting earnings into its expansion plans.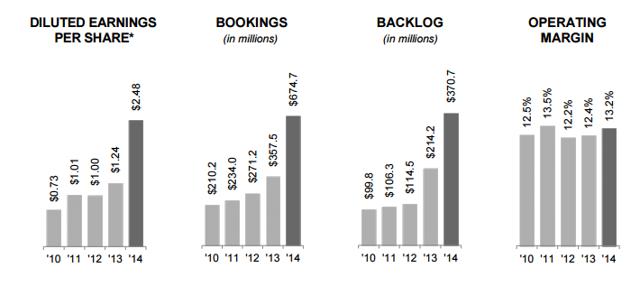 Source: Company
The Bottom Line
Astronics is a nimble, fast growing company that is rapidly consuming market share in the aerospace & defense supplier sector through both tactical acquisitions as well as robust organic growth. The company's stellar management has kept gross and net margins in line even while revenues have skyrocketed year over year since 2005. ATRO continually plowing its cash into these opportunities indicates to investors that the company views its internal growth prospects as yielding greater returns than any alternative strategies, which is good news for all of us. Its robust balance sheet and income statement attest to that. For all the reasons mentioned here, it is a good time to long ATRO.
Disclosure: I/we have no positions in any stocks mentioned, and no plans to initiate any positions within the next 72 hours.
I wrote this article myself, and it expresses my own opinions. I am not receiving compensation for it (other than from Seeking Alpha). I have no business relationship with any company whose stock is mentioned in this article.