With it's corporate headquarters based in Taylor, Michigan, Masco Corporation (NYSE: MAS) is one of the world's top manufacturers of branded building products, as well as a leading provider of services that include the installation of insulation and other construction products.
Currently trading around $23 a share on the NYSE and a market capitalization of $8 billion, with a price target of $30 I believe MAS could appreciate 30% (not including dividends) by the end of 2016.
Investment Summary:
Masco is one of the largest manufacturers of brand name consumer products for home improvement and new construction markets in the United States. A majority of it's revenues are derived from the sale of kitchen and bath cabinets, faucets, plumbing supplies and architectural coatings. MAS has gained massive market share over the years through an aggressive acquisition program but since 2003 has shifted to a strategy that has focused more on internal growth with an significant focus on ROIC and cash flow. Following the implementation of this new focus on internal growth, MAS began a series of divestitures of non core businesses that generated approximately $338,000,000 in net proceeds between 2006-08. In addition to divesting non-core assets, MAS also hasn't been afraid to shutter under-performing businesses when no beneficial suitor is identified. On September 30, 2014, MAS announced a plan to spin-off 100% of its Installation and Other Services businesses into an independent, publicly-traded company to be named TopBuild (NYSEMKT:BLD) through a tax-free distribution to shareholders. The spin-off was approved in early June and began "regular-way" trading on July 1, 2015.
Source: Deutsche Bank Global Industrials and Basic Materials Conference
Industry Outlook:
In general, I have a positive outlook for the Home Construction / Building Products industry. Following the complete collapse of the housing industry in 2008-09, I am confident that this is one of the few industries that has a solid risk/reward dynamic for well run companies. The National Association of Realtors is forecasting increases in existing home sales of 7% in 2015. If mortgage rates remain at or near current levels, this along with an uptick in labor markets can provide the force necessary to drive MAS revenues higher.
Source:National Association of Reators.
Valuation:
Relative to industry competitors, MAS is trading at a much lower PE Ratio that it's peers.
click to enlarge)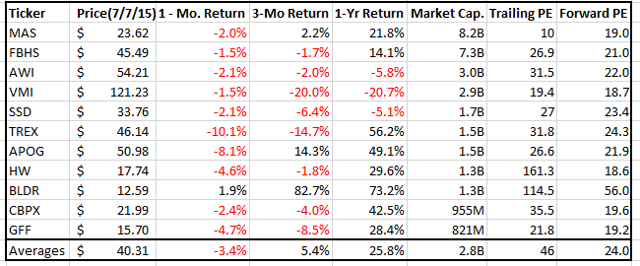 As showcased below, with a 5 year average trailing PE of 34.6 and a 5 year average Forward PE of 31.5, MAS is currently trading at a 71% and 40% discount to its 5 year average, respectively.
click to enlarge)

Source:Reuters.com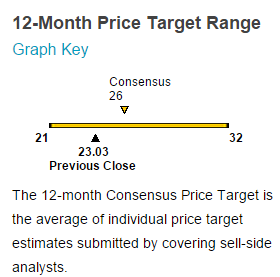 Source:Nasdaq.com
With a current price of about $23 per share and consensus analyst estimates listing a price target of $26, investors can expect a return of around 13% (excluding dividends) by year end if earnings match analysts projections.
Risk Factors:
In 2014 MAS derived over 27% of sales from Home Depot (NYSE:HD). In general it's always worrisome when a company relies on one strategic partner for an out-sized portion of their sales. Additionally, an increase in mortgage rates in excess of analyst projections can cause consumers to refrain from purchasing new homes or refinancing to fund home improvement projects.
Summary:
Since 2003, Masco's focus on optimizing internal growth has resulted in solid company performance year after year. As shown in the data above, I believe MAS is significantly undervalued relative to the industry it resides in. As rates stay low and the housing market continues to improve, I believe MAS is strategically positioned to deliver significant value to shareholders. Investors buying shares of MAS today at around $23 per share have the opportunity to realize approximately a 30% return in just over one year.
Disclosure: I/we have no positions in any stocks mentioned, and no plans to initiate any positions within the next 72 hours.
I wrote this article myself, and it expresses my own opinions. I am not receiving compensation for it (other than from Seeking Alpha). I have no business relationship with any company whose stock is mentioned in this article.