While I've had some success executing strategies like options strangles around earnings reports, I found that it's just not for me.
I experience a serious rush the morning, and sometimes week, after results, as I work to close at least one end of the trade for an overall profit. And, as fellow Seeking Alpha contributor Robert Weinstein explains, that rush is not good. It's more trouble than it's worth, at least for me. I'll stick to the basic options strategies I'm most comfortable with.
This does not mean, however, that you cannot make a trade or open a position in a stock in association with a company's earnings report. In this article, I consider several instances that might present opportunity.
Amazon.com (NASDAQ:AMZN). People love to hammer me for my take on Amazon. I don't quite understand this because, if you spend the time looking at my recent article history on the company, I have preached staying away from AMZN for the time being.
AAPL represents the trade over this time frame, not AMZN. As much as I like Amazon, I do not want to fight the bearish sentiment that overhangs the stock. While the company could very well set off the short squeeze of a lifetime with surprising Q4 numbers, the margin and EPS drag lots of people expect could come. AMZN remains a long-term play.
As I noted several times in January, however, the time to go long AMZN will come. After Tuesday's allegedly bad news-good news Q4 report, I'm not quite sure that time is here, but it looms large.
I am going to let you in on a little secret. Amazon's management team could care less what happens to the stock right now and, to a slightly lesser extent, they could care less about the contents of the last year's worth of earnings reports. Consider the following Seeking Alpha Market Current that hit during Amazon's conference call:
Do AMZN bears think it costs nothing to heavily reinvest in a rapidly growing business? Of course, they're the same people who would rip the company for slow shipping times and such if it did not hire loads of holiday workers, add to its full-time workforce and build 17, count them, 17 fulfillment centers in 2011. Pardon my Pacific Northwest French, but of course the earnings report was going to suck!
When Amazon tells investors that it plans to slow down "its aggressive investment pace," they should worry, but only for a moment. If Amazon does not invest in its business, it will suffer. Often, in a real effort to grow a company over the long-term, management needs to sacrifice things like pretty near-term results and even the stock price. This investment cycle in relation to growth will moderate.
Something Pandora (NYSE:P) CFO Steve Cakebread relayed in an interview last week fits here:
Cakebread told me that he can list "plenty of companies" that were wildly profitable early on, but are no longer with us. The endpoint - Pandora is in rapid growth mode. And fast-growing, pioneering companies that are disrupting industries risk sacrificing long-term profitability and sustainability by not investing enough in the business early on just to achieve profits. While you cannot spend recklessly, you have got to spend. In other words, by not spending today to grow in the name of profitability, Pandora could very well not position itself properly for the long haul.
It's not all that much different for Amazon. Read the Seeking Alpha transcript of Amazon's conference call. Another capable CFO, Thomas Szkutak made it all quite clear ... several times:
... first of all, from a retail perspective, on our retail offerings, been growing very fast. Our third-party with Fulfilled by Amazon, very fast. AWS has been growing very fast, and so the capacity that we've needed to support both our operations capability, as well as the infrastructure capability for our Web Services and our Retail business has been very high. That said, we feel that we're efficiently deploying that capital. We added - as we talked about last call, we had planned to add 17 FCs, which is what we did in 2011, bringing our total to 69 ...


Sure. First thing is we are investing in a lot of different areas across the business, as we've talked about. That being said, when you look at that increase that you're referring to, the majority of those increases are in our operations and customer service area. And so again, it's in support of the growth. And certainly, you're seeing it also in our operating costs. And again, we're fortunate to have a lot of opportunities ... As you have over time, you'll see that growth rate will go in cycles ...

But we're incredibly optimistic about the opportunity that we have, and that's why we have invested the way we have and why we're continuing to invest in the business.
So, Amazon tells you what they're going to do before they do it (e.g., build the fulfillment centers). They actually execute. It costs money. And people hammer them.
Maybe they should start reporting contribution profit or something, like Netflix (NASDAQ:NFLX) does, so everybody will just leave them alone.
I get emails everyday from touts telling me they know what's going to happen with X stock, when and Y. They're nothing but two-bit hacks. I cannot tell you when AMZN will hit bottom. You have to make that decision for yourself. Or, more aptly, you need to decide the price at which you are good with jumping and, possibly, absorbing some near- to mid-term on-paper losses. In any event, this is a stock you scale into, methodically, over a long-term timeframe.
Sirius XM (NASDAQ:SIRI). Sirius XM reports earnings February 9th. Because the company delivers before the bell, you have all day to act. The following two charts show that, on the long or short side, you have plenty of time to act post-earnings. The first shows SIRI since its last report, which came November 1, 2011. The second plots the stock between the previous report, August 2, 2011 and Novemeber 1, 2011.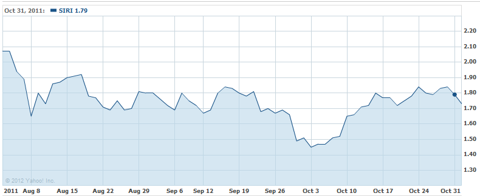 Unlike many stocks that do their post-earnings popping, dropping and recovering all in the span of one day, SIRI makes pretty sharp breaks, which become, relatively reliable trends, lasting, at least, several days. In other words, if the stock moves one way or the other post-earnings, you can reasonably expect the trend to stay intact for a long enough time for you to make money.
I can tell one thing with complete certainty. I am obviously not an emotional investor. If I were, I would be long SIRI and NFLX in 100% of my portfolio.
It seems that two of the companies I can be most critical of bear the closest association to my Blood Brothers, Bruce Springsteen and The E Street Band. First, E Street gutairist Steven Van Zandt praises the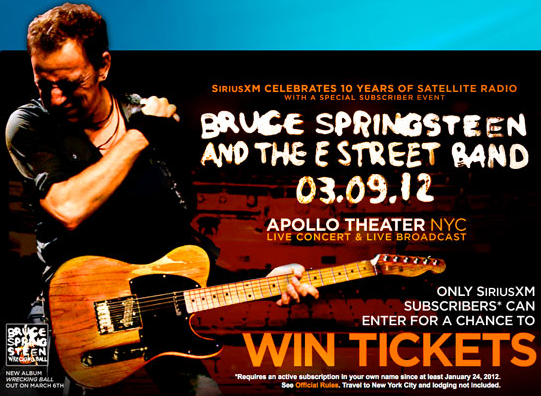 people at Netflix in an interview with Howard Stern on Sirius XM. By the way, Howard, yet again, proves that he is, hands down, the best interviewer in any media. Of course, Netflix owns the rights to Van Zandt's Lillyhammer.
And just Wednesday morning, Sirius XM announces an exclusive, subscriber-only event. How epic is this? Bruce Springsteen and The E Street Band get set for their Wrecking Ball tour on March 9th at Harlem's Apollo Theater. Sick.
Like most of Sirius XM's promotions, it's unlikely to win them many new subscribers, but it's surely something I can get behind.
Disclosure: I am long P.
Additional disclosure: I am long NFLX June $40 put options.