According to Musically, social media powerhouse Facebook (NASDAQ:FB) will introduce an online video platform soon, including music video content. Another article indicates that Facebook also considers introducing its own music streaming service in the future. The introduction of Facebook's video platform is already discussed by Seeking Alpha contributor Alex Cho in this article. Mr. Cho concludes that Facebook's recent move in videos does not add much value to shareholders. However, I find that Facebook's move in music does add value for shareholders. This includes the company's music video platform.
One of Facebook's biggest challenges is to keep its platform interesting for teenagers. This report by Bloomberg shows that Facebook is losing popularity among teens. The portion of teenage users in the age between 13 and 17 years old in the U.S. decreased to 88% in 2014 from 92% in 2013 and 95% in 2012. Further, teens do not consider Facebook as the most important social network any more (see graph below). The percentage of teens naming Facebook as the most important social network dropped to 14% in 2015 from 23% in 2014.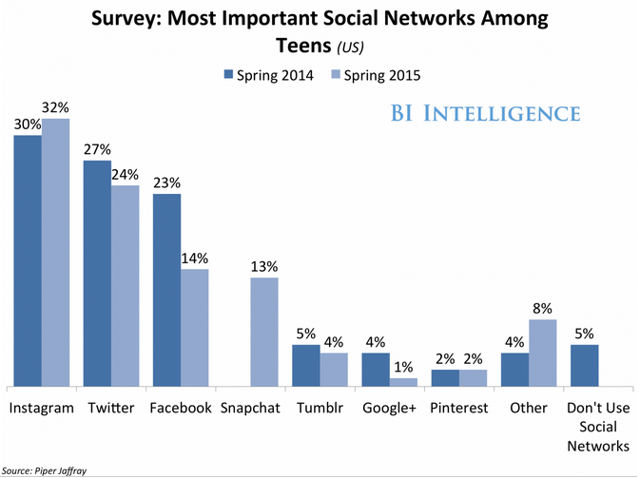 Graph 1: Most important social networks in the U.S.
Why is Facebook losing popularity among teens? According to this article, there are two reasons for teenagers to drop Facebook. First, Facebook became very popular with teenagers' family members, including parents. Therefore, teenagers have become more cautious in using the platform. Second, teenagers are using other fast growing social media platforms such as Snapchat and Facebook-owned Instagram.
Why are teenagers so important for Facebook? Facebook's business model is based on selling advertisements. Teenagers traditionally are an important group for advertisers, because their brand preference is not set yet. This article further names teenagers' purchasing power and natural familiarity with social media and technology as reasons for advertisers to target teenagers through social media. These arguments are confirmed by the findings of this report. Researchers asked in which way people prefer companies to communicate with them. The results are shown in graph 2 below.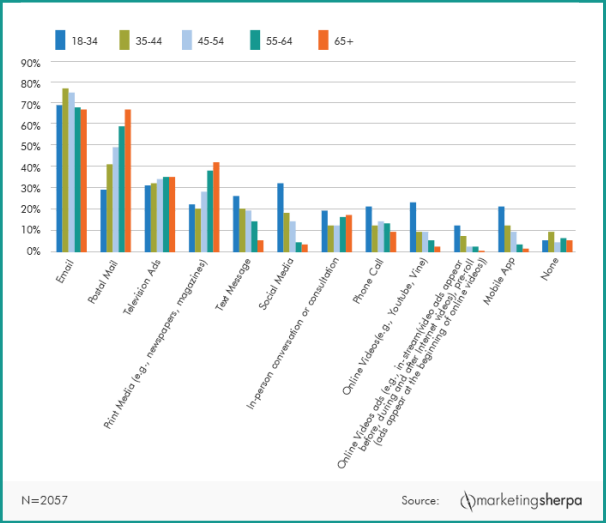 Graph 2: Marketing preferences by age
Looking at the results of graph 2 above, it is obvious that younger people prefer to communicate with companies through more innovative platforms such as social media, online videos and apps. I have to admit that the targeted group between 18 and 34 years old are no teenagers, but still the difference with older age groups is clear. In my opinion, teenagers should prefer social media, online videos and apps even more.
Given the importance of teenagers for companies and advertisers and Facebook's intention to sell as many advertisements as possible, it is clear that engagement of teenagers with Facebook is important for investors as well. The higher the engagement of teenagers, the more advertisements Facebook will be able to sell. From this perspective, the reports of Facebook's declining popularity among teenagers could threaten the companies future revenue growth.
How will Facebook's move toward music fit in to win back popularity among teenagers? As I mentioned before, teenagers are using other social media platforms and online services in favor of Facebook. Interesting is that the fastest growing service among teenagers is music streaming service Spotify (see below). It is no secret that streaming services such as Spotify are growing fast, but it seems that teenagers are driving growth. Therefore, Facebook could win back popularity among teenagers if the company offers music streaming services on its own.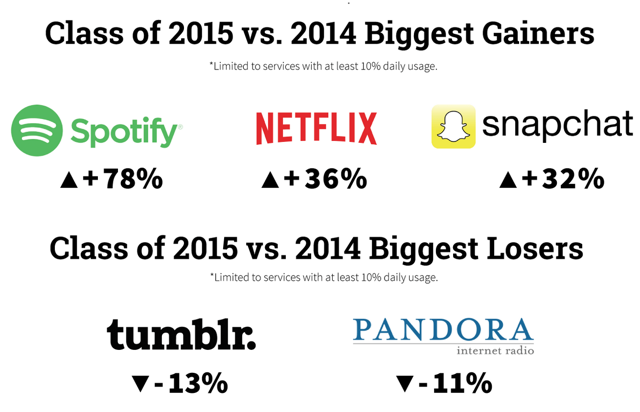 Source: dailydot.com
In my opinion, Facebook's plans to introduce both music video and audio streaming services are important for the company's future revenue growth. Teenagers are an important group for selling advertisements and this group losing interest in Facebook could harm the company's growth prospects. However, teenagers are very interested in music streaming services considering the growth of teens using music streaming services like Spotify. Therefore, the introduction of Facebook's music video and audio streaming services are likely to have a positive influence on teenagers' engagement with Facebook. As a result, Facebook will be able to counter the potential threat of losing more popularity among teenagers and sell advertisements.
Besides regaining popularity among teenagers, Facebook's decision to move towards music video and audio services enables the company to earn additional revenue. According to Musically, the video platform will be a separate box featuring selected video content. The advertisements will show between videos. Based on this first indication, it seems that video advertisements will not replace other advertisements on Facebook's platform. However, this conclusion may be premature as the final version of the video service is still unknown. Further, Facebook will be able to generate subscription revenue in case the company introduces an audio streaming service.
Conclusion
Unlike previous research on Seeking Alpha, I am positive about Facebook's move toward music. Music streaming services are very popular and growing. Based on information mentioned above, it is clear that teenagers are an important reasons behind these services' growth. Facebook's music business will be an important factor to win back teenagers' interest in the platform. By winning back teenagers' interest, Facebook counters a potential threat to its future growth, because teenagers are an important age group for advertisers.
Without teenagers' interest, Facebook could sell less ads in the future. However, I believe music services will prove a good tool for Facebook to take away this threat. Therefore, the company's growth model is intact and I am positive about the way Facebook is monetizing its platform. This will be a boost for the company's share price going forward.
Disclosure: I/we have no positions in any stocks mentioned, and no plans to initiate any positions within the next 72 hours.
I wrote this article myself, and it expresses my own opinions. I am not receiving compensation for it (other than from Seeking Alpha). I have no business relationship with any company whose stock is mentioned in this article.