I was looking through some stocks in the consumer discretionary sector and saw that a few of them recently raised their dividends by a healthy 25% or more. For example, Mattel (NASDAQ:MAT) just announced a 34% rise in its payout, which brings the expected annual payout from 92 cents to $1.24 per share. Earlier in the week, Limited Brands (LTD) raised its dividend from 80 cents to $1 per share, an increase of 25%.
And last month Disney (NYSE:DIS) raised its dividend by 50% - from 40 cents to 60 cents per share (but note that Disney only pays once per year). Looking at the prices of these stocks in terms of their yields gives you a perspective on where the stocks might trade based on their new payouts. For example, take a look at Mattel: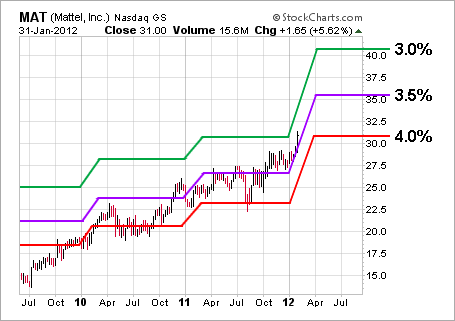 The stock was trading at around a 3% yield, but now offers more like 4%. Note that over the past two years, Mattel rarely traded at a yield more than 4%. If that level holds, the price shouldn't dip much below $30.
A similar chart for Limited Brands shows a dividend that's grown less rapidly and less frequently.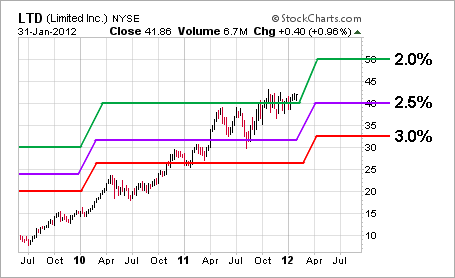 Since the stock broke above $30 in early 2011, the yield has ranged between 2.5% and 2.0%. While that range used to correspond to price levels between $32 to $40, that new range would be from $40 to $50. So in a sense, $50 is the "new $40" for this stock.
Disney's dividend boost was significant, but I don't view this stock as necessarily having much in the way of yield support.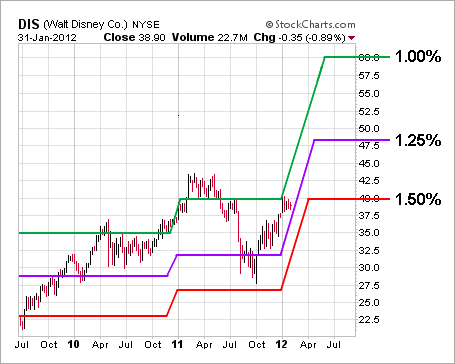 That 1% yield level, which sort of represented a ceiling for the stock over the past few years, has moved from $40 to $50. The stock seems to rarely give you a chance to get a 1.5% yield, but now it does. (Once again, note that this company pays annually, not quarterly).
I don't happen to own any of these three stocks. I wish I did, given the growth in payouts. In any event, charts like these give you an extra perspective on selecting levels where you might want to buy or add to an existing long position.
Disclosure: I have no positions in any stocks mentioned, and no plans to initiate any positions within the next 72 hours.