I will start this article with a caveat. I am writing it fully knowing that it will elicit a torrent of remarks from the SA community, a plurality of which I am sure will be negative, for I am about to be a heretic and suggest that you buy Nokia (NYSE:NOK). Moreover, I am going to provide an option strategy that has at least a 50% chance of losing your entire small investment.
It is a high-reward strategy with little entry cost, but more on that in a bit. The premise of the strategy is that Nokia has at least a chance in the smart phone wars due to its partnership with Microsoft (NASDAQ:MSFT), steps by its competitors and the overall smart phone landscape. Let's Review:
Google's (NASDAQ:GOOG) Android operating system is the market share leader in smart phones. Unfortunately, Google has two problems. First, it makes no money directly from its operating system, as it gives it away for free. It makes its money in mobile search. Second, its purchase of Motorola Mobility Holdings (NYSE:MMI) upset a myriad of Asian handset makers that have signed licenses with Microsoft as a result, as they now view Google as a competitor in the handset space. I am currently neutral on GOOG.
Apple (NASDAQ:AAPL) is the number two player by market share, but the undisputed leader of profits in the smart phone space. The company is figuratively minting money with its iPhone franchise, and its biggest problem is keeping up with demand. Unfortunately, the carriers it sells to have a hard time sharing in those profits due to the high prices Apple charges them for their handsets and the burden the extra traffic puts on their networks.
AT&T's (NYSE:T) experience is provides a good example of this. This leaves the carriers open to embracing another handset maker if one can provide a platform that customers like even close to much as Apple's offerings. On a side note, I continue to be a long term bull on Apple, although I could see it pulling back a bit after its massive run over the last year.
Research in Motion (RIMM) is the third player in the smart phone market and fading fast. RIMM's troubles have been well chronicled, so I will not beat a dead horse. Suffice to say RIMM will end up one day as a Harvard Business school case study on how to blow a huge first mover advantage.
This leaves Nokia and its partnership with Microsoft as a possible third player in the smart phone market. It is too soon to project whether the partnership's offerings will find long term acceptance in the marketplace but the duo seem to be off to a good start:
Nokia sold over 1mm of its first Lumia phone offerings in the fourth quarter after their launch in Mid-November.
The phones are getting generally positive reviews.
Microsoft is going to provide substantial financial support to this venture. It is paying Nokia $230 per phone and given the critically to Microsoft's long term viability; it is hard to see how it does not invest whatever is necessary to make this venture a success.
So how does an investor play the possible success of this venture with Nokia? Given the binary nature of outcomes from Nokia's foray into the smart phone arena, I would advocate using options to lower entry costs and juice possible rewards if Nokia and Microsoft succeed. Instead of buying 1,000 shares of Nokia at $5, buy 10 Jan 13 call options with a $5 strike price for $100 a contract. I believe this gives you a solid risk/reward profile at 20% of the cost of buying the shares outright.
Possible Scenarios
A. The venture into smart phones does not gain traction, and Nokia's stock price continues to slide, resulting in a total loss of your option investment.
B. The venture is a moderate success and investor sentiment improves somewhat on Nokia. Given how negative the market is on Nokia currently, I think this gets you to $6 to $10 a share by the end of the year. This would result in breaking even to making 400% on your investment.
C. The partnership with Microsoft produces multiple hit products in the smart phone market and establishes itself as a solid third player in these handsets. If this plays out, let your imagination wander and remember NOK was a $12 stock just a year ago. If this possible if unlikely scenario plays out, it should generate 500% to 1,000% returns. Just remember to send me a postcard from Hawaii.
3 other Reasons why Nokia has value at $5 a share
It has over $7B of net cash on its balance sheet. This is over $2 a share of net cash and approximately 40% of Nokia's market capitalization.
The stock looks like it is bottoming at $5 level (See Chart)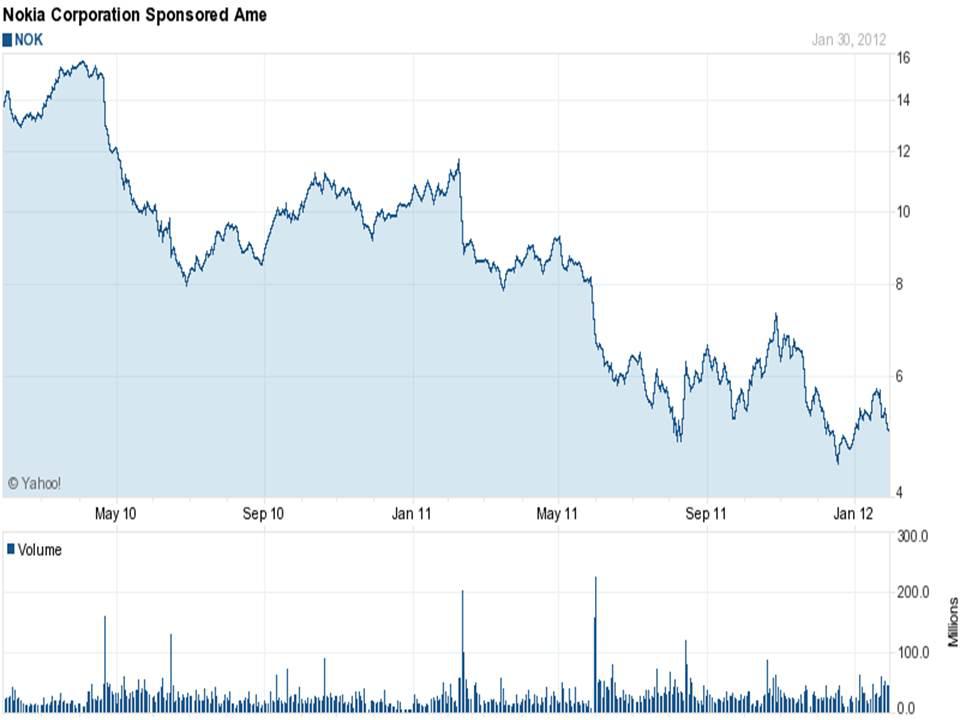 It currently yields a ridiculous 9.5%, although I expect the dividend to be cut unless Nokia cannot improve its earnings and cash flow in short order. For the time being, it provides a substantial flow under the stock.
I know this is a provocative take on the smart phone market, and I look forward to the community's comments.
Disclosure: I am long AAPL, MSFT, NOK.