If you're a pet owner, you might have come across Blue Buffalo's (Pending:NASDAQ:BUFF-OLD) natural pet food while shopping for your little buddy's dinner. Indeed, pet owners are paying more attention to what their pets eat - 55% percent of pet owners, according to a survey. This has fostered a growing market of high-quality pet food and snacks. With Blue Buffalo perhaps the most well-known "natural" pet food, investors will now be able to invest directly in this market. Blue Buffalo has applied for a NASDAQ listing under the ticker BUFF.
Freshpet (FRPT), a flop, preceded BUFF. Other companies will likely follow BUFF, but for now BUFF seems like the only decent exposure into a market that is growing and that caters to high-income individuals (e.g., baby boomers). BUFF alone has brought in $940.3 of revenue in the past year. And this was done with a rather simple business model: Indoctrinate pet owners about pet nutrition and sell them natural pet food. It's more-or-less the same model other "natural" companies attract human customers.
Of the upcoming IPOs for July, BUFF is the largest deal. Its IPO deal size is over $500 million, which would immediately place BUFF in the large-cap category. The price range for a share of BUFF when it hits the market is $16 to $18. But I'm here to convince you not to buy it!
Business Practices
As the owner of a small organic skincare business myself, I get frequent emails from potential buyers asking about the ingredients and manufacturing process of the product. The fact is that people who buy natural are more discerning of the actual product. And when you're marketing to a niche community in an already niche market, you can expect word to travel fast if your product isn't what you advertise it to be.
This is what BUFF encountered last year when they received complaints that their products were not 100% natural. BUFF outright denied the claims, but the claims were later found out to be valid; their product contained a chicken byproduct. During the course of this scandal, they were sued by Nestle Purina for false advertising. Nestle Purina has big money backing it and is ready to go to war with BUFF to protect their market share.
Realize that the pet food market is one in which a company's goal should be to obtain long-term customers. In fact, keeping customers is the easy part, as pets are likely to have digestion problems when they switch from one pet food brand to another. But when BUFF lies to their customers and tries to conceal that their one unique selling proposition is a farce, they are likely to lose the customers that would otherwise have been lifetime customers.
In marketing, word-of-mouth is the largest influencer. And with a one-star rating on the Consumer Affairs website, BUFF is going to have to revamp its image before they can expect to grow (or not lose) their customer base.
Growth
I don't want to get too much into the past growth of BUFF, as Seeking Alpha contributor, Transcend Event Driven Research, has already done a good job describing BUFF's current situation.
The short story is that BUFF does have good growth. Unfortunately, whether BUFF can maintain its growth in light of the recent dearth of consumer confidence is a guessing game. Can BUFF win back concerned pet owners?
My Model
I created this model using the statistical software R. Past data came from BUFF's most recent S-1 filing.
The assumptions of the model:
The sales of BUFF will fall on a logarithmic scale, as the battle against negative word-of-mouth is now uphill. That is, marketing efforts will have less effect with respect to time, as negative word-of-mouth will snowball.
Sales costs will remain linear, increasing as the company grows.
Outstanding shares will remain roughly the same.
The amount investors are willing to pay for a share of the company with respect to revenue will fall in accordance to slowing revenue growth.
Here is the result of the model and its estimates for the 2015, 2016, and 2017:
| | | | | | | |
| --- | --- | --- | --- | --- | --- | --- |
| | 2012 | 2013 | 2014 | E2015 | E2016 | E2017 |
| Sales | 522 | 719 | 917 | 1044 | 1162 | 1257 |
| Cost of Sales | 311 | 421 | 550 | 666 | 789 | 905 |
| Gross Profit | 211 | 298 | 367 | 378 | 373 | 352 |
| Net Income After Taxes | 65 | 78 | 101 | 100 | 99 | 94 |
| Market Cap | | | | 502 | 349 | 251 |
| Outstanding Shares | | | ­ | 30 | 30 | 30 |
| Price/Share | | | | 17 | 12 | 8 |
Conclusion
BUFF started out with a strong USP and wedged its way into the pet food market, claiming nearly 3% of the market. The question is whether they have the ability to convince the public that they can hold true to that USP. If not, investors will likely stay away from this company, as it will begin to cost BUFF more money for each new customer acquisition.
Unlike the non-natural market leaders, BUFF is about image - not price or convenience. That said, they are starting their IPO with an uphill battle with customers using social media to voice their complaints directly to potential and current customers.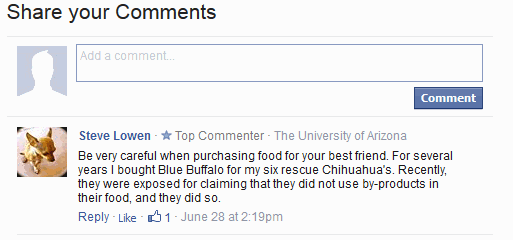 The company needs to refocus its marketing strategy to fix its PR problem. Finally, leveraging the customers that it kept through the scandal could result in a slightly different revenue stream in which they focus on upsells and customer retention instead of customer acquisition, which will become more costly with time.