Correspondence (that sounds so Andy Rooney) from readers often dictates the articles I write on Seeking Alpha.
In January, every other telegram (or email) asked how to trade Apple (NASDAQ:AAPL) around earnings. I wrote a bit about that. In the year that I have been writing for Seeking Alpha, I've received hundreds of typewritten letters (or emails) asking for basic options information. That thirst fueled countless articles and provided the inspiration for an eBook and stock option newsletter.
Another consistent theme in the wireless telegraphy (or emails) I receive goes as follows:
Rocco,

My cat died last week and left me $5,000. I am new to investing. What should I do with the cash?

Thanks,

Bruce, from Rumson, NJ
I always come back with the same boilerplate. I tell people that I cannot and do not give one-on-one advice. All I can do is relay, via Seeking Alpha articles and other platforms, what I would do in the same or a similar situation. Investors who spend way too much time with the stock market helping investors who actually have lives. That's what it amounts to.
But seriously people, I do get quite a few emails asking this basic question. Sometimes the amount is more, sometimes less. At day's end, I am not sure the amount of cash you have should really dictate the path you take. If you think something represents a good trade or investment with $100,000, why wouldn't it look the same with only $1,000 or $5,000 to spend? Because I can buy more shares with $100K is not a good answer.
In this article, I take $5,000 and illustrate two conservative approaches to investing it (for people more than 20 years away from retirement) alongside one relatively more aggressive method.
Conservative Approach #1
I am a fan of dollar-cost-averaging. That's how I do about 75 to 80% of my investing. In just about every case, it makes sense to split the $5,000 (or whatever dollar amount) up into the investments you think will stand the test of time, providing solid anticipated returns alongside volatility you can stomach.
If you're the passive-conservative type with more than a decade to retirement, it often makes sense to ration the $5K between ETFs and mutual funds initially. From there, I like to treat investing like a bill. Make it come due as often as you can (I strive for weekly or, if need be, bi-weekly). Do it with as much cash as you can spare. $50. $100. $500. $1,000. Whatever you can do each week adds up.
Here's an example of one way to go:
| | | |
| --- | --- | --- |
| Product (Ticker) | Initial Investment | DCA |
| SPDR S&P 500 (NYSEARCA:SPY) | $1,333.33 | 26.6% |
| PowerShares QQQ Trust (NASDAQ:QQQ) | $1,333.33 | 26.6% |
| PowerShares Dividend Achievers (NASDAQ:PFM) | $1,333.33 | 26.6% |
| A Target Date Mutual Fund* | $1,000.00 | 20% |
*I use the T. Rowe Price Retirement 2025 Fund (TRRHX). Of course, any number of options exist. It's also sensible to go with something sector-specific if you believe that, over the long haul, it's a healthy space to grow your money in.
This is the type of portfolio you can just put on auto-pilot. If history repeats itself over the next 20-30 years, you should be in good shape. For example, SPY closed trading at $31.29 (adjusted price) on January 29, 1993. It closed Tuesday's session at $131.32.
Conservative Approach #2
Except in a small sub-section of my portfolio or to hedge via bear ETFs and alternative investments, I'm not a big fan of the above approach. However, it works for some investors. Of course, you can allocate the money as you see fit. I only provide examples of how I might go about it. The same goes for the following slightly more aggressive, but still relatively conservative (remember who we're talking about here age-wise) way to allocate $5,000.
| | | |
| --- | --- | --- |
| Company (Ticker) | Initial Investment | Dividend Yield |
| Apple | $1,000 | N/A |
| Verizon (NYSE:VZ) | $1,000 | 5.3% |
| Exxon-Mobil (NYSE:XOM) | $1,000 | 2.2% |
| McDonald's (NYSE:MCD) | $1,000 | 2.8% |
| Visa (NYSE:V) | $1,000 | 0.9% |
Again, the individual stocks do not matter as much as going best of breed, spreading yourself across relatively healthy spaces and using dividend income to bolster your DCA strategy. I might actually go for something in place of one or more of these stocks that has not done so well over the last five years (big pharma, maybe?), but I would be shocked if the following five-year performance did not repeat itself several times over, with better results for the laggards, going forward.
Click to enlarge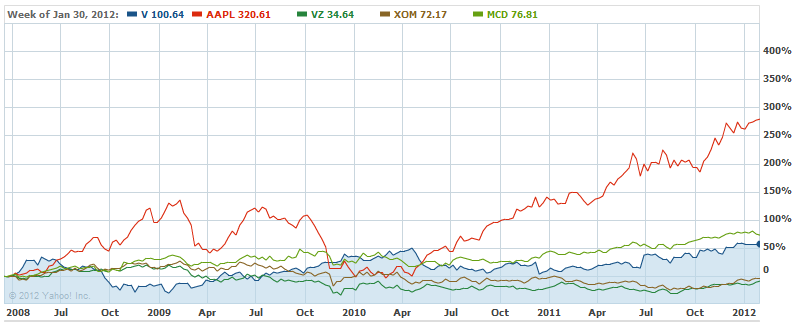 The Aggressive Approach
I consistently preach that stock options can work for long-term investors. While I stand by that, relative to the two conservative approaches, the following portfolio, which uses LEAPS options, tends to be a bit riskier. If for no other reason, it's because you have an expiration date on your investment. But, that presents some upside as well.
Because you have to manage the position more closely, hopefully you'll set a stop loss and stick to it. If you're in a stock, it, theoretically, has forever to turn around. While I am not saying you should run and sell an underperformer you bought with a 10-20 year time horizon in mind, you need some semblance of a plan. Using LEAPS options to closely replicate direct stock ownership requires that you have one.
If I were to do this, I would take between $2,000 and $2,500 of the money and put it into SPY and QQQ and dollar-cost-average into it as described earlier. With the rest, I would pick stocks that I consider true values that have, as the story goes, plenty of upside in the next 12-18 months. And I would use LEAPS options to play them. Consider the following as but one way to skin a cat:
| | |
| --- | --- |
| LEAPS Option | # Of Contracts/Amount Invested |
| Ford (NYSE:F) Jan '14 $10 Call | 4/$1,460 |
| Pfizer (NYSE:PFE) Jan '14 $20 Call | 3/$888 |
| Sprint (NYSE:S) Jan '14 $1 Call | 4/$568 |
Clearly, a whole slew of position management issues come into play here. I am going to spend a couple weeks' worth of options newsletters discussing this. Ultimately, however, by using LEAPS that are in-the-money, you put delta and time on your side. By doing this, you can stomach weakness in the underlying stock better than you could with out-of-the-money contracts. And, with some intrinsic value in hand and time decay not really a factor until several months away from expiration, your contracts not only hold up better in the face of weakness, but require less of a move in the underlying stock to appreciate meaningfully.