Since the last decade, basic material companies have been the outperformers of the market. As we are experiencing some sort of recovery, I expect these companies to be outperformers for this year as well.
Basic materials and derivative products are vital for the industrial companies, as well as individuals. The demand for them is strong, and it will keep increasing as emerging markets will need more inputs for growth. In fact, industrial commodity prices are back on their long-term upward trend. Naturally, there has been a strong recovery in related companies' stock prices in 2012. As of the time of writing, commodity stocks were up by an average of 10% since January.
I think this year could be the year of commodity stocks. Several stocks in this sector share their profits with shareholders by means of fat dividend checks. But not all basic material companies are that much eager to pay dividends. Here is a brief analysis of 5 commodity stocks. All of them have hoards of cash, but only 4 of them pay nifty dividends:
Vale S.A. (NYSE:VALE)
Yield: 7.2%
YTD return: 18%
The Brazilian Vale operates as a relatively diversified commodity producer. It is known as the world's largest miner of iron ore. However, that is not the only area Vale is involved in. The company is also a significant player in the fertilizer business, where it provides potash, phosphates, and nitrogen. In addition, Vale has a logistic business, where the company operates more than 10,000 kilometers of railroad infrastructure, and several seaport terminals.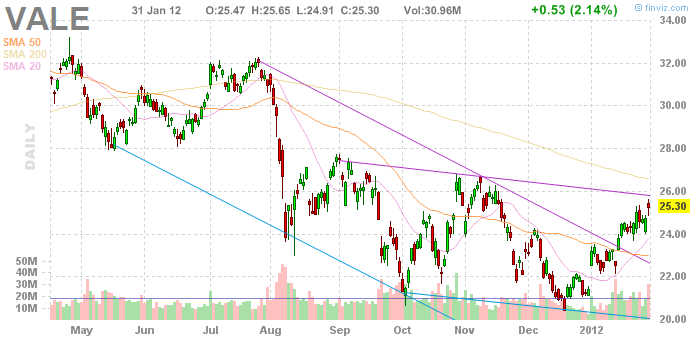 Vale did not perform well, last year. The fall in commodity prices, combined with the asset outflows from emerging markets has driven the stock to well below its fair value. Its market cap was slashed by almost 40% in 2011. However, this year, the stock has bounced back and it is on its way back to 52-week highs. After all, at a trailing P/E ratio of 5.56, the stock looks dirt cheap to me. Although its dividends are kind of erratic, the company offers substantial dividends whenever it makes good profits.
Southern Copper (NYSE:SCCO)
Yield: 7.1%
YTD return: 15%
While Southern Copper is headquartered in Phoenix, Arizona, the company primarily operates in Mexico, Chile, and Peru. As the name suggests, the company is specialized in copper production, but it also operates zinc, lead, silver and coal mines.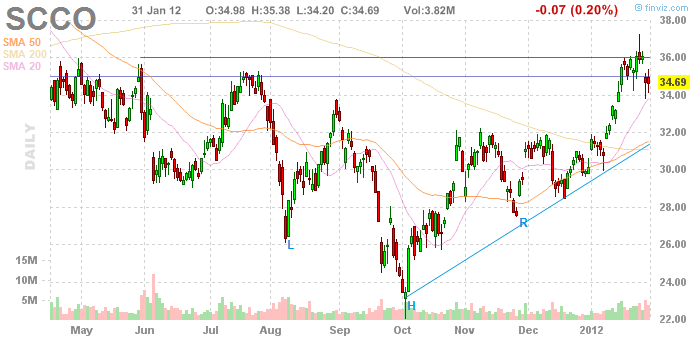 Southern Copper is in a really strong momentum. Since its dip of $24 in October, the stock gained almost 45%. Nevertheless, it is still trading at a low trailing P/E ratio of 12.85, and offers a nifty yield of 7.09%. The yield is more than fully covered by a payout ratio of 80%. I think Southern Copper can be a good investment to play recovery in copper prices.
Pioneer Southwest Energy Partners (PSE)
Yield: 7.5%
YTD return: 4%
Pioneer Southwest is a small-cap master limited partnership that owns and acquires oil and gas assets in the United States. MLPs are subject to favorable tax rules, as long as they distribute at least 90% of their profits to the shareholders.
Pioneer took my attention since the stock is trading at a single digit P/E ratio. While the P/E ratio is not the best way to measure an MLP, it suggests that the stock is pretty cheap. The yield of 7.5% is more than fully covered by a payout ratio of 50%. The stock has returned 3.9% in 2012, and it is trading 20% lower than 52-week high. I think, PSE is likely to reach its previous highs in this year.
Arcelor Mittal (NYSE:MT)
Yield: 3.65%
YTD return: 12.8%
Arcelor Mittal is an integrated steel company with interests in iron and coal mines. Arcelor Mittal started as a relatively tiny steel manufacturer and turned into a steel giant in the last 30 years. The company operates several key mining activities on almost every continent.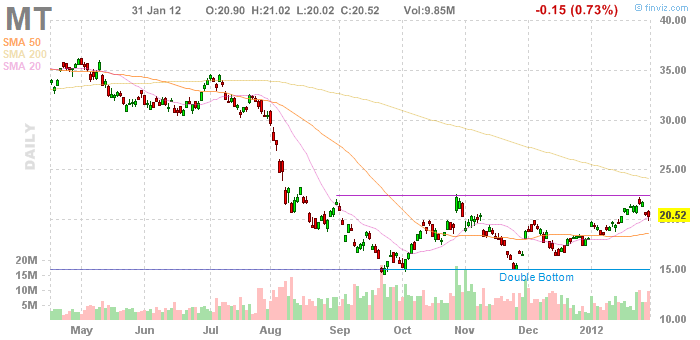 Following the collapse of steel prices, Arcelor Mittal's market cap was slashed by 50% in the last year. However, since January 1st, the stock returned 12.8%, showing strong signs of recovery. Arcelor offers a yield of 3.65% with a sustainable payout ratio of 45%. Analysts expect double-digit growth from the company over the next years. If their estimates hold, the Luxemburg-headquartered company could be a great outperformer.
Alcoa (NYSE:AA) - Does Not Show You The Money
Yield: 1.18%
YTD return: 17.5%
Alcoa has been one of Cramer's favorite stocks until the last quarter of 2011. He made several calls in his lightning rounds suggesting the company as a great buy:
Alcoa is coming, and it's going to be bigger than ever.
However, realizing that the stock is not going anywhere, in December 14, Cramer described Alcoa as "dead money."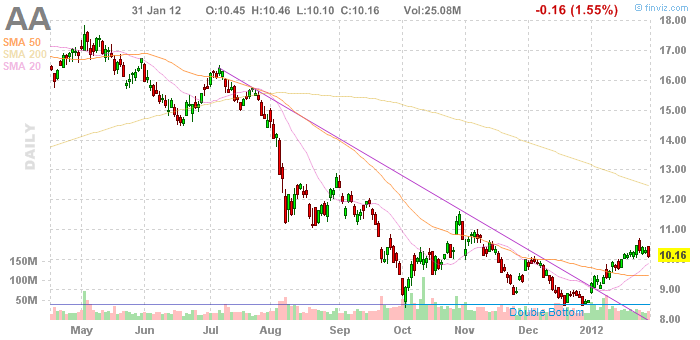 In contrast to Jim Cramer, I do not think Alcoa is dead money. It showed signs of recovery, returning 17.5% in January alone. The stock is also among the cheapest in the market. It is actually trading below its book value.
The balance sheet shows almost $1.82 of cash and equivalents per share. Thus, the company is sitting on almost $2 billion of liquid assets. However, Alcoa's cash hoard is not reserved for the shareholders. Its paltry dividend of 3 cents per quarter is highly disappointing. I think it is time for the Alcoa's management to make the move, and at least triple the quarterly dividends, so that it will provide a meaningful income.
Disclosure: I have no positions in any stocks mentioned, and no plans to initiate any positions within the next 72 hours.