The price of cattle has rallied to record levels and shows no signs of stopping.
Live Cattle Futures 1 Year Chart
CNBC
Factors behind the rally
Agriculture department reports that there are only 91 million head of cattle, the lowest number since 1952
Severe droughts have occurred in the mid-west leading to reduced supplies of water and grass to feed cattle
Higher input prices. Prices of inputs such as Corn (NYSEARCA:CORN) have gone up significantly over the past few years.
Strong foreign demand. Exports have surged over 20% in the past year due to strong foreign demand and a weak dollar.
Way to play the rally
One way investors can play the rally in cattle is through the iPath DJ-UBS Livestock Sub-Indx ETF (NYSEARCA:COW). COW is 60% cattle and 40% lean hogs. While cattle and lean hogs tend to move together, the bull market has been stronger in cattle. The real problem with COW is not the split between cattle and hogs, rather, the problem lies in long term performance.
5 year chart COW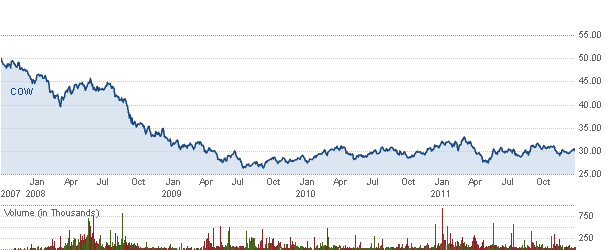 CNBC
COW is down significantly over the past 5 years while cattle prices are up. The reason for this underperformance is largely rooted in contango.
Futures Prices Live Cattle
Feb 2012- 124.70
Apr 2012- 128.45
Jun 2012- 127.17
Aug 2012- 128.95
Oct 2012- 131.72
Dec 2012- 132.55
COW tracks the front month price of cattle, thus COW is forced to roll over its contacts each month. The contango, shown above, leads to a steady underperformance of COW vs. Cattle itself. For this reason, COW is not a good way to play the bull market in beef.
Alternatives
Leading companies that produce beef are Tyson Foods (NYSE:TSN) and Smithfield Foods (NYSE:SFD). These companies are not a direct play on the price of cattle as they are effected largely by input costs. However, at this point input prices appear to be falling (see chart of corn below).
With corn prices falling, a major input cost in the production of meat and protein, TSN and SFD are positioned to benefit. However, these companies also face the challenge of putting price increases through. Price increases will be easier as the market tightens further. Neither SFD nor TSN are expensive stocks. Both TSN and SFD trade at roughly 8 times forward earnings, this means the market does not fully believe that TSN and SFD will be able to take advantage of higher prices.
TSN, SFD, and COW 5 Year chart
As you can see, TSN (blue) and SFD (orange) have performed much better than COW (green). While TSN & SFD may not be perfect plays on the bull market in beef, they are better plays than COW.
Another way to play the rise in beef prices is to go short popular grocery & restaurant stocks. Grocery stores and restaurants will likely find it difficult to pass along price increases to consumers, this will hurt profits. Some stocks to consider shorting or selling are Kroger (NYSE:KR), Supervalu (NYSE:SVU), Safeway (NYSE:SWY), Darden (NYSE:DRI), Cheesecake Factory (NASDAQ:CAKE), McDonald's (NYSE:MCD), and other restaurant & grocery stocks.
Conclusion
The best way to play the beef bull market is not COW. Rather, buying TSN or SFD is a better way to play the trend. Investors should also avoid shares of companies that may be hurt as beef prices continue to rise.
Disclosure: I have no positions in any stocks mentioned, and no plans to initiate any positions within the next 72 hours.