Shares of the "Münchener Rückversicherungs-Gesellschaft", a German re-insurance company, have been a must-have for dividend growth investors for a long time. For 45 years the company has either increased or at least not cut its dividend, independent from growth rates or the economic situation. Furthermore, Munich RE's (OTCPK:MURGY) business growth in the past was stable and crisis-proof. There are several reasons, why shares of Munich RE might be a good choice.
A brief overview of Munich RE's business
Munich RE's business consists of three pillars: re-insurance, common insurance (bundled within the ERGO primary insurance brand) and health insurance. The company's total revenue in the amount of 48.8 billion euros (2014) comes from 26.8 billion euros in the re-insurance segment, 16.7 billion in the primary insurances segment and 5.3 billion euros in the health insurance business. The insurance's P/E ratio in 2014 was 9.51, the P/B ratio 0.95.
An important key figure in the insurance business is the so called Combined Ratio. This figure describes the ratio of expenses/losses to premiums. A Combined Ratio above 100% normally indicates losses, a Combined Ratio below 100% profits. Munich RE managed to decrease its Combined Ratios in the past 5 years. For comparison: The Combined Ratio of OTCPK:HVRRF (the second largest German company in the re-insurance business) was 94.7% in 2014.
For 2015, Munich RE is expecting values around 93% (re-insurance), 97% (OTCPK:ERGO) and 99% (Health) for their Combined Ratios. The stagnation of the ratio is attributable to the low interest rate environment. The FED will probably announce its first interest rate hike at the end of the year. This might lead to decreasing Combined Ratios in the future and related increased profits.
| | | | | | |
| --- | --- | --- | --- | --- | --- |
| Combined ratio | 2014 | 2013 | 2012 | 2011 | 2010 |
| Re-Insurance | 92.7 | 92.1 | 91.0 | 113.8 | 100.5 |
| ERGO International | 97.3 | 98.7 | 99.8 | / | / |
| Health Insurances | 98.8 | 98.3 | 100.2 | 99.5 | 99.7 |
Another remarkable fact about the German insurance company is that investment legend Warren Buffet holds a stake of 11.6% in them since 2010.
Dividends
As in the introduction already mentioned, Munich RE is a trustworthy dividend payer. The insurance's policy determines that the payout is set at 25% of the company's profit. If we take a look on the payout rate in the past 11 years, it reveals that the actual rates even exceeded this purpose. Between 2003 and 2014, the rate was at 48.8% on average. That means an average of 5.6€ dividend per share or rather an annual dividend rate of 4.93%. In 2014 the payout was 7.75€ per share (4.7% dividend rate).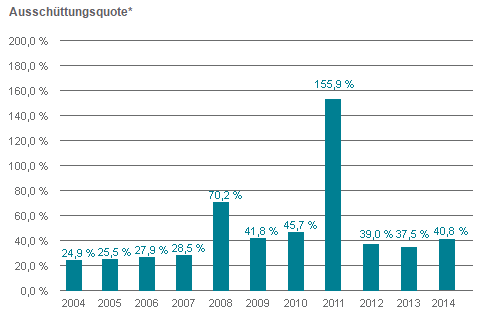 Analysts of the DZ Bank are estimating a payout of 8€ per share for the current year. Combined with a buyback of shares for the amount of 1 billion euros, the total return in 2016 will probably lie at 8.7€ per share.
A good time for a "Buy"

In the past 3 months Munich RE's shares fell from an all-time-high of 207,12€ in April to 161€ on the 15. June 2015 due to a dividend payout and Greek's debt difficulties.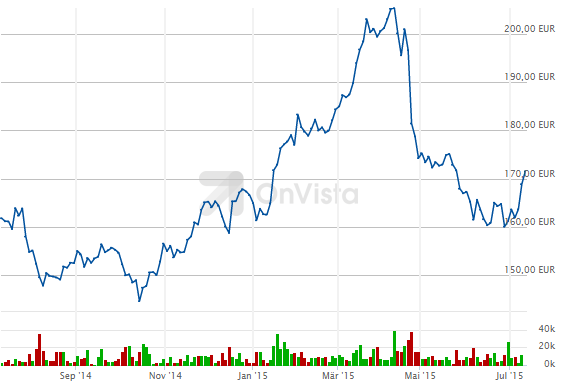 The situation today looks better. Last Sunday the European Finance Ministers agreed on a deal regarding Greek's debt-situation. As a consequence, the European markets relaxed after stressful weeks with high volatility and stock market losses. If the Greece government implements planned reforms, the threat of share price losses due to the Euro Crisis will be averted - at least for the time coming. In addition, the bond purchase of the ECB will continue to boost the markets.
Despite the difficult business environment of insurances, Munich RE is calculating with a profit of 2.5 - 3 million euros and revenues between 47 and 49 billion euros for the current year. Additionally, the strong dollar could have a positive impact on the company's balance sheet.
Conclusion
Munich RE, a trustworthy dividend payer for the last 45 years, seems to be a good buy for 2015. After the provisional aversion of a returning Euro crisis and tailwind through ECB's bond purchases, there is upwards potential for the shares of the German re-insurance now.
After weeks of losses, Munich RE's shares seem relatively cheap compared to earlier prices. Especially long-term investors will be rewarded for an investment with high and steadily paid dividends and good prospects for the future.
Disclosure: I/we have no positions in any stocks mentioned, and no plans to initiate any positions within the next 72 hours.
I wrote this article myself, and it expresses my own opinions. I am not receiving compensation for it (other than from Seeking Alpha). I have no business relationship with any company whose stock is mentioned in this article.
Editor's Note: This article discusses one or more securities that do not trade on a major U.S. exchange. Please be aware of the risks associated with these stocks.