Last week, one of my favorite reporters, Yuliya Chernova of The Wall Street Journal quoted me as saying the following in connection with Infrastructure as a Service (IaaS) provider DigitalOcean raising $83 million:

Some investors believe that going up against Amazon is a losing proposition. "Amazon executes too well, almost like a startup. This is scary for everyone in the ecosystem," said Salil Deshpande, managing director at Bain Capital Ventures, where he invests in infrastructure deals. He said that he had seen the DigitalOcean deal, but decided to not try to invest.
Yuliya captured my sentiment. I'm in awe of Amazon (NASDAQ:AMZN). In an earlier blog post I had said the following about my job of investing in infrastructure software:

Amazon will continue to be a juggernaut and attack and encroach upon venture portfolios in software infrastructure. Like all platform companies, they will encourage the ecosystem around the platform until they decide that certain parts should be part of the platform, at which point they will encroach without shame. Public market investors will continue to think of Amazon as a private equity firm that makes new investments, with near-term profits optional. Having been in the venture business for nine years now, I have become used to incumbents innovating slower than startups. It allows us to fund startups to attack new ideas. But Amazon innovates as fast as startups, and makes our job harder.
Ben Kepes of Forbes, writing about DigitalOcean's round, said on his blog:

DigitalOcean's bank account got a boost this week with news that the company has raised a huge $83 million Series B funding round. Of course, the obvious response to that number, as impressive as it is, is that it is equivalent to perhaps a week of one of the big cloud vendor's capital expenditures on plant and equipment, so something is still missing.
In an earlier article on Forbes entitled Amazon Web Services Decimates All Comers--Bigger Base, Faster Growth, More Innovation he had written:

AWS has continued to innovate across a huge number of different product lines and has continued to grow massively, essentially creating the reference point from which other vendors are judged. But despite the widespread acceptance of the reality of the situation, other vendors try and skew statistics to suggest that they are, in fact, a more important player.

AWS has more than ten times the computing capacity of the next fourteen largest infrastructure vendors combined. That point needs to be reiterated – AWS dwarfs the collective public cloud footprint of Google, Microsoft, CenturyLink, VMware, IBM, Rackspace and a host of others. That is a stunning finding giving AWS an insurmountable lead...
(Emphasis mine.) He references a report by well-regarded Gartner VP and distinguished analyst Lydia Leong. Julie Bort of Business Insider points out that Amazon is rolling out new features for its cloud at a blindingly fast pace. It added 516 new features in 2014 alone, nearly double the number of features it added in 2013.

And with new features and services in 2015 on track to exceed the 516 introduced in 2014, the pace of AWS innovation is very likely unmatched by any of its competitors.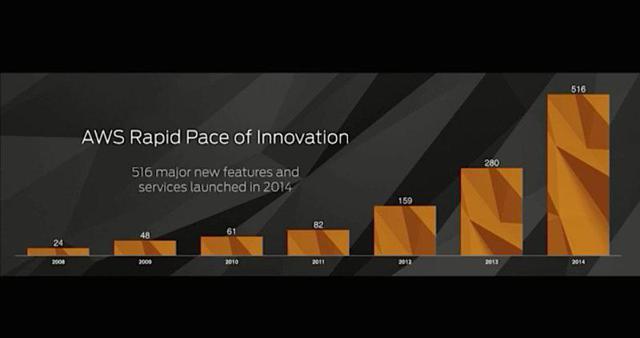 But one small correction to Yulia's original story, and the reason I originally fired up the text editor to write this blog post: I hadn't actually "seen the deal." Seeing the deal means meeting the management team and understanding the company. I have not done that. Ben Uretsky and the management team seem awesome and I know I would have enjoyed meeting them, and learned a lot. Yuliya had texted the link to the announcement to me while I was in Europe asking if I had seen it, and I replied yes, meaning that I had seen the announcement, not the deal, and she assumed the latter. I doubt the outcome would have been any different had I seen it, given my thesis (correct or incorrect) and fear, but I wanted to correct the record.
If you'd like to follow my thoughts on Twitter, you can find me @salil.