The Technology Story For Energizer
Summary
Energizer Holdings recently spun off the battery business, recreating the original Energizer battery.
Duracell is about to be transitioned from Procter & Gamble to Berkshire Hathaway.
Understanding the scope of potential innovation in battery technology from the big battery companies like Energizer, Duracell and Rayovac will help in assessment of opportunities.
The recent patent activity will help us understand the potential for one of those players to capitalize on innovation for share gain.
The Energizer patent portfolio suggests a pattern of developments that could lead to market share building innovation opportunity.
Background
The household battery industry shares many of the marketing, sales and merchandizing drivers of other consumer packaged goods companies. However, those batteries are also chemical packages drawing on the science and engineering of electrochemistry. As part of large consumer package goods companies, the specialized skills and long time horizons for battery research and development were not always well understood by top management. Consumer communication of innovation are also a challenge since the physical shape of that AA battery still looks the same regardless of the power contained in that chemical package.
Alkaline battery technology, the mainstay driving innovation and increasing long life for years now shows signs of maturity with new developments seeming to hit the point of diminishing returns. New higher power devices using new rechargeable technologies have limited growth opportunities for disposable devices powered by alkaline.
The best publically available indicator of where battery technology is going is patents issued, and because the time for issuance can take so long, pending patent applications.
Patent Activity
We looked at total new patents and still pending patent applications for batteries and battery operated devices by company for 2010 through June 2015. Of this total of 374 patents, Energizer (NYSE:ENR) holds the lion's share of at 57%; Duracell (transitioning from Procter & Gamble (NYSE: PG) to Berkshire Hathaway (NYSE: BRK.A, BRK.B) ) had 39%. Rayovac (Spectrum Brands, NYSE: SPB), as a much smaller player, had 4%. These 3 companies dominate the battery business in North America and Western Europe.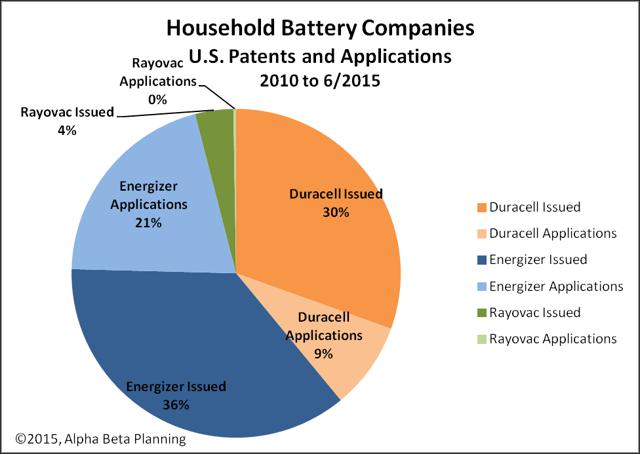 Next we looked at types of products covered with the 109 pending patent applications since 2010 from Duracell and Energizer as the best indicator of recent work at each company. With alkaline primary (primary is the industry nomenclature for a disposable battery) as the principal product from both these companies, they had fairly comparable numbers of alkaline patent applications during this period, but Energizer does have the lead. Several of the Duracell patents were specifically related to high drain, high power alkaline while Energizer, with its high drain capabilities in lithium primary focused on that to provide high power to consumers. Some Duracell lithium primary patents covered the lithium manganese system that Duracell sells in specialty lines, but many also were in the lithium iron disulfide system that Energizer developed, suggesting either preparation for when the Energizer patents expire, or more likely blocking action to mitigate some of the potential for Energizer improvements.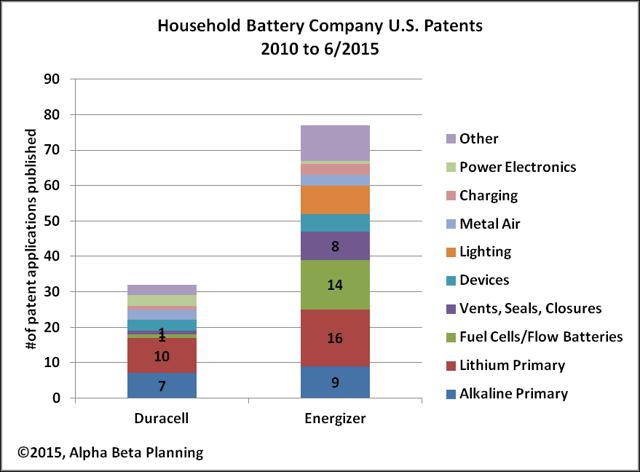 The need to market innovations also shows up. While Energizer had much more activity in vents and seals and closures, Duracell was the company that launched Duralock to tout those types of benefits to the consumer. Energizer had 13 patent applications covering lighting or other devices vs. only 3 for Duracell reflecting Energizer's historic strength and track record of innovation in lighting products.
The surprise area for me was the Energizer activity in fuel cells. While these systems have been frequently touted as next generation type batteries with application both for small household products and for large format batteries, the commercialization has always been 5 years in the future. We would need to look more closely at the specifics for Energizer, but this does suggest that they have been thinking about the next battery technology act after alkaline and lithium. Fuel cells also have an interesting potential if they can come to fruition to replicate the replacement battery business model that made alkaline so profitable with sales of fuel canisters following the original battery sale.
Conclusion
Energizer has the patent portfolio to capitalize on developments in primary technology in both alkaline and lithium for market share inroads. However, they have not demonstrated the willingness or ability to turn that technology into communications of consumer innovation that can take market share. We will begin to see whether a focused stand-alone battery company can turn that around.
The recent Energizer work in fuel cells in 2013 and 2014 suggests that they are seeking the next generation of power products that might transform the industry.
This article was written by
Since 2002, I have been the owner of a consulting business, Alpha Beta Planning, that specializes in the areas of business development and planning as well as sales and market forecasting. I also provide marketing and forecasting due diligence for investors in the private capital markets. I am an  Advisory Board Member for BWG Strategy, consulting on battery related companies. I am a former Vice-President, Business Management at Duracell Batteries where I spent 28 years with experience that included extensive work in new product development and licensing, marketing management, market research and sales forecasting as well stints in manufacturing and financial planning.
Analyst's Disclosure: I/we have no positions in any stocks mentioned, and no plans to initiate any positions within the next 72 hours. I wrote this article myself, and it expresses my own opinions. I am not receiving compensation for it (other than from Seeking Alpha). I have no business relationship with any company whose stock is mentioned in this article.
Seeking Alpha's Disclosure: Past performance is no guarantee of future results. No recommendation or advice is being given as to whether any investment is suitable for a particular investor. Any views or opinions expressed above may not reflect those of Seeking Alpha as a whole. Seeking Alpha is not a licensed securities dealer, broker or US investment adviser or investment bank. Our analysts are third party authors that include both professional investors and individual investors who may not be licensed or certified by any institute or regulatory body.