China recently ended much speculation concerning its gold holdings as it finally declared how much gold it was officially holding. China revealed that it had boosted bullion assets to 53.31 million troy ounces, or about 1,658 metric tons, the People's Bank of China said in a statement Friday. That's up from 1,054 tons in 2009, when it last updated the figures. The U.S. has the biggest reserves at 8,133.5 tons, data from the World Gold Council show.
Why did that surprise investors? Most analysts were calling for a much larger increase in gold holdings. As Mark O'Byrne, executive director of Dublin-based brokerage GoldCore Ltd, said, "People were expecting that they have bought a lot more. That's why we haven't seen much of a movement so far today. The big question is whether they now continue buying."
With that surprise lies both the bullish and bearish arguments for gold related to Chinese central bank buying. Before we give the two arguments we must emphasize that we are assuming that the Chinese data is accurate, but when it comes to gold nations rarely play their cards transparently. For example, the Chinese government could have plenty of "unofficial" accounts where they are accumulating gold and not choosing to disclose it until a future date where it is more strategic.
But for the sake of this piece we will assume the Chinese government is telling us the truth and all official gold is disclosed.
The Bearish Argument
The bears argue that the Chinese should have increased gold by a much greater margin and since they did not, then that means that they are much more lukewarm towards gold than many of the gold bulls think. That also means that investors should not count on the Chinese government to accumulate gold at a greater rate going forward - they are accumulating but not too fast.
The bears argue that if this is the case, then gold investors cannot count on the Chinese to support the gold price, and they will be a relatively small buyer relative to total gold production as they have only accumulated 600 tonnes in six years.
The Bullish Argument
The bulls argue that this is a bullish development as the Chinese only have 1,658 metric tonnes of gold rather than the 3,000-4,000 that analysts were projecting. We know the Chinese want to increase the world use of the Yuan, and an important part of giving a currency credibility is having gold reserves to back it.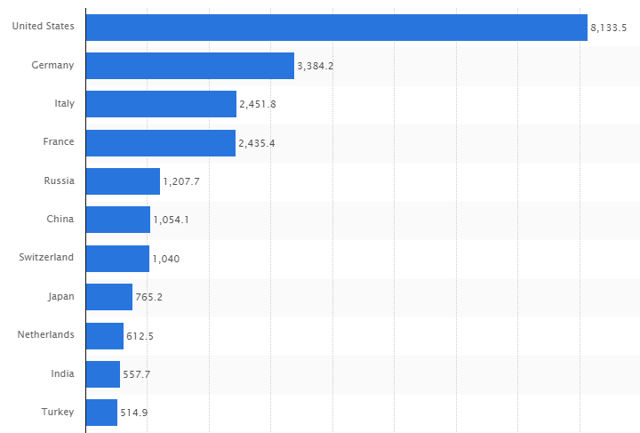 Source: IMF Data
Based on the above data from the IMF (Chinese gold reserves have not been updated), the Chinese still have a long way to go to catch up to the US and some other European nations. That means that they have to buy at least 2,000 tonnes to catch up to Germany (and the Euro) or a tremendous 7,000 tonnes to catch up to the US. For the bulls this means that the Chinese still have plenty of gold buying left, and regardless of investors demand, they will be an important support for physical gold purchases.
Our Stance
We favor the bullish side here as we think that the Chinese do want to eventually push the Yuan up the currency importance ladder and that requires gold. After all it is no coincidence that the US hasn't officially sold an ounce of gold in decades (we will not discuss gold leasing here) and maintains its gold holdings at more than double the second highest gold holder. Additionally, the major European nations continue to hold their gold, with the most powerful, Germany, being the largest gold holder.
Finally, we take a similar stance to Alan Greenspan who recently wrote that he believes it is clear the Chinese are accumulating gold and eventually want to buy enough gold to replace the United States as the largest gold holder. He also argues that it wouldn't be that much of a gamble:
"But the penalty for being wrong, in terms of lost interest and the cost of storage, would be modest. For the rest of the world, gold prices would certainly rise, but only during the period of accumulation. They would likely fall back once China reached its goal."
To accumulate the remaining 7,000 tonnes of gold that it needs at current gold prices, it would take around $250 billion dollars. While that is a lot of money to most nations, it would only be a fraction of the nation's almost $4 trillion in currency reserves and it would mean that gold would represent a little under 10% foreign exchange reserves - a much smaller percentage than the US, Germany, and France.
Thus it is our stance that today's announcement, if accurate, means that the Chinese have a lot more gold buying to do. Thus despite gold's recent plunge, we think it is prudent that investors take the contrarian position here and build gold positions by increasing exposure to physical gold and the gold ETFs (SPDR Gold Shares (GLD), PHYS, CEF). In the short term, good miners also may see a greater rise in share price simply on the expected rise in the gold price so investors seeking leverage may want to consider evaluating gold miners such as Goldcorp (GG), Agnico-Eagle (AEM), Newmont (NEM), or even some of the explorers and silver miners such as Tahoe Resources (TAHO) or Pan American Silver (PAAS) - though we're not suggesting these companies specifically but only suggesting them for further investor research.
Sentiment is extremely bearish right now, but the good news is that the Chinese have plenty more gold to accumulate.