By "gold crush" I do not refer to an immature infatuation with the shiny metal but rather the beating gold investors took last week. Gold has actually been getting crushed for several months now since stabilizing from a prior price down. We can expect more of the same for as long as the same catalyst remains in the driver's seat. Long-term gold holders with stakes in gold for diversification purposes or for other reasons, and who can bear near-term bloodshed, should again see better days within their long holding period. However, those investors interested in near-term capital preservation or appreciation should probably look elsewhere.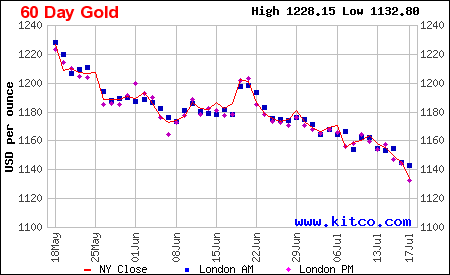 60-Day Chart of Spot Gold at Kitco.com
The 60-day chart of the spot price of gold clearly illustrates the downtrend. The SPDR Gold Trust (NYSE: GLD), which tracks the price of gold, dropped 2.5% last week. It is down 7.6% over the last month and 13.9% over the past 12 months. The same destruction of capital can be seen across a swath of gold relative securities, and silver too.
| | | | |
| --- | --- | --- | --- |
| Precious Metal Relative | Last Week | Last 3 Mos. | TTM |
| SPDR Gold Trust | -2.5% | -6.0% | -13.9% |
| iShares Gold Trust (NYSE: IAU) | -2.6% | -5.9% | -13.8% |
| ETFS Physical Swiss Gold Trust (NYSE: SGOL) | -2.5% | -6.0% | -14.5% |
| iShares Silver Trust (NYSE: SLV) | -4.4% | -8.6% | -29.9% |
| ETFS Physical Silver Trust (NYSE: SIVR) | -4.6% | -8.4% | -28.7% |
| Market Vectors Gold Miners (NYSE: GDX) | -7.9% | -21.8% | -42.5% |
| Market Vectors Junior Gold Miners (NYSE: GDXJ) | -5.3% | -14.3% | -52.2% |
| Direxion Daily Gold Miners Bull 3X (NYSE: NUGT) | -23% | -55.2% | -89.1% |
| Goldcorp (NYSE: GG) | -10.4%* | -24.8% | -44.4% |
| Randgold Resources (NASDAQ: GOLD) | -3.6% | -17.1% | -28.6% |
| Barrick Gold (NYSE: ABX) | -13.1% | -30.5% | -52.8% |
| Silver Wheaton (NYSE: SLW) | -9.5% | -29.5% | -48.1% |
| Coeur Mining (NYSE: CDE) | -8.2% | -22.3% | -48.8% |
| Silvercorp Metals (NYSE: SVM) | -9.6% | -28.8% | -56.2% |
-3 month & trailing 12 month data from Seeking Alpha; GG 1 week performance adjusted for dividend
Last week was miserable for precious metals stakeholders of all sorts, as evidenced by the table here. Gold and silver miners took the hardest hit, given their operating leverage to the price of the precious metals. Barrick Gold was down the most from within this small sample, but the Market Vectors Gold Miners ETF drop of 7.9% illustrates the reach of capital destruction across the group. Silver did worse than gold last week, with the iShares Silver Trust dropping 4.4%, versus the GLD decline of 2.5%. We can see, though, that last week's misery was simply a continuation of a trend that has extended for the last 3 months and 12 months.
The reason is clear enough to me. First and foremost, it has everything to do with the gain of the dollar. Not coincidentally, the dollar index gained significant ground last week and continued its sharp appreciating trend of the past year. I demarcated in the chart where the one-week period begins, and you can see that the week was extraordinarily strong for the dollar.

1-Year Chart of the Dollar Index at Bloomberg
The dollar's special gains last week came on the resolution or progress toward resolution of the Greece issue. It was kind of a no win situation for the euro though. Had Greece been extricated from the eurozone, it would likely have raised concern about the viability of the union given its other weaker members and the symbolic break it would have represented from the eurozone promise of for better or for worse. And as Greece remains in the eurozone, its presence and economy do no positive for the currency. Investors were again freed to focus on the direction of the U.S. Federal Reserve (toward tightening), and its divergence from the easing of the European Central Bank (ECB) and the Bank of Japan (BOJ). While the Fed may not tighten as early as September (I think it will), it remains poised to act in the relatively near-term and to begin a streak of tightening actions. This continues to support dollar strength, which harms gold and silver priced in dollar terms.
The resolution of the Greece uncertainty also worked against gold and silver priced in any currency. If gold and silver are safe havens, as I have suggested in the past, then the removal of important economic and financial market uncertainty removes demand for gold and silver. Gold stakeholders in Europe likely divested their stakes in the safe havens once the good news broke for the E.U.
Moving forward, given the dollar is likely to continue its trend higher this year, the outlook for gold and silver and their relative securities is poor. Investors concerned about the U.S. stock market due to the Federal Reserve's plans are more likely to invest in European equities than gold and silver, given the economic growth seen recently in Europe and on the efforts of the ECB. Thus, short-term investors should stay away from gold and silver, save for short stakes. Long-term planners with an eye on diversification or other factors at play for gold must have a willingness to bear near-term pain.
The risk against my argument is mostly tied to the U.S. economy and the possibility of other disruption in the U.S. If significant terrorism were to occur on U.S. shores, or if terrorism were to become a regular risk in America, then questions might be raised for the economy and for the value of the dollar. Also, if energy sector softness pressures the U.S. economy significantly enough to hold the Fed off, the dollar could give way, and give gold new life. With the risks stated against my thesis, I reiterate my expectation for weakness the rest of this year for precious metals. I cover the precious metals markets closely and publish regularly and so invite interested parties to follow my column here at Seeking Alpha.
Disclosure: I/we have no positions in any stocks mentioned, and no plans to initiate any positions within the next 72 hours.
I wrote this article myself, and it expresses my own opinions. I am not receiving compensation for it (other than from Seeking Alpha). I have no business relationship with any company whose stock is mentioned in this article.
Editor's Note: This article covers one or more microcap stocks. Please be aware of the risks associated with these stocks.