Apple (NASDAQ:AAPL) is well known after becoming one of the most successful companies in history, especially in recent years. It just reported fiscal Q1 results, setting new records. Sales shot up 73% to $46 billion and profit more than doubled to $13 billion. Apple has profited by marketing its products around the globe, with only 44% of sales (less retail sales) in the U.S. Success is largely due to 2 products, iPhone and iPad, which together accounted for 72% of sales and more than doubled in the last year. New products are coming, including a much awaited TV.
The stock skyrocketed 37 times in the last 10 years, with an almost straight-up run from $100 to $456 in the last 3 years. This company does not reward shareholders with dividends and purchasing Treasury shares, as most other financially strong companies do. All gains have come from capital appreciation, and few stockholders are complaining.
Exxon Mobil (NYSE:XOM) has an outstanding history of growth for more than a century. John D. Rockefeller founded Standard Oil Company in 1868. After becoming the largest company in the world, the Supreme Court declared the Standard Oil group a monopoly in 1911 and ordered Standard to be broken into 34 companies. The 2 biggest, Exxon and Socony-Mobil, combined in recent years. From the early years, Standard Oil has been a global company, surviving 2 World Wars, the Great Depression and numerous recessions.
Exxon explores, produces and markets energy products, largely oil along with major new investments in natural gas, worldwide. Revenues were $486 billion in 2011 (a record) and net income rose to $41 billion (10% below the record set in 2008). About 30% of petroleum production is in the US and Canada. The bulk of the remainder comes from Asia and Africa. 39% of petroleum sales come from the US and another 44% in Europe and Asia/Pacific. Daily oil production of oil was 2.3 million barrels. One third of gas comes from US and Canada, with the balance largely in Asia and Europe. Exxon produced 13.2 billion of cubic feet daily. These numbers are impressive.
Oil and gas are commodities subject to substantial price fluctuations which produced record net income in 2008. But it wasn't too long ago that oil was under $30 a barrel. Now it's $100. Gas prices have been depressed for some time. Yearly results are subject to swings (as in the last 4 years), but the long term trend is for growth.
Exxon has a long history of generating cash flow and used much of that to reward stockholders. Last year capital expenditures were a record $37 billion and another record $29 billion was used to reward shareholders with dividends and share purchases. Exxon became a Dividend Aristocrat in recent years and has been raising dividends for 29 consecutive years.
The holdings of Treasury shares can only be described as immense. At the end of 2010, treasury shares exceeded 3 billion shares. I repeat, 3 billion shares worth $250 billion. Last year, Exxon invested another $22 billion to buy 278 million shares. There only a small number of companies with market caps that exceed the value of the Treasury shares purchased last year!
These 2 companies are competing for the honor of having the largest market cap in the world. Today Apple is the leader, $425 billion to $401 billion. These companies are very different, and investors need to choose which best suites their needs. Success for Apple has been dramatic, largely in the last 10 years. That success raises the question of how long the specular growth can continue. iPhone and iPad didn't exist a few years ago. Both are seeing a decline in market share from extremely high levels. However, the global market for these products is exploding, and Apple expects to profit from this growth.
Exxon has the ultimate long term record of growth that built a company with the strongest finances on Earth. Growth will continue, although in spurts because its products are subject to cyclical price swings.
Those who expect stellar growth rates to continue at Apple will be attracted to its stock. I'm not one of those. It's difficult to imagine how successful this company will be in 10 years. Competition is heating up for iPhone and iPad, primarily from the Android system of Google (NASDAQ:GOOG). New smart phones and tablets are taking market share, which will reduce very high profit margins. More troubling in trying to forecast the future. New products we can't imagine will supplant these products.
Exxon is committed to rewarding shareholders and has one of the longest track records of growth. That impresses me. Energy needs are growing globally. Exxon will supply that need and build its finances. Higher earnings will allow it to extended its streak of annual dividends and raise the dividend to around $4 in 10 years, when Exxon should have the largest market cap.
Apple --- 10 years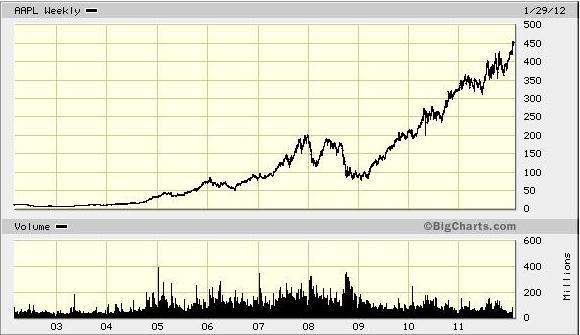 Exxon Mobil --- 10 years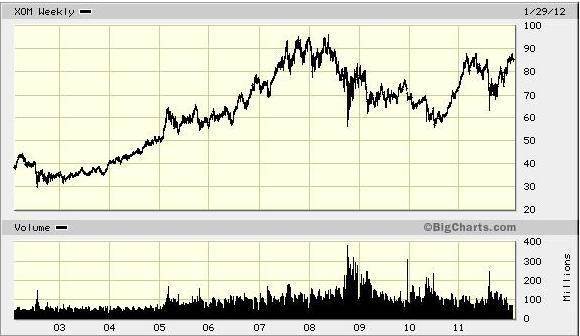 Sources: exxonmobil.com; apple.com.
Disclosure: I have no positions in any stocks mentioned, and no plans to initiate any positions within the next 72 hours.