The geopolitical posturing between Russia and the United States brings back memories of the Cold War. Along with those memories are U.S.S.R.'s Sputnik, Laika and Yuri Gagarin claiming firsts in space exploration. By the end of 2017, the United States will no longer use Russian services to deliver its astronauts to the International Space Station/ISS. Multiple U.S. companies will be benefiting from NASA contracts and the timeline of activity will create an event-driven investment opportunity for shareholders.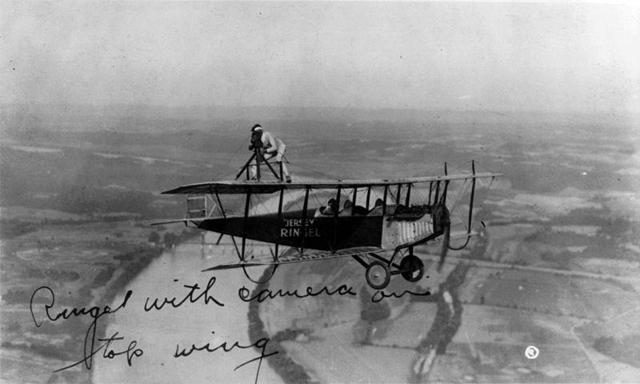 The refocus is not a resurrection of the Space Race (1955-1972). It is a return to our nation's barnstorming days. Besides the tricks and daredevil feats that we vaguely remember, this era also brought about privately funded contests that spurred aeronautical development. Fast-forward to 2015 and these contests have resumed.
The greater space exploration community includes: Jeff Bezos, Virgin Galactic, Space X, and Boeing Co. (NYSE: BA) to name a few big names. Smaller groups are being sponsored via the Google, Inc. (NASDAQ: GOOG) (NASDAQ: GOOGL) Lunar XPRIZE and NASA's X-Hab 2016 Academic Innovation Challenge.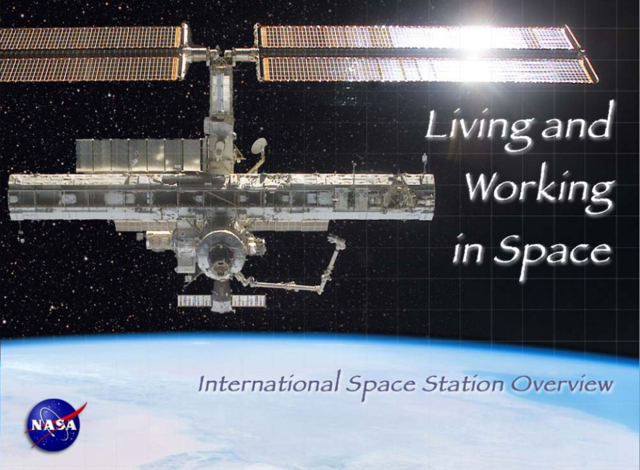 The International Space Station
The International Space Station is an inhabited research facility orbiting Earth. It is also advancing commerce in space. Space money is a pursuit of the corporate entities, individuals and insiders. Take the new BioSuit for example. Space architect, Guillermo Trotti, is the husband of NASA's newly appointed Deputy Administrator, Dava Newman. Together they have brought forth this new product for future space exploration.
The American crew that works at the station has been transported there by Russian spacecraft since NASA ended its Space Shuttle program. The new goal is to have an American spacecraft transport crew to the ISS by 2017. Boeing and Elon Musk's Space X are in the running. Of the many companies headed to space, few are available for investment on the NYSE or NASDAQ.
The Barnstormers of Space
Boeing Co. has a history of contract revenue from NASA via the Space Shuttle program and other consulting services, which have included the ISS. Amongst the aforementioned community, I find them to be the most reliable investment. Together with Lockheed Martin Corporation (NYSE: LMT), they form the United Launch Alliance (ULA), which is creating one of the two viable options for NASA's Commercial Crew Program.
Jeff Bezo's company, Blue Origin, is making the rocket engines to propel the Boeing CST-100 passenger shuttle into space. Although one could speculate that Blue Origin shares its pertinent discoveries with Amazon.com, Inc. (NASDAQ: AMZN), it's a stretch to assume some benefit to shareholders. Blue Origin is not available for trade on the NYSE or NASDAQ.
Elon Musk's Space X is the other option for NASA to transport astronauts to the ISS. Their Dragon spacecraft has also been granted a contract for development and is competing against the CST-100. The Space X program has had testing setbacks and may not win the first astronaut delivery; however, they have been successful with delivering cargo. Despite the Elon Musk connection, it is unlikely that a retail investor could get any trickle down benefit from Space X by investing in Tesla Motors, Inc. (NASDAQ: TSLA).
The other two major barnstormers of space are Virgin Group/Galactic and Google, Inc. Both plan to create a network of satellites for internet service. Virgin Galactic intends to do this by partnering with Qualcomm, Inc. (NASDAQ: QCOM) and OneWeb. Again, a brand connection will not garnish a good investment as shares in Virgin America (NASDAQ: VA) will not connect anyone to Virgin Group's moon-money.
Google's partners, including Space X, will help it achieve its version of a constellation of satellites. The ultimate goal is to provide internet service to the whole world and maintain their superior gross margin from ad revenue (89% of revenue is from ads).
On January 20, 2015, we invested $900 million in SpaceX, a space exploration and space transport company, to support continued innovation in the areas of space transport, reusability, and satellite manufacturing. We are currently evaluating the transaction and its impact on our financial statements. - Google SEC Form 10-K 2014, p.79
Google is also hosting the Lunar XPRIZE, which is a competition to land a rover on the moon and stream live video. There are many participants; sponsorship includes funding from the NASA Authorization Act, private funds from Google and partners of the Lunar XPRIZE.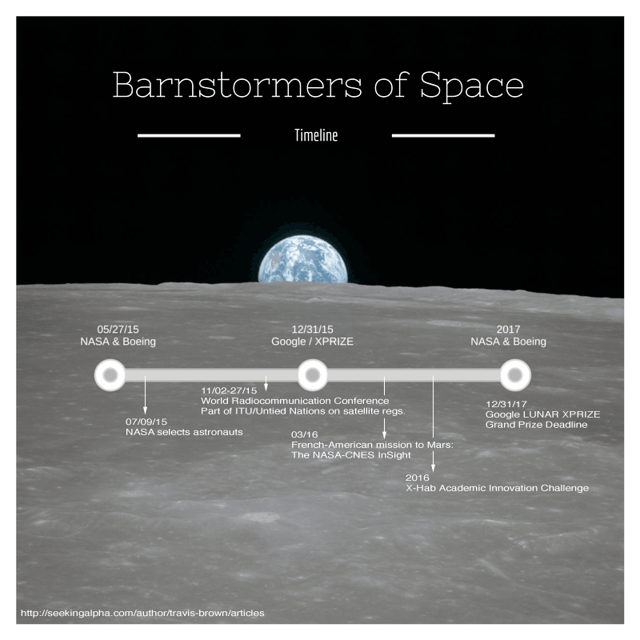 Space exploration events have already peppered 2015. The timeline shows three major benchmarks which include:
May 27, 2015 - NASA's contract with Boeing receives an update.
December 31, 2015 - Deadline for Google's Lunar XPRIZE participants to secure launch services.
End of 2017 - NASA's deadline to use Boeing Co. or Space X shuttle for crew transport; Google's deadline for the Lunar XPRIZE competition.
In between the major benchmarks are additional events such as the French-American mission to Mars, the UN conference on satellite regulations, and NASA's X-Hab. This timeline is likely to fuel momentum and investor confidence for the Boeing Co. shares.
RORC & Gross Margin For Boeing Co.
In 2014, Boeing Co. had a modest Return On Research Capital (RORC) value of $4.56. That is to say for every dollar spent in 2013 towards Research and Development (R&D), four dollars of gross revenue returned the following year. Google had a slightly better result with $5.70 in 2014.
Much has been said about the revenue from Boeing's commercial aircraft, but little else of its Defense, Space & Security (BDS) segment. In 2008, revenues from BDS were $32 billion. That was more than revenues from the commercial aircraft segment. The Network & Space Systems (N&SS) was just over $11 billion. The N&SS was 35% of the total revenues for BDS and nearly half the size of the commercial aircraft revenue. In summary, the space program revenue for Boeing was vital and dominant (2012 SEC Form 10-K p18).
The 2008-2011 finances were reflective of revenue gained from the NASA Space Shuttle program as well consulting services for the ISS. However, after the 2011 closure of the Space Shuttle program, revenues from BDS significantly declined. The 2012 BDS revenue shrunk to half the size of the commercial aircraft revenue. By 2014, the disparity had increased. Commercial aircraft brought in nearly $60 billion, while the N&SS was only $8 billion. In summary, the Network & Space Systems segment has gone from being 1/2 to 1/10 the size of the commercial aircraft revenue.

The gross margin for 2008 was 17%, the year before that it was 20%. Since the closure of the Space Shuttle program, Boeing Co. has seen a 4%-5% decrease in gross margin.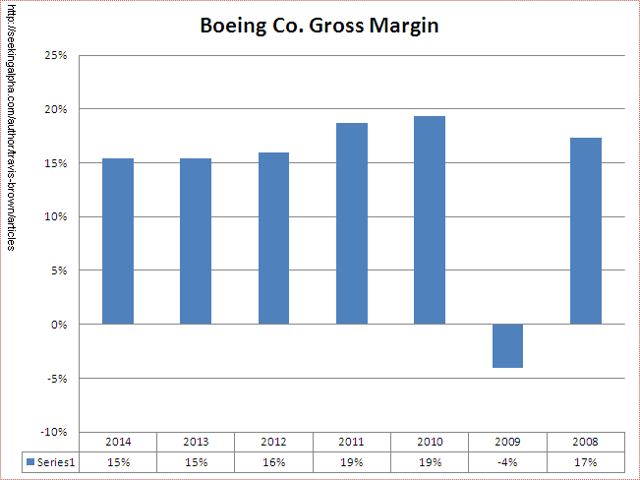 Currently, Boeing Co. has the better value in P/E ratio than Google. After Google's recent earnings release, PPS jumped to over $700 with a P/E ratio over 34. The discounted Boeing Co. has their Q2 '15 earnings release on July 22nd and trades below a P/E ratio of 19. The event-driven timeline involving space exploration will likely take Boeing Co.'s shares to new 52-week highs, and I consider the pending momentum will elevate the P/E ratio.
Risks Involved with Boeing's (BDS) Segment
Three risks to consider regarding this investment thesis:
With rocket science, catastrophic failure is possible. NASA has had its share of explosions, fatalities and mission delays. Boeing Co. is susceptible to the same dangers.
Space X could prove to be the champion in commercial crew transportation, thus carving more NASA revenue away from Boeing.
A loss or reduced funding for HR 2039 - NASA Authorization Act for 2016 and 2017 (see budget).
The first risk is difficult to rule out. I believe it just comes with the territory, but I trust that professionals are always giving safety and quality control their best effort. The second risk is possible, but it has been Space X thus far showing problems with their development. Although they are shipping cargo to the ISS, Boeing via ULA and Blue Origin are the likely champions. The third risk has been diminishing as congressional disputes progress. Less talk has been about canceling or reducing funding, while the main focus has been on reallocation and small changes in mission emphasis.
Conclusion
Boeing's BDS segment has been undervalued and is soon to see an awaking. The barnstorms of space will increase the momentum and shareholder confidence for the companies involved. Google is a major player, but due to its high PPS, it is not the same value buy as Boeing Co. I consider Boeing Co. a buy prior to the Q2 '15 earnings release and think it better to own prior to any more major PRs on space exploration.
Image Source: (1) "Jersey" by Underwood & Underwood, public domain filed w/ Library of Congress, P&P; (2) International Space Station from NASA.org.
Disclosure: I/we have no positions in any stocks mentioned, and no plans to initiate any positions within the next 72 hours.
I wrote this article myself, and it expresses my own opinions. I am not receiving compensation for it (other than from Seeking Alpha). I have no business relationship with any company whose stock is mentioned in this article.