Commodities, as an asset class, actually appreciated during the second quarter of 2015. The U.S. dollar moved over 3% lower during the period and a composite of commodity prices rallied by just about the same amount. Given the inverse relationship between the U.S. currency and commodity prices, which use the dollar as their pricing mechanism around the world, the price action makes sense.
However, anyone long precious or nonferrous metals during the second quarter were disappointed as their values moved lower. Industrial precious and base metal prices fell across the board. That resulted in losses in platinum, silver and copper -- in some senses these three metals were the ugliest in their class of commodities in the second quarter that ended on June 30. Since then, things have deteriorated even further.
It started in Q2
The lower dollar during Q2 helped many commodity prices recover however; the three industrial metals were immune to the dollars dip. Now that we are a few weeks into Q3 things are looking even worse. The dollar has turned around and shown strength as it is up 2.4% already in Q3 closing on Friday, July 17 at 97.989 on the active month September dollar index futures contract. Meanwhile, platinum, which was down by 5.59% in Q2, has shed another 8% so far the first few weeks of the third quarter and is trading at the lowest price in over six years. Platinum is actually trading in triple digits -- closing on Friday at $993.30 on the active month October NYMEX futures contract. Platinum has fallen out of bed.
Silver declined by 6.13% in Q2 and as of last Friday is down another 4.9% so far in Q3 closing at $14.81 per ounce on the COMEX September silver futures contract. Finally, copper which the barometer for the health of the global economy, fell 4.56% on Q2 and settled at $2.4960 per pound on the active month September COMEX futures contract, which is down 4.6% over the first 18 days of the new quarter. Copper actually traded down to lows of $2.3810 on July 8 as a cascade of selling took the red metal to six-year lows before a recovery. As you can see price action in these metals has been ugly. You can be sure that there is price volatility ahead in Q3 for all three of these industrial beasts.
More volatility ahead in Q3
Right now, there is not a lot positive to say about platinum, silver and copper in terms the chances for price appreciation. In the volatile commodity markets, the trend is often your friend and the trend in these metals is lower. However, there is a sign that speculative interest is growing which could change things quickly in platinum and silver. When it comes to copper, a bear market is firmly in place. Since 2011, when the secular bull market in commodities peaked, buying copper and holding a long position has amounted to a nightmare.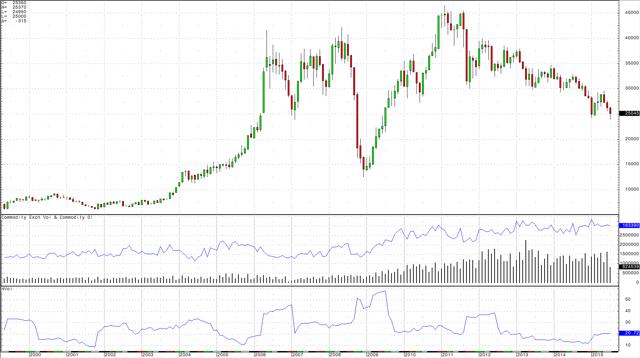 As the monthly chart of COMEX copper highlights, the red metal has made nothing but lower highs and lower lows since the 2011 peak. Prior to 2005, copper never traded above $2 per pound. Meanwhile, monthly historical volatility at under 21% is low for the red metal. The price of copper looks like it wants to continue to make lower lows and test at least the $2 level on a technical basis. On a fundamental basis, the picture is even more dire.
China is a real problem
It is no secret that China's growth has slowed. Recently, cracks have begun to emerge in the nations markets with a bubble bursting in the Chinese equity market.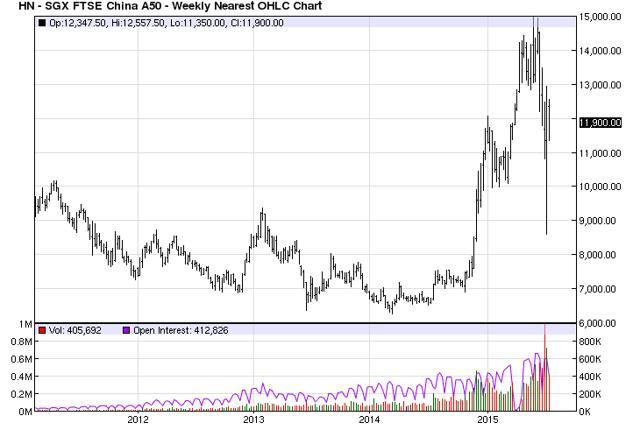 The chart of the SGX FTSE China A50 highlights that Chinese stocks fell off a cliff over recent weeks. This weakness in Chinese equities reflects both slower growth in the economy of the Asian tiger and the potential liquidity gaps in that market. Panic selling caused the selling and the government introduced a number of new rules and regulations to stop the bleeding. The bottom line is many of these rules prevent selling which amounts to nothing more than Chinese government intervention in equity prices.
This almost guarantees future illiquidity in nations domestic equity markets as it will make investors think twice about buying market instruments they may not be able to sell. China is the demand side of the equation in commodities and the weakness in China is one of the primary reasons that metal prices have moved lower. Platinum and silver have certainly suffered from weakness in China but it is copper that is most exposed to the Chinese economy. Even in the face of four interest rate cuts in China this year, these metals can not recover.
Not only is copper (as well as other nonferrous metals) a basic building block for infrastructure in emerging markets like China, but there is a huge amount of copper tied up in financing deals in the country. Chinese entities shipped copper to mainland China, bought on a cash basis and sold forward. Cheap money in other currencies with interest rates lower than domestic Chinese rates funded the trades. The idea is that when Chinese business needs the copper it will be available locally and will not have to be imported. If the copper can be sold locally, the financing deal is unwound. The copper metal serves as collateral for the financing deal which is profitable given lower interest rates or the differentials in terms of other currencies.
Meanwhile, a slowdown in the economy results in less demand for the red metal which in turn causes the price of copper to drop. As the price drops, the value of the collateral decreases and margin calls then cause a need to liquidate the financing arrangements. This is why a continuation of the weak economy in China could cause a cascade of selling in the copper market. Unless there is a real pickup in the Chinese economy soon, the copper price is likely to see another big leg down. Meanwhile, this means big volatility on the horizon for the price of copper but there are other technical reasons that platinum and silver could be setting up for big moves as well.
Open interest grows
Open interest is the number of open and not yet closed long and short positions in futures markets. Open interest data is often a great tool to gauge speculative interest in a market. Classically, a falling price and rising open interest is a bearish signal and that is what we have seen in both platinum and silver recently. The monthly chart of NYMEX platinum futures illustrates just how much open interest has grown during the recent bear market in price.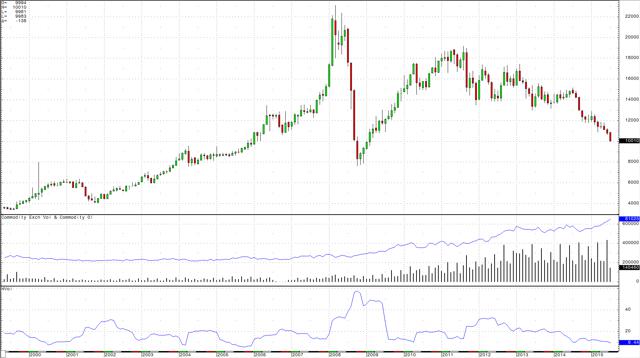 Open interest in platinum futures now stands at 81,025 contracts, which is an all-time high. At the same time, monthly historical volatility has moved down to under 10%, which is historically low for the precious metal. This indicates that the price rout in platinum has been slow, methodical and steady. While the action in open interest and price is bearish for platinum and it is hard to pick a bottom, eventually speculative short positions will need to cover and that buying will eventually establish a bottom in the price of rich man's gold.
The monthly chart of COMEX silver is eerily similar to platinum.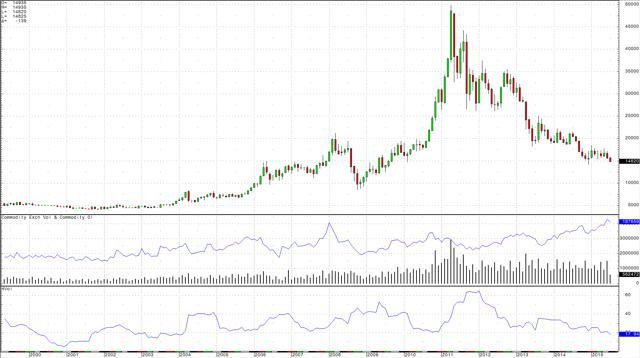 Open interest in silver futures now stands at 187,659 contracts, which is also around all-time highs. At the same time, monthly historical volatility has moved down to under 18%, which is historically low for silver, which is a very volatile commodity. While the action in open interest and price is bearish for silver, eventually speculative short positions will need to cover and that buying will eventually establish a bottom in the price of poor man's gold.
Additionally, the divergence between the price of platinum and silver and another precious metal, gold, has moved to levels, which could portend a big price move on the horizon. Platinum closed last Friday at a $130 discount to the price of gold. Over the last forty odd years, platinum has traded at an average of around a $200 premium to the yellow metal. There are currently almost 77 ounces of silver value in one ounce of gold value. Since the 1970s, this relationship has averaged 55:1. Both the spread between the price of platinum and gold and the silver-gold ratio are telling us today that either gold is too expensive or platinum and silver are too cheap, historically speaking. Gold closed below long-term support at $1135 for the first time last Friday. These inter-commodity spreads could be signaling big moves on the horizon in the precious metals sector.
Get long volatility
While the high odds play is that bear markets in these industrial base and precious metals will continue to take prices lower, pressure is starting to build and we could be on the verge of some big moves in these metals. Sharp and volatile moves tend to surprise market participants and come at times when they are least expected. A further exacerbation of economic weakness in China could cause the price of copper to fall off the edge of a cliff. The same is true for platinum and silver.
Meanwhile, historically high levels of open interest in platinum and silver tell us that there are many speculative positions in these markets. Chances are the current trends have encouraged many to play on the short side of these markets. This means that the potential for huge short covering rallies has risen along with open interest.
These metals all have attracted a lot of speculative interest, prices have extended and historical volatility is currently low. While I am bearish on all three, it is very difficult to pick a bottom. Risk is rising in all of these metals and when this happens sometimes, the best position to profit from the rising potential for explosive moves is to use options. Long straddles (put and call options at the same strike price and expiration dates) or long strangles (out of the money put and call options for the same expiration date) could be an excellent way to position in platinum, silver and copper these days. The chief determinate of option premiums is volatility and volatility is currently low meaning that option premiums are cheap. These option strategies can be employed using ETF and ETN products for all three metals and futures products for silver and copper. There is no liquid options market available for platinum futures. Long volatility limits risk to premiums paid while profit potential is unlimited.
Today platinum, silver and copper remain some of the ugliest in the class of liquidly traded commodities by virtue of their price action. Growing open interest, low volatility and the Chinese economy could mean that we are going to see some big moves in these markets in the month ahead. Right now, the markets are bearish but that could change on a dime. The best bet these days could be long volatility in these markets to take advantage of the rising potential of huge price corrections in one direction or the other.
Disclosure: I/we have no positions in any stocks mentioned, and no plans to initiate any positions within the next 72 hours. I wrote this article myself, and it expresses my own opinions. I am not receiving compensation for it (other than from Seeking Alpha). I have no business relationship with any company whose stock is mentioned in this article.
Additional disclosure: The author always holds part of his portfolio in precious metals. That percentage is dependent on market conditions.