CSX Corp. (NYSE:CSX) is the third largest railroad company in North America. The company operates 21,000 miles of network serving 23 states east of the Mississippi River including two Canadian provinces - Ontario and Quebec. CSX's peers include Union Pacific Corp. (NYSE:UNP), Canadian National (NYSE:CNI), Norfolk Southern (NYSE:NSC), Canadian Pacific (NYSE:CP), and Kansas City Southern (NYSE:KSU).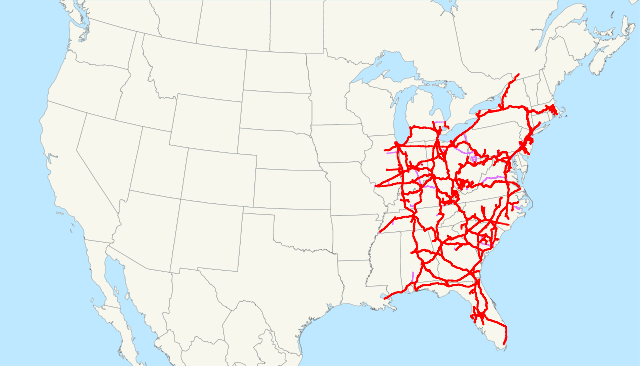 (Source: Wikipedia)
CSX operates in one of the widest moat industries - railroads. The company serves probably the most important geographic region in North America - the eastern US, serving 2/3 of the population and over 60% of US industrial production. The company has a diversified traffic volume including intermodal, industrial, agricultural, construction and coal.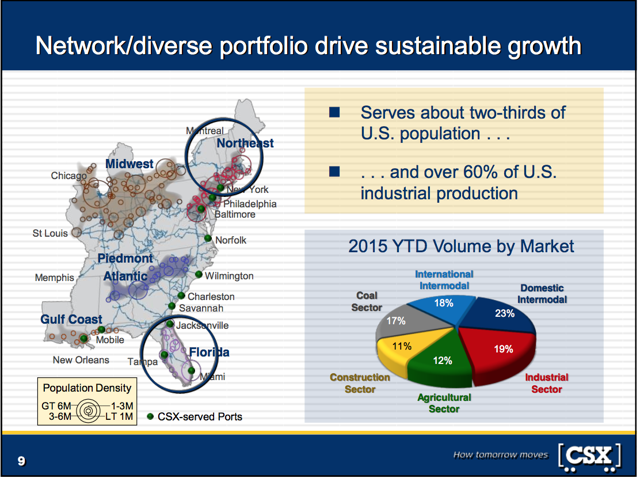 (Source: Deutsche Bank Global Industrials and Basic Materials Conference - CSX Presentation)
Corporate Profile (from Yahoo! Finance)
CSX Corporation, together with its subsidiaries, provides rail-based transportation services in the United States and Canada. It offers traditional rail services, and transports intermodal containers and trailers. The company transports crushed stone, sand and gravel, metal, phosphate, fertilizer, food, consumer, agricultural, automotive, paper, and chemical products; and coal, coke, and iron ore to electricity-generating power plants, steel manufacturers, and industrial plants, as well as exports coal to deep-water port facilities. It also provides intermodal transportation services through a network of approximately 50 terminals transporting manufactured consumer goods in containers in the eastern United States, as well as performs drayage services, including pickup and delivery of intermodal shipments; and trucking dispatch services. In addition, the company serves the automotive industry with various distribution centers and storage locations; and connects non-rail served customers through transferring products from rail to trucks, such as plastics and ethanol. Further, it is involved in the acquisition, development, sale, lease, and management of real estate properties. The company operates approximately 21,000 route mile rail network, which serves various population centers in 23 states east of the Mississippi River, the District of Columbia, and the Canadian provinces of Ontario and Quebec, as well as owns and leases approximately 4,000 locomotives. It also serves production and distribution facilities through track connections. The company was founded in 1978 and is based in Jacksonville, Florida.
The Railroad Industry
Railroads are the pulse of the economy. Whether transporting crude, lumber, merchandise, agricultural or industrial products, railroads are what keeps the economy moving. While the transportation for entities such as coal (which used to be the largest users of railroad services a few years ago) has fallen due to the fall in crude prices and rise of green energy alternatives, the transportation need for crude saw significant rise in the recent past. However, the recent turn of events with falling energy prices, has put a damper on crude transportation via railroads. The following charts from Association of American Railroads shows the drop in traffic from the peak in Sep/Oct 2014 for petroleum products coupled with the steady decline in coal transportation: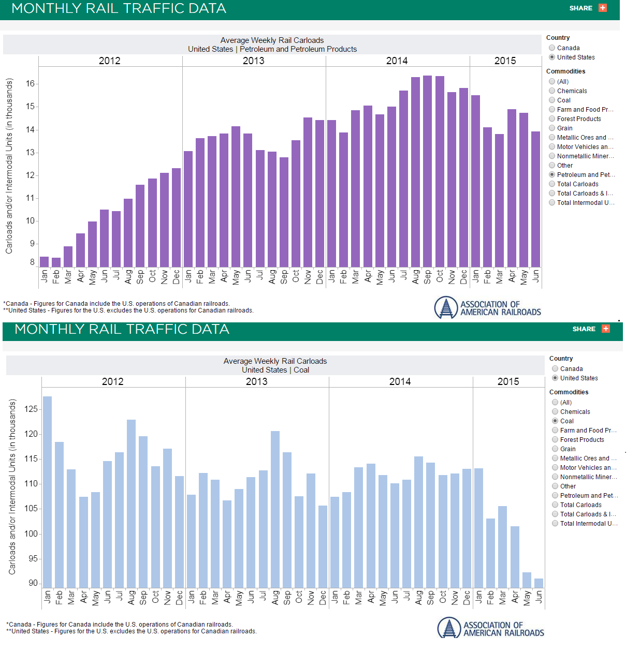 (Source: AAR - Monthly Rail Traffic Data)
The following table compares the railroad industry to show where CSX fits in, compared to Union Pacific Corp., Canadian National, Norfolk Southern, Canadian Pacific, and Kansas City Southern:
| | | | | | | | |
| --- | --- | --- | --- | --- | --- | --- | --- |
| Company Name | Ticker | Market Cap ($B) | P/E | Yield (%) | Payout Ratio (%) | 5-yr DGR (%) | Operating Margin (%) |
| Union Pacific | UNP | 85.61 | 16.61 | 2.26 | 33.30 | 27.30 | 37.00 |
| Canadian National | CNI | 48.02 | 19.59 | 1.68 | 26.80 | 15.20 | 38.80 |
| CSX Corp. | CSX | 31.66 | 16.04 | 2.24 | 26.90 | 16.50 | 29.30 |
| Norfolk Southern | NSC | 26.20 | 13.80 | 2.75 | 36.30 | 10.30 | 30.60 |
| Canadian Pacific | CP | 25.96 | 22.77 | 0.72 | 15.60 | 7.20 | 36.80 |
| Kansas City Southern | KSU | 10.90 | 22.17 | 1.34 | 23.60 | NA | 32.90 |
Dividend Stock Analysis
Financials
Expected: A growing revenue, earnings per share and free cash flow year over year looking at a 10-year trend. A manageable amount of debt that can be serviced without affecting future operations.

(Source: Created by author. Data from Morningstar)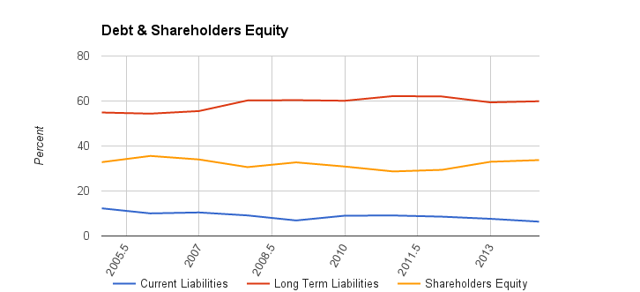 (Source: Created by author. Data from Morningstar)
Actual: The railroad business has been profitable over the past decade and the financials show a nice steady rise year over year. CSX has a debt/equity of 0.86 and a current ratio of 1.20.
Dividends and Payout Ratios
Expected: A growing dividend outpacing inflation rates, with a dividend rate not too high (which might signal an upcoming cut). Low/Manageable payout ratio to indicate that the dividends can be raised comfortably in the future.

(Source: Created by author. Data from Morningstar)
Actual: CSX currently yields 2.24% and is a Dividend Contender having raised dividend for 11 consecutive years. The 1-, 3-, 5-, and 10-yr dividend growth rates (DGR) are 6.8%, 12.1%, 16.5%, and 25.2%; and a Chowder Rule of 18.7. The company has a very manageable payout ratio of 26.90%.
Outstanding Shares
Expected: Either constant or decreasing number of outstanding shares. An increase in share count might signal that the company is diluting its ownership and running into financial trouble.

(Source: Created by author. Data from Morningstar)
Actual: The number of shares have steadily declined over the years. CSX announced a $2B buyback program in April 2015 to be completed over 24 months, following the completion of the previous $1B buyback program. Since 2006, CSX has repurchased $9B in shares.
Book Value and Book Value Growth
Expected: Growing book value per share.

(Source: Created by author. Data from Morningstar)
Actual: The book value has steadily increased after a drop during the 2008 recession.
Operating Margins
Expected: A healthy operating margin of over 30%.
Actual: Operating margin for CSX is 29.30%, and is the lowest ratio amongst the peers.
Valuation
The following charts from F.A.S.T. Graphs provides a perspective on the valuation of CSX. For details of how to read the graph, click here.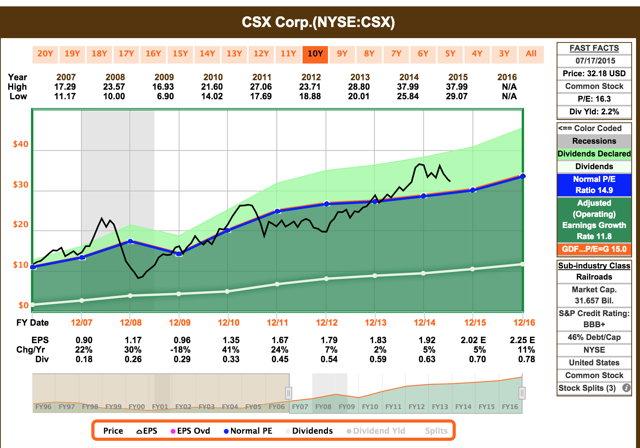 (Source: F.A.S.T. Graphs)
The chart above shows that CSX is slightly overvalued. The Estimates section of F.A.S.T. Graphs predicts that at a P/E valuation of 15, the returns would be fairly flat one year from now with a rate of return of 1.74% (see chart below). However, over the longer term, returns are expected to be (annually) 7.6% and 9.06% for the next 2-yr and 3-yr period, respectively.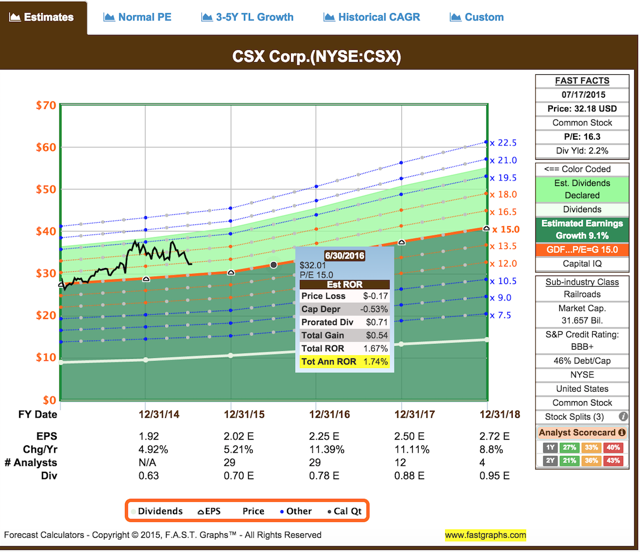 (Source: F.A.S.T. Graphs)
Analysts are expecting headwinds for the sector, and CSX is expected to grow earnings at a rate of 7.97% annually for the next 5 years. The latest quarterly earnings report from the company also expects some headwinds for it, as summarized in the chart below: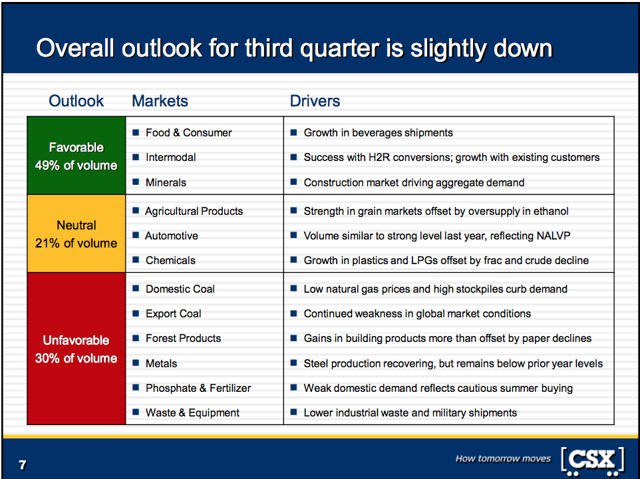 (Source: CSX Q2 2015 Earnings Presentation)
Conclusion
Railroads are the pulse of the economy, and CSX commands an impressive 21K miles of rail network serving 2/3 of the US population and 60% of the US industrial production. The company is a dividend contender having raised dividends for 11 consecutive years and has a 5-yr DGR of 16.5%. However, the dividend growth has slowed over the years as the sector sees headwinds as basic material and commodities transportation is seeing softness in the market. The trend is expected to continue putting pressure on all the railroad stocks. CSX appears to be slightly overvalued at the current moment even though the stock is down 11% YTD; a better entry price is recommended for investors looking to initiate a position.
Full Disclosure: Long CNI. My full list of holdings is available here.
Disclosure: I am/we are long CNI.
I wrote this article myself, and it expresses my own opinions. I am not receiving compensation for it (other than from Seeking Alpha). I have no business relationship with any company whose stock is mentioned in this article.