Earlier this month, PepsiCo Inc. (NYSE:PEP) announced Q2 earnings which they knocked out of the park with a beat on both the top and bottom line. PepsiCo has 22 different brands that generate over a billion dollars in annual revenue. Even better is that those 22 brands are well diversified coming from carbonated soft drinks, orange juice, tea, coffee, and chips. PepsiCo's numbers are currently being hurt due to currency exchange due to the strength of the US dollar but eventually the US dollar will lose some of its strength, leading to increased profits above organic growth seen by the company. PepsiCo's shares closed trading on Friday, July 17th at $96.78, giving a current yield of 2.90%.
The following tables/graphs are taken from my personal stock analysis spreadsheet. Data for the stock analysis was sourced from PepsiCo Inc.'s investor relations page, Morningstar, and Yahoo Finance.
Historic Growth Rates:
Historically, owners of PepsiCo have earned solid returns. According to longrundata.com, PEP has delivered investors a total return of 132.0% or 8.8% annualized returns over the last 10 years. Those numbers are market returns at specific snapshots in time and aren't necessarily indicative of the business results over the same time period. Looking at the historic growth rates for per share dividends, earnings, revenue, and free cash flow gives a better idea of the true operational results that PepsiCo has delivered.

Surprisingly enough the average growth rate across all four metrics is 8.8% which is exactly the total return that investors in PepsiCo have achieved over the last decade. Of course, past results are no guarantee of future returns, so let's look at what the future could potentially have in store for investors in PepsiCo.
Discounted Earnings:
Analysts followed by Yahoo!Finance expect PepsiCo to grow earnings 5.7% per year over the next 5 years. I then assumed that PEP could grow earnings for 3 years at 4.6% (80% of 5.7%) and at 4.5% per year thereafter. Running these numbers through a discounted earnings analysis with a 10% discount rate and summing over 30 years' yields a fair value price of $74.61.
Gordon Growth Model:
As a dividend growth investor, I'm primarily concerned with the growth of the dividend since capital appreciation is too volatile in the short term. Using a simple Gordon Growth Model calculation starting with the current annual dividend of $2.81, a required rate of return of 9%, and a dividend growth rate of 6.0%, PepsiCo's fair value is calculated to be $99.29.
You can also rearrange the formula to solve for the required growth rate based on the current price. Using the current annual dividend of $2.81 and the current price of $95.55, PEP would need to grow the dividend by 5.9% per year to provide a 9% rate of return.
The required/estimated dividend growth rates are lower than what PepsiCo has historically provided. However, the payout ratio is already above 50% suggesting that management will be less aggressive with expanding the payout ratio to help fuel growth. This would mean that dividend growth would more closely mirror growth in earnings plus the reduction of shares on an annual basis. That would still be something on the order of 6-8%.
Dividend Discount Model:
For the DDM, I assumed that PepsiCo will grow dividends at the rate of forecast rate of earnings growth plus the historic annual reduction in share count. That would be 6.74% per year for the first five years and then 6.07% per year for the next three years (90% of 6.74%) and back to the baseline long-term earnings growth plus share reduction of 5.50% in perpetuity. To calculate the values I used a discount rate of 9%. Based on the DDM, shares of PepsiCo are worth $89.99. At a discount rate of 8%, shares would be worth $117.69.
Dividend Safety:
Of course we all want dividend growth from the companies we own because in general that means there's growth of the underlying business. However, dividend growth at all costs is not sustainable. Over the last 10 years, the payout based on earnings has ranged from a low of 34.7% to a high of 59.3% with an average payout ratio of 48.2%. The free cash flow payout ratio has ranged from 41.9% to 60.1% with an average of 53.7%.
You can see the historical payout ratios based off both earnings and free cash flow in the following chart. Both the traditional payout ratio based on earnings as well as the free cash flow payout ratio have been trending higher over the last decade.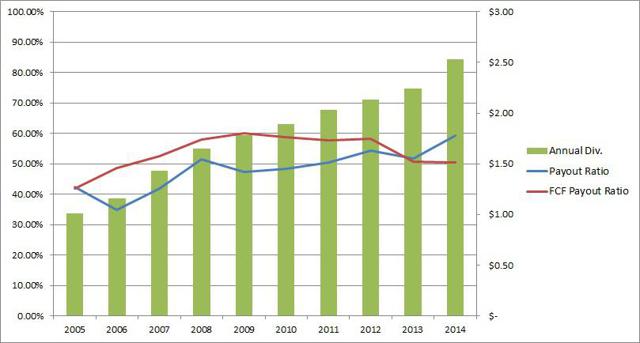 Cash Flow:
Earnings grab the headline attention, but cash flow is the life blood of any company. PepsiCo has grown operating cash flow by 9.1% per year since the end of FY 2009 from $6.796 B to $10.506 B. Capital expenditures have grown from $2.128 B to $2.859 B or just 6.1% per year meaning that free cash flow has improved an excellent 10.4% per year over the same period growing from $4.668 B to $7.647 B.
However, since dividends are a cash expense let's see what the free cash flow after paying the dividend, FCFaD, looks like. FCFaD has grown from $1.936 B in FY 2009 to $3.917 B in FY 2014. That's an absolutely phenomenal 15.1% annual increase. However, due to the aggressive share buyback program the free cash flow after dividends and buybacks, FCFaDB, hasn't seen as much improvement. Actually, PepsiCo has run cash flow negative in regards to FCFaDB to the tune of $225.8 M over the last five years.
PepsiCo is a cash flowing machine converting an average of 67.2% of their operating cash flow into free cash flow and 31.1% of their operating cash flow into FCFaD over the last five years. They have also converted 9.6% of their revenue into free cash flow over the same time period. From a cash flow perspective there's no concerns with PepsiCo at this time. They are able to convert a high amount of their revenue into free cash flow and the dividend is well supported by the free cash flow. With a cumulative $14.501 B in FCFaD over the last five years that leaves plenty of cash to build up reserves, make strategic acquisitions, or pay down debt.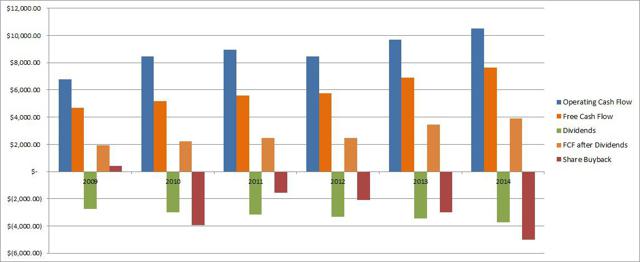 Balance Sheet:
It's also important to analyze the balance sheet to determine the safety of the dividend. PepsiCo is more aggressively capitalized than I would have expected. However, with the current low interest rate environment and fairly steady nature of their business I'm okay with the company increasing their financial leverage over the short term assuming that the debt ratios will improve over time. At the end of FY 2005, the long-term debt to equity ratio sat at just 0.16 with a total debt to capitalization ratio of 26.8%. Fast forward to the end of FY 2014 and those same metrics are now 1.36 and 62.2%, respectively.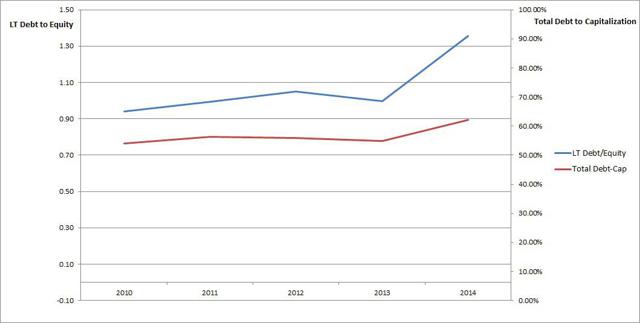 As of the end of FY 2014, PepsiCo's total debt level was $28.897 B. Based on the average net income of the last 3 years, $6.477 B, PEP could use its cash stockpile of $6.134 B and repay all of its debt with 3.51 years worth of net income if they desired. I consider anything less than 5 years to be safe and PepsiCo is under that mark although they are much higher than I'd like. While the total debt level is quite high, operating income still covers the annual interest expense by more than 10 times, suggesting that the debt levels are not overly burdensome at this time.
PepsiCo's balance sheet isn't overly leveraged although I would always prefer to see a lower level of debt. After all you can't go broke if you don't owe anyone money. With the spigot of cheap money potentially slowing down with an interest rate increase from the Fed, I'll be looking for PepsiCo to use their ample cash flow to begin improving their balance sheet metrics.
Relative Historical Valuations:
Another thing I like to look at before investing in a company is where it currently sits compared to some common valuation ratios. Companies tend to stay within certain ranges as long as nothing has fundamentally changed with the company. The following table shows the low end of the 5 and 10 year historical averages for dividend yield, P/E ratio, P/S ratio, and EBITDA per share as well as the FY 2015 estimate for each metric with the corresponding price targets. The reason for using the low end of the common ratios is because we are targeting to buy shares of the company at its cheapest valuation.

I've included both the low and high end of the ranges that PepsiCo has traded for over the last 5 and 10 years, as well as the estimate for FY 2015 across the metrics. The current share price is trading at the high end of the historic range across all metrics. The average low valuation price target comes to $78.99 while the average high valuation price works out to $95.92.
Share Buyback:
Since the end of FY 2009, PepsiCo has decreased their share count by 3.2%. At the end of FY 2009 the diluted weighted shares outstanding were at 1.577 B and by the end of FY 2014 they were down to 1.527 B. That's good for a 0.6% annual decrease in the diluted weighted shares outstanding. However, that includes the increase in the share count from 2009 to 2010. If you change the period from 2010 through 2014, the annual reduction comes to 1.4%.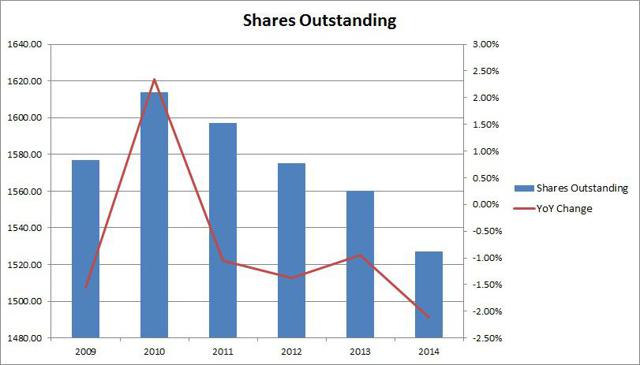 A negative number for the % change value means shares were bought back by the company and a positive value means the shares outstanding increased.
While I enjoy share buybacks as a way to return capital to shareholders, it's also important to look at how effective those buybacks have been. PepsiCo has spent $15.630 B on share buybacks since the end of FY 2009. The share count has been reduced by just 50 M shares over that time. Calculations for buyback effectiveness takes into account the net cash used for buybacks, share buybacks, shares issued for acquisitions or stock options.
If PepsiCo's share count remained the same as at the end of FY 2009, 1.577 B, earnings per share for FY 2014 would have been $4.13. Since PEP actually earned $4.27 per diluted share in FY 2014, the effect of the buyback has been $0.14 ($4.27 - $4.13) per share. Management used $9.91 per share worth of equity value for the repurchases which represents just a 1.4% return ($0.14 / $9.91).
If you move the time period to start with the end of FY 2010 the numbers look a bit better. PepsiCo has spent $11.685 B on share buybacks to reduce the share count by 87 M. That's a total reduction of 5.4% with an annual decrease of 1.4%. Earnings in FY 2014 would have been $4.04 if no shares had been reduced, meaning the effect of the share buyback was $0.23. Management used $7.24 per share worth of equity value for the share buybacks which bumps the return they've earned up to 3.2%.
The share buyback program has been fairly successful since FY 2010 due to the continuous reduction in share count. However, the share count did increase from FY 2009 to 2010 which led to the rather lackluster results over the last 5 years.
Revenue and Net Income:
Since the basis of sustained dividend growth is revenue and net income growth, we'll now look at how PepsiCo has done on that front. Revenue growth between FY 2009 and FY 2014 has been solid at 9.1% per year. However, net income hasn't participated in the same growth with just 1.8% annual growth. This has led to a decline in net income margin of 13.8% in FY 2009 to just 9.8% in FY 2014. Assuming that net income margin is 10.0%, average of the previous 5 years, net income would come in at $6.369 B based on FY 2015's estimate of $63.660 B in revenue.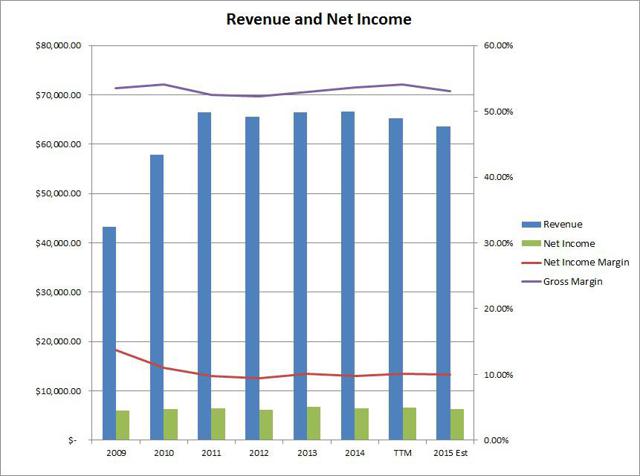 Forecast:
The following chart represents the earnings per share forecast used in the discounted earnings valuation from above and the typical P/E ranges that shares of PepsiCo have traded for. Shares appear to be overvalued currently as the FY 2015 forward P/E ratio estimate sits at 21.2. However, it's important to remember that these are just forecasts and if PepsiCo is able to grow earnings at a faster or slower rate than my assumptions the valuation could be very different. There's also the possibility that the market in general will change its normal P/E range for PepsiCo, leading to P/E compression or expansion.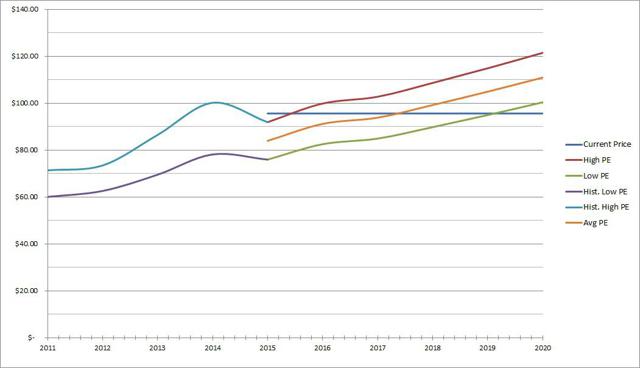 Conclusion:
The average of all the valuation models gives a target entry price of $76.58 which means that shares of PepsiCo are trading at a 24.8% premium. I've also calculated it with the highest and lowest valuation methods thrown out. In this case the Graham Number and Gordon Growth Model valuations are removed and the new target entry price becomes $80.10. Shares are currently trading for a 19.3% premium to this price. The average valuation price works out to $86.13 and the high valuation price is at $93.20.
According to Yahoo!Finance, the 1 year target estimate is $106.35 suggesting that the share price is undervalued and has 11.3% upside. S&P Capital IQ has PEP as a 3 star hold and has a 1 year target price of $101.00 suggesting 5.7% upside. However, their fair value estimate comes to just $84.80 suggesting that shares are overvalued. Morningstar has PepsiCo rated as a 3 star stock meaning it's trading at their fair value estimate.
PepsiCo doesn't have the same brand equity that Coca-Cola Company (NYSE:KO) (Full Analysis Here) has; however, what they lack in that department they more than make up for with their product diversification. PepsiCo has a large share of the beverages market as well as a stranglehold on the snacks aisle of your local grocery store. The entire chip aisle is practically devoted to PepsiCo's products.
One thing to keep in mind with the large multinational companies is that the US dollar is at levels not seen in over a decade.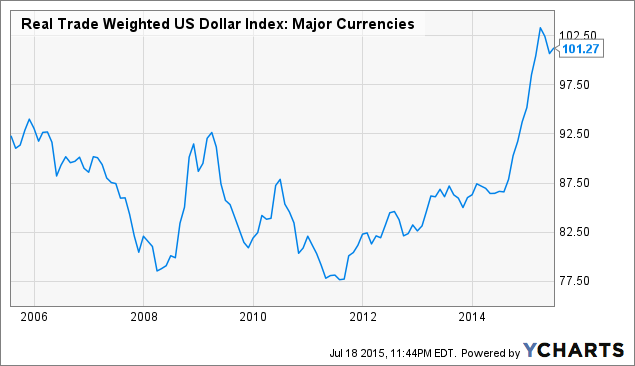 Real Trade Weighted US Dollar Index: Major Currencies data by YCharts
The US dollar probably still has some more room to run with the expected interest rate increase from the Fed while the rest of the major economies continue to loosen their money supply. However, this will be short term in nature and as the US dollar normalizes compared to the rest of the currencies, what was once a headwind will become a huge tailwind for the multinationals. In fiscal year 2014, PepsiCo generated 49% of their revenue from outside of the United States so there's a large portion of their revenue and profits that get affected by currency fluctuations.
Overall I think that shares of PepsiCo are expensive at current prices but there's a lot to like about this company. I'm bullish on the company, but not so much the current valuation. The dividend is well covered by free cash flow and there's even enough excess to fund the share buyback program. And to further support the potential growth of the dividend is the fact that cash flow continues to grow at a rapid pace. The share buyback program is a value add scenario which helps to boost earnings and cash flow on a per share basis. Currency fluctuations have been a drag on profits for PepsiCo but should normalize over the coming years as the US dollar loses some of its strength. That will be a tailwind to profits. I currently have a position in PepsiCo and as such can afford to wait for better valuations for my investment capital. I'd be interested in adding more shares to my portfolio if the share price dips down to the $91-93 range.
Disclosure: I am/we are long PEP.
I wrote this article myself, and it expresses my own opinions. I am not receiving compensation for it (other than from Seeking Alpha). I have no business relationship with any company whose stock is mentioned in this article.
Additional disclosure: I am not a financial professional and all thoughts/ideas here are my own and for entertainment purposes only. Investing involves risks. Please consult a financial professional and do your own due diligence before investing. The author is not responsible for losses of any kind by readers. All charts/images and data are sourced from my personal stock analysis spreadsheet, Morningstar, Yahoo! Finance, or PepsiCo Inc.'s Investor Relations page.