Royal Gold (NASDAQ:RGLD)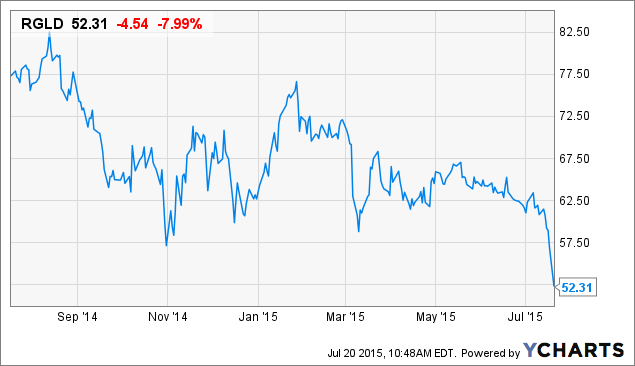 RGLD data by YCharts
Recent Stock Price: $52.11
Shares Outstanding: 65.21 million
Market Cap: $3.44 billion
52-Week Range: $51.89 - $82.84
Just two weeks after announcing a new gold stream on Teck's Carmen de Andacollo mine, Royal Gold announced on Monday that is has acquired a gold and silver stream on New Gold's Rainy River Project in Canada. First, I will discuss the details of the transaction before getting into whether or not I think it's a smart move by Royal Gold.
Breaking Down the Rainy River Stream
Rainy River is 100%-owned by New Gold, a $1+ billion gold and silver mining company. The project contains 3.8 million gold resources, but also 9.4 million silver ounces. The project is expected to produce 325,000 ounces of gold annually over a mine life of 14 years, at below industry average costs (less than $600 per ounce), according to New Gold's website. Environmental assessment approvals were received by New Gold in January of 2015, and first production is expected to occur by mid-2017.
Royal Gold will make an immediate upfront payment of $100 million, and $75 million once capital spending on the project is 60% completed, which is expected to occur by mid-2016.
In exchange, New Gold will deliver 6.5% of the gold produced at Rainy River until 230,000 ounces have been delivered and 3.25% thereafter, as well as 60% of the silver produced until 3.1 million ounces have been delivered and 30% thereafter. Royal Gold will pay 25% of the spot price of gold and silver as well.
What Royal Gold Could Earn
Royal Gold should net 20,000 ounces of gold and 250,000 ounces of silver annually for the first 10 years of production, according to the release. If you plug in current metals prices ($1,100 gold and $14.80 silver), you can come up with a rough estimate of what Royal Gold can expect to earn from this deal.
In the first 10 years, using current metals prices, Royal Gold would net $16.5 million in cash flow from gold ($825 per ounce margins and 20,000 ounces of annual production), and $2.77 million from silver ($11.1 per ounce margins and 250,000 ounces of annual production), for a total of $19.27 million.
For a total capital investment of $175 million, this seems like decent returns, as the company would earn 8.75% annually on its $175 million investment at current metals prices (over the first 10 years of the deal).
Of course, higher gold and silver prices would only make the stream more valuable. For example, at $1,300 gold and $20 silver, Royal Gold would earn $20.8 million from gold revenue and $4 million from silver revenue (margins of $1,040 per gold ounce and $16 per silver ounce). This would represent an annual rate of return of 14.17% on Royal Gold's $175 million investment over the first 10 years of the deal. The company would make 100% of its money back in under 7 years.
Royal Gold also believes Rainy River has excellent exploration potential as the project contains 2.9 million ounces of measured and indicated resources in open pit and underground, as well as 10 million ounces of measured and indicated silver resources. Royal Gold does not have to pay a dime in exploration expenses, so any increased production from this mine or mine life extension past the current mine plan would increase the stream's value. That's the real value of the gold/silver streaming model.
The Downside
I see a few risks with the Rainy River stream.
Capital expenditures at Rainy River during the second quarter were $32 million, bringing the project development capital spending through June 30, 2015 to $119 million; through mid-2015, New Gold has spent 14% of the total development capital estimate of $877 million, according to the company. That's a huge cost for any gold mine.
New Gold has $327 million in cash as of June 30. Combined with the $175 million deposit and the company's undrawn credit facility, New Gold has $738 million in liquidity to fund the remaining project expenses at Rainy River, which total $760 million. Therefore, the company will be short by $22 million.
New Gold says it will depend on the free cash flow generated from its four operations over the next two years to fund the remaining expenses at Rainy River. This is an issue since gold and silver prices are now at the lowest price over the last five years, so free cash flow should definitely be low this quarter and perhaps next quarter as well. Royal Gold investors should definitely keep an eye on New Gold's quarterly results and balance sheet going forward.
Another issue is the gold and silver stream will reduce Rainy River's profitability. Gold streams are becoming popular on primary copper mines, as the stream has little effect on the mine's profitability. For example, Silver Wheaton (SLW) recently bought a $900 million gold stream on Vale's Salobo mine, and this is a massive copper mine that doesn't rely on the revenue generated from gold and silver; these metals are simply an added bonus.
However, Rainy River is a gold and silver mine that relies 100% of the revenue generated from those metals, so the mine's profitability will be reduced by this stream. This could be an issue if gold and silver prices fall even further from here.
Finally, Royal Gold won't see any cash flow from this deal for at least another two years, so there's added development risk. Instead of buying a stream on an asset that is currently producing and getting repaid immediately, this stream holds risks that New Gold will either run out of money developing the mine or face other issues.
Royal Gold can certainly afford this deal. The company ended last quarter with $715 million in cash and equivalents compared to $319.4 million in debt, according to financial statements. Plus, Royal Gold doesn't have to pay the entire $175 million upfront, which allows the company to complete more deals if it wants to.
Still, I am a bit skeptical of the deal as I think it carries a little too much risk. I'd prefer Royal Gold to take a bigger piece of the production at Rainy River for its $175 million investment, or scrap the deal entirely and purchase a stream or royalty on a currently producing asset.