Old Torchlight, New Torchlight…
Torchlight Energy (NASDAQ:TRCH) is an oil and gas story you might not ever see again in the E&P space. This company's history, or I should say the "old Torchlight" company history, reads like an early 1980's seasonal script for the TV series Dallas.
The old Torchlight was a nightmare. Old Torchlight was a revolving door of managers, a story of borderline unethical guidance that was consistently given - unethical in that the company was never close to hitting it, had nothing resembling a long-term strategy from an operations standpoint, and in general was everything that's wrong with E&P. Justifiably so, old Torchlight's equity traded to sub-$0.50 pricing on its way to what appeared like a bankruptcy.
But that was before current management decided to put on their collective Cowboy hat and go Wildcatter - that's right, Wildcatter. New management decided to put the work gloves on and to go out and save this company when the company was figuratively (but quite literally as well) on the steps outside of bankruptcy court. That move and the successes had has been parlayed into what is essentially a NewCo and what is a company that has an equity on an absolute tear. Shares have more than doubled in the last 90 days as the NewCo's derisked long-term viability and momentum has equity buyer's bottom picking the name.
A Wildcatter Turned Fundamental Unicorn…
New Torchlight just closed a massive $9.8 million private placement - one that because the shares have ripped so hard into the new life breathed into the company has the convertible preferred offering deep in the money. The entire issue is convertible after 12 months at $1.15 per share. Torchlight last closed at $1.69. You better believe the issue is getting converted and Torchlight is getting off the hook for the 12% annual payout associated with it. Another gamble in the parlay at Torchlight has done well for the company.
What did Torchlight use the proceeds for? To pay off all senior debt. Torchlight now has zero senior debt.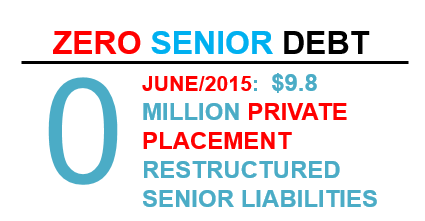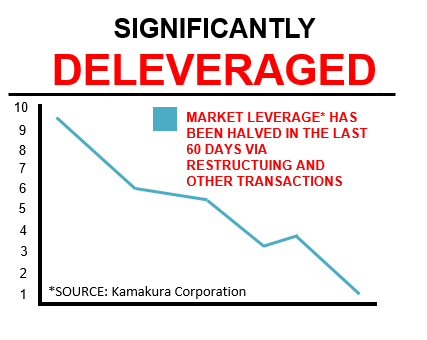 Torchlight also brought existing Series B Sub Debt Note Holders current and pocketed a small sum for working capital. Remember, I believe this raise is getting converted at that $1.15 mark next June (June 2016) when shares are trading much, much higher. I'm personally going to be driving a large accumulation into the equity at current pricing and have been over the last few days. I have a hard time believing that I'll be the only investor/person with access to asset managers who will be doing the same. Again, my guess is that Torchlight continues to rip higher into bottom ticking buyers and into improved fundamentals.
As for the Sub Debt and if that will be a headwind or tailwind going forward, as of last reporting Torchlight has just $4.5 million in Sub Debt with no near-term maturities. That's a great place to start. Of this $4.5 million total Sub Debt Torchlight was able to get interest on $2 million of it deferred for 12 months in exchange for a reset of conversion to $1.00. This was done when shares were trading at $0.60. This $2.5 million in Sub Debt is also deep in the money and I believe will be converted at first opportunity. Torchlight will likely not have this on the books for long. The remaining $2.5 million in Sub Debt stood pat on terms and have conversion options at $4.50. Torchlight does NOT have a revolver, is not in talks to acquire a revolver, and wants nothing to do with debt for the NewCo.
At the same time as optimizing its capital structure Torchlight is reshaping and restructuring its asset base into one that better suits the NewCo. Torchlight is exiting its position in the Hunton and has already locked up an LOI to divest 40% of the total play. This created some liquidity for the company and should continue to as it can JV or divest more of the play. Pro forma, Torchlight expects to be at an 80%/20% oil/gas production mix and to be able to achieve 30% IRR at ~$50 oil pricing. I find these economics not only sustainable but outright attractive all things considered. As Torchlight can roll off ancillary, non-production expenses associated with its debt obligations these economics will continue to improve.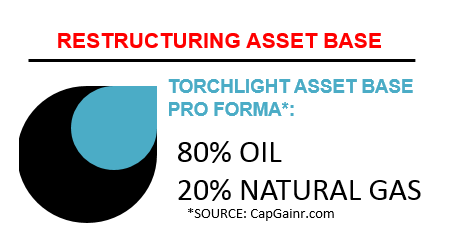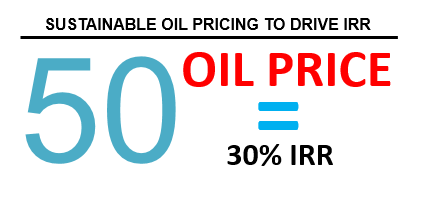 Again, the NewCo is nothing in any way similar to the old Torchlight. We're now working with a real company with a real plan and real management - as Cowboy as they might be. The market has taken notice and not just the equity markets, the risk pricing markets as well. I would argue the risk markets and how NewCo-Torchlight is priced is far more important than the fluctuations in a currently low volume, thinly traded equity.

Kamakura, an institutional risk management and consulting firm, has modeled NewCo-Torchlight to have just a 196 bps expected probability of default over the next 12 months. That places it among the most stable of names in the entire E&P space. I can't understate how important it is to satisfy the risk markets as credit and debt markets typically precede action in equity markets. As of right now NewCo Torchlight is doing just that. In fact, forward looking as far as 10 years out Kamakura shows Torchlight to have just a 221 bps probability of default. That's called long-term viability and that's what's going to continue to drive the equity price higher.
I want to point out and to make clear that just 90 days ago Torchlight's 12 month default risk was as high as ~14%. That would have had it trading in-line with some of the most stressed/unstable names in the E&P space. The swing in forward outlook and long-term viability has been nothing short of incredible as evidenced below: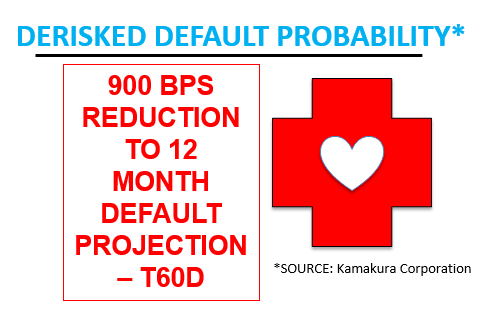 Another look at the now wide and obvious variance of Torchlight to some previously comparable risk priced peers:
Torchlight to former risk priced comparable peer Halcon (NYSE:HK):

Torchlight to former risk priced comparable peer SandRidge (NYSE:SD):

Torchlight to former risk priced comparable peer Magnum Hunter (MHR):

Torchlight to former risk priced comparable peer EXCO (NYSE:XCO):

Finally, Torchlight to former risk priced comparable peer Rex Energy (NASDAQ:REXX):

Really pay close attention to the huge basis point differentials now in place when looking at 12 month default probabilities. The Torchlight story is jaw dropping when viewing it from a risk pricing standpoint. It really is. Take very careful notice of how derisked this play has become to former peers.
Furthermore, Torchlight is one of the few E&P names I cover that leverage isn't the single most influential factor on long-term viability (I cover the entire Direxion Daily Natural Gas Related Bullish 3x ETF (NYSEARCA:GASL) and SPDR S&P Oil & Gas Exploration & Production ETF (NYSEARCA:XOP) indexes as well as a handful of non-index listed energy names for Seeking Alpha and CapGainr.com, which is my own subscription service). This means that at worst Torchlight could be considered for diversification of a broader energy portfolio or a micro-energy portfolio strategy. It also means that Torchlight as a company has incredible flexibility should it want to lever up - although, again, management has been clear it does NOT want to deploy leverage: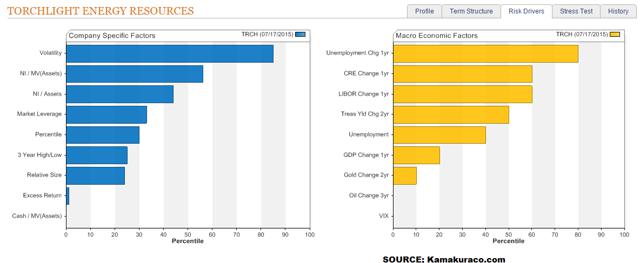 A Young Torchlight Bull…
The Torchlight-NewCo story is just being told, is still entirely under the radar, and should be one that continues to improve in time. Torchlight, because of its numerous immediate term catalysts, trades with a now zero correlation to underlying oil and gas pricing and has made a clean break from former risk priced peers in trading: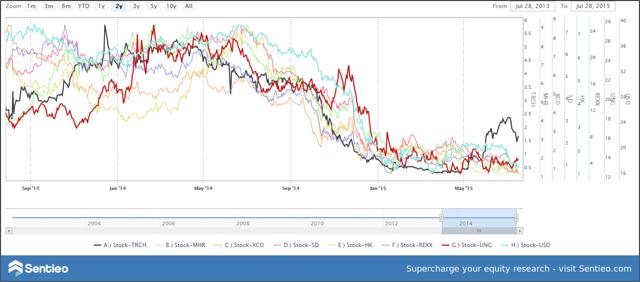 Again, the risk markets preceded this move and are showing that Torchlight's long-term viability are no longer in question. As Torchlight can improve its offensive fundamental outlook via continued optimization of its asset base, maturation of its asset base, further conversion of its obligations to shares, and potentially receiving a tail wind from improving commodity pricing its equity should be able to rage higher into the NewCo bull.
I've included a Torchlight Infographic to summarize and make visual the venture level opportunity at Torchlight:

I recommend an immediate long position in Torchlight.
Disclosure: I am/we are long TRCH.
I wrote this article myself, and it expresses my own opinions. I am not receiving compensation for it (other than from Seeking Alpha). I have no business relationship with any company whose stock is mentioned in this article.