The E-Mini S&P 500 managed a climb to $1327.00 Wednesday. Technically, this signals a potentially higher market especially as technicians cite the "golden cross" as the 50-day moving average has advanced above its 200-day moving average.
The US Institute for Supply Management (ISM) recorded its index of national factory activity as up to 54.1 from the previous months 53.1, but failing to reach forecasts of 54.5. This is the highest reading since June 2011. The measure of new orders increased to 57.6 from 54.8 and the employment index registered a decrease to 54.3 from 54.8. Anything over 50 denotes expansion.
Construction Spending was up 1.5% in December. The ADP private sector jobs came in as 170,000 while forecasts were for 185,000. Friday's Unemployment report is forecast at 150,000 new jobs created with private payrolls at 170,000. According to Thomson Reuters data, out of the 228 companies of Standard & Poor's 500 reporting, 61 % have exceeded expectations. Whirlpool Corp. had an optimistic earnings report and a positive outlook for 2012. Facebook is potentially in an initial public offering to the tune of $5 billion dollars. President Obama is proposing a $5 to $10 billion program to assist homeowners in refinancing their mortgages.
The market is showing resilience, but the fears of a possible Greek default and/or a second bailout for Portugal could potentially weigh on the E-Mini S&P 500. Greek Finance Minister Evangelos Venizelos announced that talks with private creditors on the bond swap were "one formal step away". There is more convincing to be done prior to any bailout disbursement. The Eurozone leaders must authorize the spending cuts and labor reform as suitable in order to issue the aid.
It is thought that the fiscal compact now in place for the Eurozone countries, consisting of tighter budget rules, a larger bailout fund and the commitment to structural reforms may help contain the debt crisis and slowly raise the indebted Eurozone out of the crisis. Expectations are that Portugal may seek a second bailout from the European Union and the International Monetary Fund on top of the $78 billion euros in bailout money already received. Standard & Poor's have downgraded Portugal to the 'junk' category and it is thought that they may be next in line for restructuring. Italy is also discussing labor reforms with trade unions to improve employment particularly among women and young people.
The Italian bond yields that were exceeding 7% back in November are now around 6% showing some progress. Italy had a target to refinance about $90 billion euros of debt by the end of April which initially looked beyond hope, but now seem quite feasible. It will depend on the auctions that Italy has scheduled for mid-February to determine whether they will be able to recover without following Greece's fate. Belgium is thought to be in a recession without seeking a bailout. The GDP in Belgium decreased to 0.2% fourth quarter, while third quarter showed a decrease of 0.1%.
Germany, the US and China's factory activity increased in January showing strength for the other nations to follow suit. New export orders dropped in China. Concerns about demand for export goods has China less optimistic at the moment. German Chancellor Merkel has been courting China in expectations of contributions to the International Monetary Fund in the hopes of bolstering the 'firewall' around the debt ridden countries to prevent any potential contagion effects. Trade between Germany and China is thriving therefore allowing for more of a strategic partnership between the two countries. It is thought that about $3 trillion of China's foreign currency reserves may be in euro assets to date.
Iran has threatened to block the Strait of Hormuz in retaliation for sanctions from the European Union and supported by the US. The majority of countries are unified in this move, willing to sign waivers to cut the importation of the Iran oil as of July 1st. China has proceeded with barter plans, but German Chancellor Merkel is encouraging China to reduce their oil imports from Iran as well. China is not in favor of any country manufacturing nuclear arms, but they clearly objected to the banning of Iran oil. While the market looks to possibly resume a higher trend, it is vulnerable to uncertainty with any number of factors having a negative effect and they may include the US labor numbers.
On the stock side: JP Morgan Chase and Co. (NYSE:JPM) was up 0.80 % to $37.60. Citigroup Inc. (NYSE:C) was up 2.86 % to $31.62. Bank of America (NYSE:BAC) was up 3.23 % to $7.43. Alcoa Inc. (NYSE:AA) was up 0.69 % to $10.23. Boeing Co. (NYSE:BA) was up 1.60 % to $75.37. Caterpillar Inc. (NYSE:CAT) was up 1.28 % to $110.74. General Electric Co. (NYSE:GE) was up 0.32 % to $18.77. Halliburton Co. (NYSE:HAL) was down 0.38 % to $36.64. Hewlett Packard Co. (NYSE:HPQ) was up 2.79 % to $28.65. SPDR Select Sector Fund - Financial (NYSEARCA:XLF) was up 1.60 % to $14.28.
E-Mini S&P 500 Chart.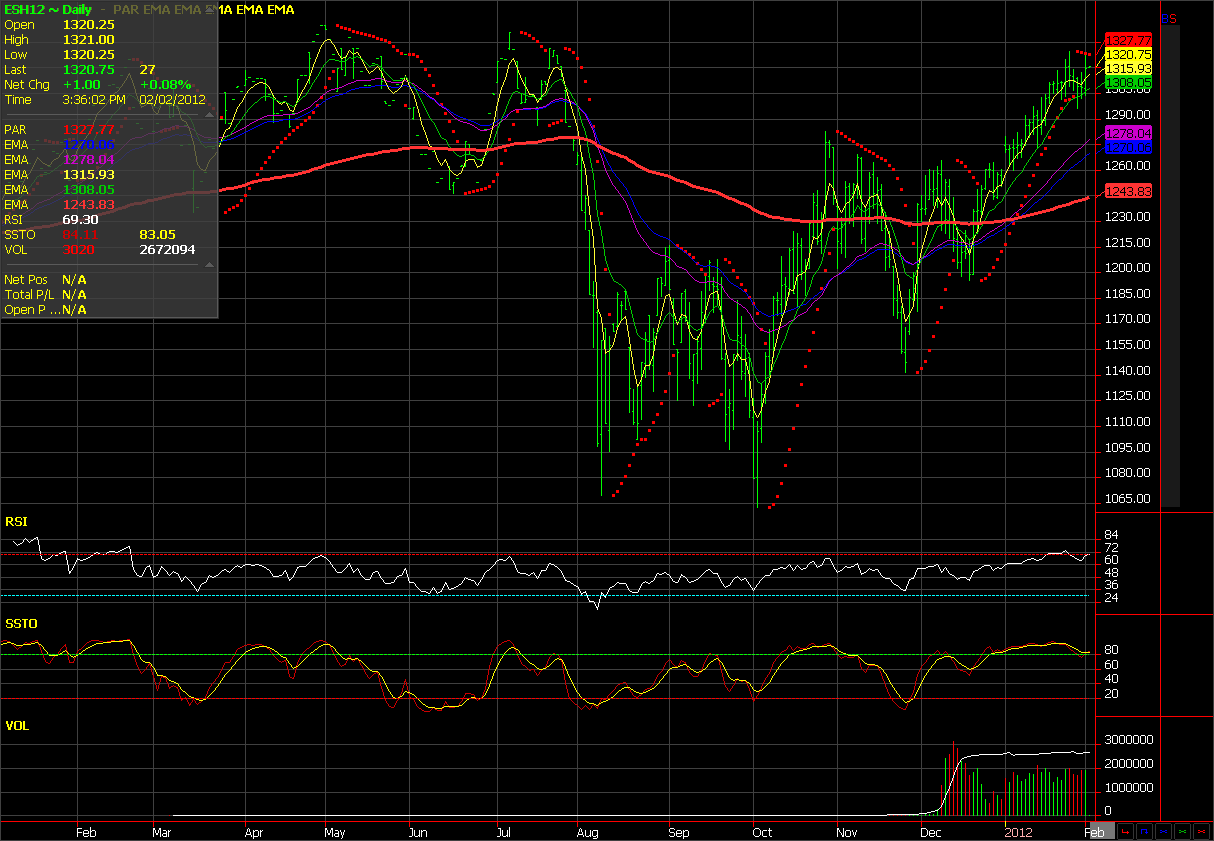 Thursday, what to expect: We maintain a bearish bias unless the E-Mini S&P 500 penetrates $1327.75, which may be soon. Today, we anticipate an inside to higher day. Wednesday's range was $1327.00 - $1303.75. The market settled at $1319.75. Our comfort zone or point of control for this market is $1381.25. Our anticipated potential range for Thursday's trading is $1331.50 - $1307.50.
Disclosure: I have no positions in any stocks mentioned, and no plans to initiate any positions within the next 72 hours.