Overview
Last week's earnings saw some great, smaller banks post great earnings. Below is a look at some of the smaller banks that get less attention than their too-big-to-fail brethren. It is not an all-inclusive list, but I'll call it a good starting place for smaller regional banks that may only need a little bit more due diligence, or DD. I consider this an article for people getting started and want a short lesson on what to look for in the regional banking space and not a recommendation to invest.
Regional banks have been on a tear recently with the SPDR S&P Regional Banking ETF (NYSEARCA:KRE) up more than 22% since mid-January versus 6.8% from the S&P 500 Index (NYSEARCA:SPY). Most of this is in anticipation of rising interest rates that the smaller banks have gotten so much attention of late.
You can really see the interest in regional banks by looking over the last year and how they tracked fairly close until May of 2015, which is when you see a step up in KRE. That is where people took notice of the potential growth in regional banks.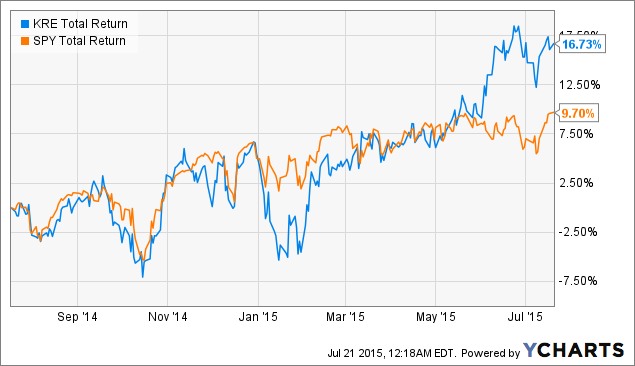 KRE Total Return Price data by YCharts
Why Regional Banks?
This is an extremely competitive space and the moats are very shallow. While that may not seem like an area you want to invest in, the banks, when interest rates are more normal, can be extremely profitable, and prior to the financial meltdown, they were some of the most consistent dividend payers out there. The smaller banks fared better with conservative balance sheets and smaller footprints forcing them to have safer balance sheets. While most of the too-big-to-fail banks slashed their dividends, there were quite a few of the small-cap and mid-cap banks that kept on rewarding their shareholders, like Norwood Financial (NASDAQ:NWFL), which has increased its dividend for the last 20 years.
Dividends are not the only reason; Bank of the Ozarks (NASDAQ:OZRK) is up 408% and Home BancShares (NASDAQ:HOMB) is up 249% over the last five years versus 97% for the S&P 500 or 20% for Bank of America (NYSE:BAC). Smaller stocks are where you find more alpha in my view.
Regional banks do not typically worry about exchange rates and international growth because they invest at home in markets that seem more stable. Smaller bank financial statements are easier to read and digest for most people. In short, there are a lot of reasons to like smaller banks, and please feel free to add any I miss.
What To Look For In A bank?
In short, conservative balance sheet, increasing net income, performance metrics and price. Unfortunately, there is always more to it than just a few quick points, but you need to start somewhere considering the more than 750 regional banks in the US alone. During earnings season, I like to look at a few choice metrics to see if a bank is worth more DD. Those are simply growing earnings versus the same quarter last year, ROA, ROE, the efficiency ratio, P/E and P/B. There are others you can throw in there that can be harder to find quickly or you need to calculate, but these are generally given in each earnings announcement for a bank.
Looking at the rules of thumb for each of those is pretty straight forward. The return on average assets, or ROA, should be above 1% for good banks and 1.5% for great banks. Banks are highly leveraged to be profitable, so lower ROAs are definitely the norm. A bank with an ROA trending upward but just under 1% can be considered with some additional homework, but I typically draw the line at 1% unless there is a one-time expense that impacts negatively. The average ROA for banks in the range below is 1.06%.
For the return on average equity, or ROE, you look for a bank with a value that is higher than 10% for a good bank and 15% for a great bank. Just like with ROA, be aware of trends and one-offs that will materially affect the number. I won't cover it here, but if you really want the scoop on ROE, do a DuPont analysis and look at what is driving the ROE. The average ROE for banks in the range below is 9.01%.
The efficiency ratio is simply the non-interest expenses divided by the bank's revenue, which is equal to the bank's net interest income plus non-interest income. Here you want a bank's value to be lower than 50% ideally and anything above 70% should be an instant red flag. Smaller banks tend to suffer here with higher values while larger banks and banks that seem to be perpetually in M&A activities enjoy values below 60%. Regardless of its size, I think 70% should always be a red flag.
No matter how great a company is, there is always a bad price, so you should never get lost in the fundamentals. The price-to-earnings and price-to-book values are pretty straight forward. The old adage is buy at 0.5 book value and sell at 2.0 book value, but I think that is too simplistic. We are intelligent investors here at Seeking Alpha and there are some banks that enjoy seemingly perpetually high P/B ratios that can very much be worthy of our investment.
Quick Look
Below is a table with some banks that reported good earnings last week and their metrics for us to look at. Once again, this is not all of the banks as I tried to focus on the smaller ones that get less press.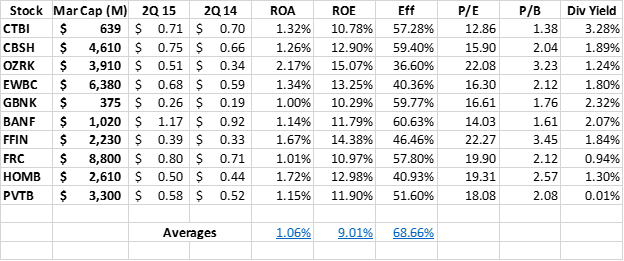 I prefer dividends when looking at the small bank space, because they will move sideways on you for long periods of time, and I like the idea of people paying me to just wait. In this table, the dividend is just informational and not being used as a differentiator here.
I'm also specifically not calling out the Net Interest Margin, or NIM, because it can be all over the place depending on what kind of bank you are analyzing. Rule of thumb for NIM is over 4% or between below 4% but trending in the right direction. For banks under $15B in assets, the average NIM is 3.77%.
Each of the banks listed here posted improved earnings over the same period last year and had both ROA and ROE greater than the 1% and 10% standards. One other important note is that I've included the industry averages for ROA and ROE for banks under $15B in assets from the Federal Reserve Bank of St. Louis that keeps a great database of bank metrics. Before diving into the standouts, you want to keep in mind that trends and longer-term averages of all these values are important as this is just a snapshot in time.
Top Four
From the banks that reported earnings last week, there are four that stand out in the quick look; Bank of the Ozarks, East West Bancorp (NASDAQ:EWBC), First Financial Bankshares (NASDAQ:FFIN), and Home BancShares. Each of them has an efficiency ratio of less than 50%. They also have the four highest ROAs and ROEs on the table. On the downside, they trade at some monster P/E and P/B, especially OZRK and FFIN both trade at over 3x book value per share.
That said, what you see as you look at the table are the better banks tend to trade at higher multiples right now. This typically gives me the feeling like this is not the best time, except that most banks will do better with slowly rising interest rates and some banks will do extremely well. I believe any of these banks in the table are worth a deeper look. Not surprisingly, each of those four is expected to continue the excellent earnings growth for the rest of 2015 and forward as interest rates rise. Whether they are worth the high P/B is for you to decide; I do not like to pay more than 1.3 times book value.
Summary
There are a lot of regional banks to look through and having the right metrics to use in a down-select can be critical to separate the good from the bad in a sector that is rising. Just looking at one week of earnings for smaller banks shows 20+ stocks to look through, and using the right metrics can shorten the list to ones worth your time. From last week, the four standouts were OZRK, EWBC, FFIN, and HOMB. Each of them deserves a deeper look, but now maybe be a time to wait and see. I believe the regional banks are pricing in rising interest rates, and if wrong, then earnings stay depressed for an extended time. If you have the horizon, keep these banks in your watch list and wait for the next 10-15% market pullback before jumping. Happy hunting!
Disclosure: I am/we are long NWFL.
I wrote this article myself, and it expresses my own opinions. I am not receiving compensation for it (other than from Seeking Alpha). I have no business relationship with any company whose stock is mentioned in this article.