On Wednesday, February 1, 2012, Capstead Mortgage Corporation (NYSE:CMO) reported results for the fourth quarter of 2011. Capstead is a Mortgage Real Estate Investment Trust. Capstead reported net income of $41,968,000 or $0.43 per diluted share for Q4 2011, compared to net income of $41,003,000 or $0.43 per diluted share for Q3 2011. The mortgage REIT also noted that total financing spreads narrowed slightly to an average of 1.46% during the fourth quarter, compared to 1.47% during the third quarter.
See a recent performance chart for CMO, below: (Click to enlarge)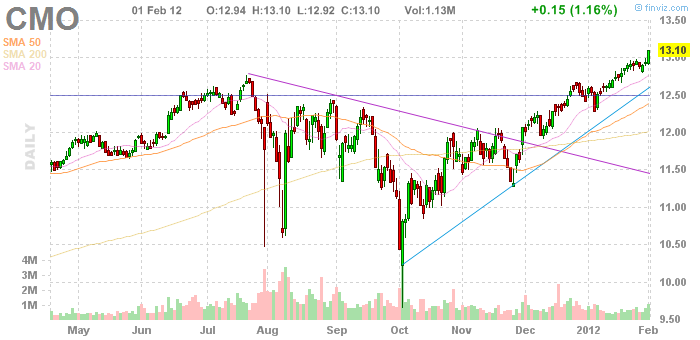 Capstead holds a leveraged portfolio composed almost exclusively of residential adjustable-rate mortgage securities issued and guaranteed by government agencies (Fannie Mae (OTCQB:FNMA), Freddie Mac (OTCQB:FMCC) or Ginnie Mae). Capstead is an agency REIT, similar in concept to American Capital Agency Corp. (NASDAQ:AGNC), Annaly Capital Management, Inc. (NYSE:NLY) and Hatteras Financial Corp (NYSE:HTS), though each has their own proprietary blend of RMBS type (fixed versus ARM), use of leverage, borrowing costs and other differentiating factors.
Capstead is the first of these named agency mREITs to release a Q4 2011 report. Capstead's earnings came in slightly above Wall Street expectations, which should bode well for its peers' pending reports. Most agency REITs will report earnings within the next one to three weeks.
Capstead noted that yields on its interest-earning assets averaged 2.07% during Q4 2011, a decline of 5 basis points from Q3 yields. Capstead's average yield declined 22 basis points during the prior quarter. Capstead added that part of this reduced rate of decline was due to a reduced rate of mortgage prepayments.
When borrowers default on an agency-backed mortgage, or refinance it, the mortgage is prepaid and the holder must find another investment to replace the prepaid one. Due to the recent declining yields on U.S. Treasuries, rates have also declined on agency backed RMBSs, making reinvestment options generally less desirable than those being prepaid.
Declining interest rates will also increase the value of performing RMBSs, increasing Capstead's book value increased $0.02 to $12.52 per common share, compared to its February 1, 2012, closing price of $13.10. Capstead presently trades at 1.02 times its book value.
Capstead also reported that portfolio leverage declined to 8.15x at the end of the fourth quarter, compared to 8.21x at the end of the third quarter. Most agency-backed mortgage REITs obtain significant yields by leveraging the spreads achieved by the difference between their borrowing costs and RMBS yields. High leverage rates could become a risk to such portfolios if interest rates were to spike upwards, as there should be a corresponding leveraged reduction to the portfolio's value and yield achieved.
Andrew F. Jacobs, President and Chief Executive Officer of Capstead, commented that:
Market conditions remain favorable for investing in agency-guaranteed residential ARM securities on a leveraged basis, with attractive risk-adjusted returns achievable in a financing environment that has remained relatively stable despite European sovereign debt concerns and the failure of MF Global, a lending counterparty to many in the mortgage REIT sector.
Mr. Jacobs also added, regarding CMO's use of leverage, that its current rate
represents an appropriate and prudent use of leverage for an agency-guaranteed mortgage securities portfolio in today's market conditions, particularly for a portfolio consisting predominantly of current-reset ARM securities.
Capstead also noted Ben Bernanke's recent comments relating to the revised Fed policy of keeping borrowing rates exceptionally low through late 2014. The company said that, if that is the case, the REIT anticipates portfolio yields on its current-reset ARM securities to trend lower as coupon interest rates on the underlying mortgage loans continue resetting to more current rates.
The company also added that it is scheduled to declare its first quarter of 2012 dividend on March 13, with a scheduled record date of March 30, and a pay date of April 20, 2012. Last quarter, the company paid a 43 cent quarterly dividend, which equates to a 13.10%annual dividend. Alomg with Capstead's spreads, a slight dividend decrease appears a possibility. Last quarter, Capstead reduced its dividend by one cent compared to the Q3 dividend, which itself was reduced by four cents compared to the Q2 2011 dividend.
Disclosure: I am long NLY.
Disclaimer: This article is intended to be informative and should not be construed as personalized advice as it does not take into account your specific situation or objectives.