Acceleron Pharma (NASDAQ:XLRN) is a small cap biotechnology company specializing in therapies related to regulation of cellular and tissue growth and repair. Its therapies target the TGF-β (transforming growth factor beta) protein superfamily. Its most advanced drug candidates are currently in Phase 2 clinical studies for anemias and cancers. It has a partnership with Celgene (NASDAQ:CELG) to develop and commercialize some of its products.
Financials
In 2014 Acceleron had just $15 million in revenue, which was from collaborations. It does not yet have an FDA approval to sell any of its therapies. Thus is addition to the usual risks of small cap stocks it has a high risk and reward situation due to its need for FDA approvals to sell products. For 2014 as a whole Acceleron showed a loss of $55 million.
In Q1 2015 Acceleron had $4.4 million in collaboration revenue. R&D expense was $14.8 million, while G&A expense was $4.7 million. With $0.5 million in other income, the resulting GAAP loss was $14.6 million or $0.45 per share.
Cash and equivalents ended at $165 million, down $11.5 million in the quarter. The company believes that cash can last into the second half of 2017. The need to raise more cash at that point is a distinct possibility.
XLRN closed on 7/13/2015 at $32.58. The 52 low was $23.61 and 52 high $48.50. Its market cap is near $1 billion.
Science
Acceleron is highly focused on a group of regulatory proteins called the TGF-β (transforming growth factor beta) superfamily. The first molecule discovered in this family is now called TGF-β1, which turns out to have multiple roles in the human body. It sends signals that help with healing wounds, but it also controls the proliferation of cells. Cancer growth, or cancer cell proliferation, can be enhanced when the TGF-β signaling fails. There are also specific diseases like Marfan syndrome that can result from TGF-β signaling failure. A low level of TGF-β appears to contribute to multiple sclerosis.
The extended TGF-β superfamily includes inhibin and activin, which help regulate Follicle Stimulating Hormone, as well as many other regulatory molecules. Given the complexity and specificity of the members of the superfamily, the science of each of Acceleron's therapies will be treated separately in the pipeline section.
Pipeline
Acceleron has four molecules in clinical trials: sotatercept, luspatercept, dalantercept, and ACE-083.
Image source: Acceleron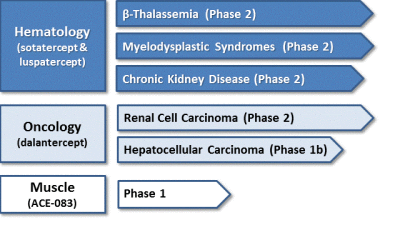 Sotatercept "is a soluble fusion protein consisting of the extracellular domain of activin receptor type IIA (ActRIIA) linked to the Fc protein of human IgG1. Sotatercept binds with high affinity to activin A and other proteins in the TGF-β superfamily and inhibits signaling through the ActRIIA receptor." In short, Sotatercept can stop some of the signals of TGF-β and associates.
One result is that the body responds to sotatercept by increasing the number of red blood cells and hemoglobin levels. It is being investigated as an anemia treatment when the anemia is associated with blood diseases. The current anemia drugs used in those situations are erythropoietin-based, for instance Epogen by Amgen (NASDAQ:AMGN), which had Q1 2015 sales of $534 million.
Sotatercept is in or has completed Phase 2 trials for renal anemia with metabolic bone disease; for beta-thalassemia; and for MDS (myelodysplastic syndromes).
Four additional Phase 2 studies are underway:
Intravenous and Subcutaneous sotatercept in Patients with End-stage Renal Disease on Dialysis.
Anemia in Patients with Transfusion Dependent Diamond Blackfan Anemia.
Patients with Myeloproliferative Neoplasm-Associated Myelofibrosis and Anemia.
Combined with Lenalidomide and Dexamethasone for Patients with Relapsed or Refractory Multiple Myeloma.
However on April 30, 2015, Celgene and Acceleron selected luspatercept to advance to Phase 3 in MDS and beta-thalassemia. Sotatercept will continue development for chronic kidney disease.
Luspatercept has been tested for effectiveness in for beta-thalassemia and MDS (myelodysplastic syndromes) and has positive preliminary Phase 2 trial results for those indications.
"Luspatercept (ACE-536) is a ligand trap that inhibits members of the TGF-β superfamily involved in late stages of erythropoiesis. Sotatercept and luspatercept are biochemically distinct molecules and may have unique pharmacological attributes that enable their preferential use in particular anemia indications. Notably, unlike sotatercept, luspatercept does not bind with high affinity to activin A. In preclinical studies, luspatercept promoted red blood cell (RBC) formation in the absence of erythropoietin (EPO) signaling, had distinct effects from EPO on RBC differentiation, and acted on a different population of progenitor blood cells than EPO during RBC development. In these studies, luspatercept did not promote significant increases in bone mass." [Source: Acceleron]
On May 18 Acceleron announced the FDA had designated Fast Track status for Luspatercept for beta-thalassemia.
On June 12, 2015 the results of the Phase 2 MDS and beta-thalassemia trials were announced. For the MDS study there were two groups, low transfusion and those needing a high rate of transfusions. The low group showed significant increased hemoglobin. The high transfusion group had 43% achieving transfusion independence. The beta-thalassemia trial showed similar results with the additional benefit that patients who had too much iron in their livers had those iron levels reduced.
Dalantercept is being developed to treat advanced metastatic cancers. Dalantercept "inhibits angiogenesis by preventing BMP9 and BMP10, proteins in the TGF-β superfamily, from interacting with activin receptor-like kinase 1 (ALK1), a cell-surface receptor found on proliferating endothelial cells. Dalantercept inhibits ALK1 signaling, which is required for the development of mature, functional vasculature." Angiogenesis is the creation of blood vessels, which is necessary for a tumor to feed itself and grow.
Preventing angiogenesis is not a new strategy to prevent cancer growth. The first generation therapies target VEGF. Avastin, sold by Genentech (Roche), is a VEGF inhibitor and had sales of $6.75 billion in 2013. Having a different mechanism of action, if efficacy and safety are good, could make dalantercept a blockbuster.
The data so far is encouraging. The Phase 2 trial studies dalantercept with axitinib versus placebo plus axitinib for advanced renal cell carcinoma patients who have failed treatment with a VEGF inhibitor. Results from Part 1 of the study were included in the poster session about Part 2 at ASCO in May [see Dalantercept poster]. This dose-testing part resulted in 25% of patients having partial responses and 57% achieving prolonged disease control, with a good (for cancer therapies) safety profile. Progression Free Survival was a median of 8.3 months. Part 2 of the study is still accruing patients.
Dalantercept is also being tested in a Phase 1b open-label study in combination with sorafenib in patients with advanced hepatocellular carcinoma.
In addition, pre-clinical results were published which showed dalantercept prevents new metastases in breast cancer.
All in all, dalantercept is a very promising clinical candidate.
ACE-083 is in a Phase 1 trial. It "has been designed for local administration to increase muscle mass and strength in specific muscles and muscle groups. Acceleron is developing ACE-083 for diseases in which improved muscle strength may provide a clinical benefit, such as inclusion body myositis and certain forms of muscular dystrophy."
Apparently focusing on the science of the TGF-β proteins has been a good idea and may provide therapies for quite a variety of diseases. If that is true, it will also provide plenty of returns for investors.
Risks and Opportunities
With a market capitalization of about $1 billion XLRN already assumes some success. Much of that is likely a reflection of the Celgene partnership.
I really like the early Dalantercept data and concept. If the full phase 2 trial reports strong results that should get investor attention. It is a long process, going from early data in a very specialized trial of patients who have failed earlier therapies to getting the first FDA approval and then expanding the label enough to gain blockbuster status. However promising a drug looks, it makes sense to discount the possible final revenues and profits heavily and wait for more data.
As I write Acceleron is well off its 52 week high of $48.50. So at least that much risk has been taken out of the equation for those who buy at the current price point. Small cap biotech therapy stocks can be very volatile, even when no new data is being added.
Conservative and value investors won't invest in a company with no product revenue or profits. They have to wait until a biotech has become a Celgene or a Regeneron (NASDAQ:REGN) to buy in. Clinical-stage drug companies are risky. Sometimes even getting an FDA approval does not guarantee sales will achieve profitable levels, or that adverse events would show up in the field and kill or threaten to kill sales. There is always the risk that a competitor will enter and win the market, which is what happened to Dendreon's Provenge and Vertex's (NASDAQ:VRTX) Incivek.
On the other hand, the rewards can be phenomenal. So if you buy individual stocks like I do, the key decision is not just what to buy, but how much of each. In the case of clinical-stage companies, I have very low portfolio limits. I can always buy more later if good data comes in, or profits start to ramp.
Another way to reduce risk, but still participate in some of the rewards from Acceleron, is to own Celgene . Note, however, that Celgene is not invested in Dalantercept.
My Take
After researching Acceleron, before submitting this article, I bought a small initial long position in the company. This is not a recommendation to anyone else. I have lost money in individual biotechnology stocks in the past and understand the risk. I have a long-term, 3 to 5 year, event-horizon, and so can tolerate the long wait to finish Phase 2 and 3 trials and the wait for FDA approval (or not). I can also tolerate short-term fluctuations downward. I understand that Acceleron already has a significant market capitalization that assumes some success that is yet to be proved out.
Disclosure: I am/we are long XLRN, CELG, AMGN, REGN.
I wrote this article myself, and it expresses my own opinions. I am not receiving compensation for it (other than from Seeking Alpha). I have no business relationship with any company whose stock is mentioned in this article.
Additional disclosure: This article reflects research for my own investment purposes, which I am sharing as journalism. It does not constitute financial advice.