By Stephen D. Simpson, CFA
For much of 2011, Roche (OTCQX:RHHBY) was the red-headed stepchild of the Big Pharma world. Recently that started to change as Wall Street believed that the company had put most of its bad news behind it and was in position to once again deliver lucrative (if not especially torrid) growth. With the recent hostile bid for Illumina (ILMN) distracting investors though, some of that progress is overshadowed by the risk that Roche will overpay and redeploy too much cash away from shareholders.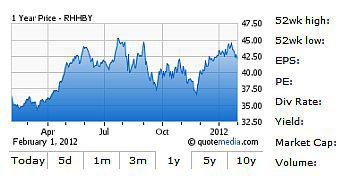 A Surprising Surprise To Close The Year
Although the fact that Roche produced fourth quarter revenue about 2% ahead of expectations may not qualify as much of a surprise, the fact that it surprised at all is the surprise - a top-line revenue beat has been more than a year in coming. The Pharma business grew about 3% this quarter in constant currency, while the diagnostics business delivered a surprisingly strong 7% sales increase.
Profitability was good, but not quite as impressive. Although full-year core operating profit did increase 6% and Roche's margins came in at 35.6% (which compares well even against highly-profitable drug companies like Pfizer (PFE) and Bristol-Myers (BMY)), this was still below consensus expectation. Pharma profits rose 5%, constrained by higher SG&A spending, while diagnostic profits increased a surprising 14%.
Illumina Could Be Short-Term Pain For Long-Term Gain
Generally speaking, nobody believes that Roche is going to be quick to give up and walk away from its hostile bid for Illumina. Roche was aggressive in going after Genentech and Ventana (diagnostics) and the same is likely to hold true here.
The worry, naturally, is that Illumina will overpay. Still, even with that risk acknowledged, it seems that many are underplaying the potential accretion from this deal. Illumina holds over 80% of the sequencing market and though Life Technologies (LIFE) has made inroads, they're still trailing by quite a lot. At a minimum, almost from Day One the addition of Illumina will open doors for Roche's existing life science business and expand the sales potential for products like PCR equipment, microarrays, and so on.
Longer term, there's so much more Roche can do with Illumina. Illumina has been very good at capturing the sequencing market. But it has largely been a failure in penetrating the diagnostic space where companies like Roche, Siemens (SI), Abbott Labs (ABT), and Danaher's (DHR) Beckman Coulter reign. Roche could develop Illumina's technology towards the molecular diagnostics market. But it could also be a key asset in the ongoing drive towards personalized medicine, where an increasing number of new drugs (especially in cancer) require advanced diagnostic testing to determine patient eligibility.
Still A Good Drug Business, Too
Two of the company's top three drugs showed double-digit growth in Q4, with Avastin down about 2% due to the labeling and reimbursement changes that hit the stock in 2011. All told, the company gets about 40% of its sales from these drugs and fears of oncoming biosimilar competition was another of those 2011 bugbears for the stock.
Admittedly, Roche's late-stage pipeline is not as good as a Bristol-Myers (BMY) or perhaps even Pfizer (PFE). There are 11 drugs in Phase 3 trials or in registration, with cancer drugs like Zelboraf (which will compete with Bristol's Yervoy), T-DM1, and GA101 getting most of he attention but probably not likely to be blockbusters.
Beyond this, Phase 3 data should be coming out shortly on dalcetrapib in atherosclerosis and this could be a big winner with the right efficacy data. Roche investors can also look for data on Tarceva in lung cancer, Actema in rheumatoid arthritis (a head-to-head study against Abbott's (ABT) Humira), and aleglitazar in diabetes. Further back in the pipeline, Roche continues to advance products for conditions like asthma, Hepatitis C, and Alzheimer's.
The Bottom Line
Listening to management talk about 2012, it sounds as though they are playing it safe and conservative. Although that is arguably prudent, it won't help sentiment already pressured by the expensive run at Illumina.
Assuming low single-digit revenue growth and modest improvement in free cash flow conversion, Roche shares should be worth north of $50. That does not look tremendously cheap when compared to Pfizer or Sanofi (SNY), but it compares well with the likes of Novartis (NVS) and the cash flow growth assumptions are more in line with those of the bearish analysts on this stock. Though I've done well already in holding Roche stock, I don't anticipate looking to sell in the near future.
Disclosure: I am long OTCQX:RHHBY.