Introduction
When I first took a trip to my local Whole Foods Market (NASDAQ:WFM), urged to by several positive reviews from my acquaintances, the store looked to me more like a miniature mall than a simple grocery store. In addition to the basic grocery store layout, there was a coffee bar, a salad bar, a deli serving freshly made gourmet pizza, calzones, pasta, and paninis, a place where you could squeeze your own orange juice, and much, much more.
That was a couple of years ago. After that experience, I could see why it was so easy to get caught up in all the hype. This was the next big thing, people would say, as the store got more and more crowded with each passing day. Share prices skyrocketed from investor excitement to the mid-$60s in 2013, and it seemed as if there was no limit to how high investors' profits could go.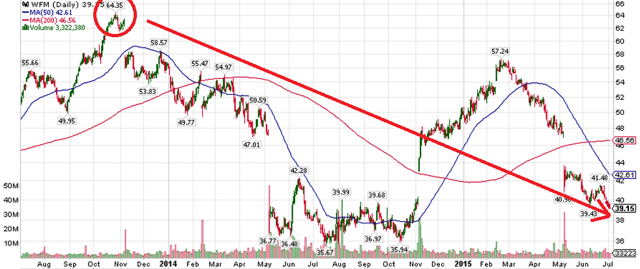 Source: Stockcharts.com
But as investors know, when a momentum stock fails to deliver, the punishment is quite severe. WFM stock was stuck in a rut for several months, and although it began to recover as we entered into 2015, it fell drastically again. Since the mid-$60s, the stock has plummeted by almost 40% to the upper $30s, and fear has begun to become priced into the stock due to a number of events, including mispricing of certain grocery items, as well as weak quarterly results and increased competition. Some of these occurrences could be considered fairly transient, while others may be considered chronic.
While I believe that the stock has a fair bit of upside left in it, and that the attractive fundamentals warrant opening a position, I have to admit that my doubts are preventing me from doing so. Two quotes from the legendary Warren Buffett come to mind when it comes to this stock, and they both serve as prudent warnings investors would do well to heed.
The first is, "Be fearful when others are greedy and greedy when others are fearful." Those that were greedy when others were unwilling to take a leap of faith on Whole Foods in 1995 have seen their investment multiply by over 25 times over the course of 20 years. Those that were greedy at around the mid-$60s when others had doubts, when the hype was at its strongest, have felt the pain of a 40% decline in their investment (had they held throughout 2015). The big question today is whether or not to be greedy or fearful, given all the events that have taken place thus far.
To answer this question, investors must examine Buffett's second quote, which is, "Price is what you pay. Value is what you get." As for those 1995 investors, you can bet that they got the stock for a bargain, but for the 2013 investors, probably not so much. For investors, price must not exceed value if they hope to earn a good return.
So, does Whole Foods Market's value exceed its price? Knowing this vital piece of information will help investors decide whether or not to be fearful or greedy at this critical juncture for the company. Investors must decide for themselves whether or not the answer is to buy, hold, or sell. For me, a DCF projected for five years helped me affirm that the answer right now is to buy, but caution should still be exercised.
Valuation
Historically, sales growth for Whole Foods has been relatively strong, but recent headwinds have dropped the number to around 10%. Given the strong fundamentals of the company and its loyal herd of affluent customers, I assumed that growth rates would recover to around 14% in my base case, with a 1% increase year-on-year throughout fiscal year 2020. Because Whole Foods has realized the limitations of its current target customer population, it has been trying to reorient itself to target the Millennial generation, as well through its new side-branded chain of stores called 365. These stores are projected to open in fiscal year 2016. Should this business venture succeed, Whole Foods could fan its growth back to the historically high levels.
In my management case, I assumed that the "365" brand would largely succeed, pumping growth rates by 2% upwards year-on-year to 18% by fiscal year 2020. In my worst-case scenario, I predicted that the venture would be largely unsuccessful; this is reflected in sales growth that dips even further into the 8% territory.
COGS was held steady at 64.7%, in line with historical levels. The company has, in the past few years, invested heavily in technology and infrastructure designed to increase operating income margins, and I reflected this in improving SG&A costs. Base-case SG&A costs were predicted to improve from 28.6% to 27.9%. D&A, taxes, and capex were held constant at 2.7%, 38.7%, and 1.9%, in line with historical values. A change in working capital was expected to change immaterially at a linear rate.
A WACC of 10.5% and an exit multiple of 18.0x yielded the following:

The base-case sensitivity analysis, which varied the WACC and exit multiple by 1% and 1.0x respectively, yielded an implied share price range of $47.00-59.00 - an upside of around 35%.

The management case yielded better results, with an implied share price range of $57.00-71.00 - an upside of around 63%.

In the worst case, there is minimal downside of around 2%, with an implied share price range of $34.00-43.00.

If I could wind the clock back to 2013, when the stock was in the mid-$60s, I would have said that the market was overvaluing Whole Foods because of the lack of appeal with other target markets. The implied share price might have been in the mid-$30s to low-$40s around then. There are only so many people within the mass affluent and affluent classes, and they only represent a small share of the total population. However, now, because management has announced plans to adapt and target new consumer populations, the probability of growth is definitely there. Even if the new "365" branded stores do not meet consumer expectations, Whole Foods still has a loyal group of customers to fall back on - hence, the minimal downside.
Conclusion
Whole Foods has come a long way, and it may have a longer growth runway than investors had thought it would. Management has an outstanding track record of coming up with innovative store designs and themes that attract hordes of customers. Management's goal of tripling the number of stores in the long term to 1,200 might seem a bit lofty; however, with the new "365" business venture, this number may be within reach. With a potential upside of around 35% to its current share price, Whole Foods represents an excellent long-term investment in a time-tested grocery store chain. The time for fear has passed; the time to buy is now.
Disclosure: I/we have no positions in any stocks mentioned, and no plans to initiate any positions within the next 72 hours.
I wrote this article myself, and it expresses my own opinions. I am not receiving compensation for it (other than from Seeking Alpha). I have no business relationship with any company whose stock is mentioned in this article.
Additional disclosure: I do not have plans to initiate a long position because of a lack of capital.