A recent SA article on Microsoft's earnings release pointed to the "stark contrast" between the iPad sales trend and that of Surface. The percent gain for Surface was primarily due to terrible prior year sales performance. The trend in iPad will likely be reversed by the forthcoming release of iOS 9 and the 12" iPad Pro.
The Difference in Consumer Demand
A recent article by SA contributor L&F Capital Management on Microsoft's (NASDAQ:MSFT) fiscal 2015 Q4 earnings results painted a bleak picture of Apple's (NASDAQ:AAPL) iPad compared to Surface:
Surface sales grew 117%, starkly contrasting Apple's poor iPad performance MRQ. The difference between consumer demand for the Surface vs. the iPad in the tablet market only continues to widen . . .
I found this statement a little curious since I knew that iPad sales revenue was still quite a bit higher than what Microsoft reported for Surface revenue for the June quarter. I decided to assemble some data comparing iPad and Surface sales for as far back as Microsoft has been reporting Surface revenue, which I believe is calendar Q3 of 2013. The chart below summarizes the data.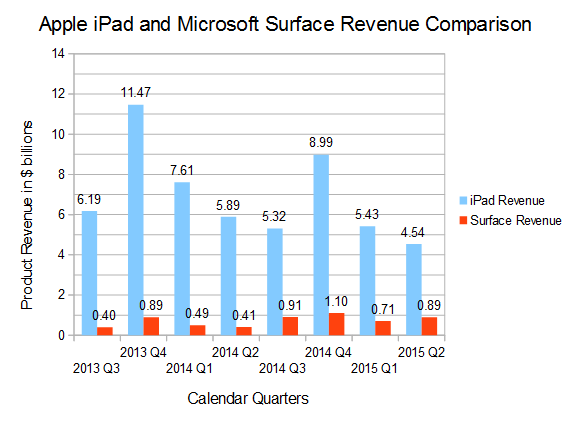 The downward trend, allowing for seasonality, of iPad sales is very visible, but also apparent is the fact that Surface sales are not really growing explosively, as the 117% y/y comp would imply. In the year ago quarter, Surface sales were a paltry $410 million.
The slight bumps in Surface sales have corresponded to the introduction of new generations of Surface. In 2013 Q4, it was the new Surface 2 and Surface Pro 2. In 2014 Q3, it was the introduction of the Surface Pro 3. In 2015 Q2, it was the new Surface 3.
The introduction of new Surface models has made for terrific y/y comparisons, but hasn't really moved the needle very much for Microsoft, with peak revenues tending to stay around $1 billion. Quarters following the new Surface release have tended to see very large sequential declines, as demand for the new models quickly wanes.
The real stark contrast continues to be between iPad revenue and Surface revenue. The quote above should really be corrected to read: "The difference between consumer demand for Surface vs. the iPad continues to narrow . . ."
Widening the Gap
I have for some time been pointing to the root cause of iPad's decline, which is the tablet processor give-away that Intel has been embarked on under the euphemism of "contra revenue". Contra revenue not only provided subsidies of Intel's tablet processors, but actually yielded a net negative revenue for the Mobile and Communications Group in Q4 2014. By all appearances, contra revenue continues at Intel.
Microsoft has not benefited particularly from contra revenue, since Surface Pro used Core series processors which weren't subsidized. Most of the tablet processors Intel gave away last year went into Android and Windows devices made by companies other than Microsoft.
Microsoft's recent switch of the Surface series from ARM to Intel Cherry Trail will also probably not be subsidized, so I don't expect a big change in market share for Surface.
However, Apple has needed to do more to counteract Intel's moves and reverse the trend in iPad sales. This will probably happen this year, as Apple rolls out iOS 9 and new iPad models.
iOS 9 features split screen multitasking which will be available on iPad Air 2 and any new model iPad Apple rolls out this Fall. Apple's version of split screen is much easier to use than the approach Microsoft developed for Win8, and is certainly competitive with Win10. Split screen multitasking and the even cooler video picture in picture feature of iOS 9 definitely close an important gap that has existed between iOS and Windows tablets.
Also, Apple will introduce its next generation systems on chip, usually referred to as the A9 series, that will be even faster than Apple's current 64 bit A8 series. These will be fabricated initially on Samsung's 14 nm FinFET node, and so will have improved power efficiency.
I've observed that the A8X in the iPad Air 2 delivered comparable performance on Geek Bench to the Core M in the new MacBook with Retina Display. Of course, benchmarks aren't everything, but I expect the next generation A9 series to do even better. And the next iPad generation will probably get an enhanced A9X that will also perform better in graphics than the A9 (iPhone version).
The iPad Pro is almost certain to make its appearance by the Fall. The iPad Pro will address pent up demand for a larger (12" class) tablet just as the iPhone 6 addressed pent up demand for a larger screen iPhone. Once the Pro is available, I expect demand to exceed supply through the December quarter.
Apple's new tablet products should at least temporarily widen the gap between iPad and Surface unit sales and revenue, but competition is intense. I've previously observed that Microsoft is on the right track in pursuing a converged OS approach for personal computers whether tablet, laptop or desktop.
I still believe this is the right approach. iPad will always seem a little light weight and less professional than Windows tablets and convertibles. For that reason, I expect competition between Surface and iPad to be intense. The Surface Pro 3 is a great device, and will probably garner more share in the corporate world than iPad Pro could ever hope to do. At least until Apple changes its tune on the issue of convergence.