Shares of Sprouts Farmers Market (NASDAQ: SFM) are down close to 30% year to date primarily as a result of a disappointing first quarter earnings report that came by in May. In this report SFM missed EPS and revenue expectations and issued downside guidance for the full year. Reports of competitor Whole Foods planning to aggressively launch a new store brand that could comprise on SFM's market share only sent shares lower.
With shares trading at the lowest levels ever seen in SFM's short history as a publically-traded company, now may be the time for investors to pay attention.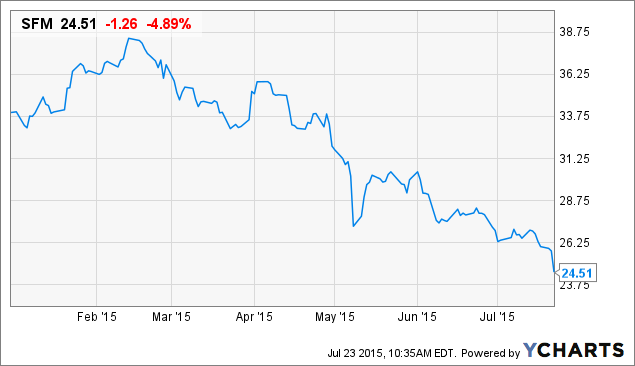 Fundamental Quality
SFM is a company that has built an entire brand around offering fresh, natural, and organic foods at affordable, but premium, prices. As such it should come as no surprise that the company's operational efficiency metrics outpace the overall grocery store industry. In fact both the company's TTM operating margin of 6.60% and TTM return on equity of 17.11% far exceed the average marks in the industry. Additionally the company generates $0.18 more in revenue for every dollar in assets than the average grocery store company.
The company's balance sheet is a little less exciting, but still does not raise any major red flags that could potentially inhibit the company's growth in the future. As of the company's most recent quarter SFM held $379.5 million in combined long-term debt and capital and financing lease obligations. In the overall context of the balance sheet that works out to a debt-to-equity ratio of 0.51 and a current ratio of 1.75.
Growth
The most appealing aspect of SFM as a company is the growth it has generated in the past and plans to sustain into the future.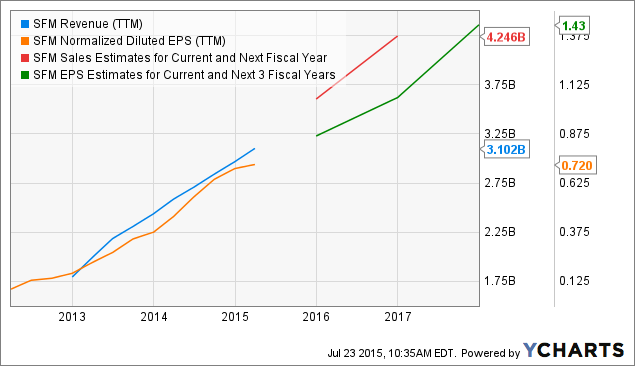 SFM Revenue (NYSE:TTM) data by YCharts
In 2015 and 2016 SFM is expected to grow its top-line by 21.6% and 17.8%, respectively. While innovation in the company's private label, new deli offerings, and other sales initiatives should marginally boost sales, any sizeable growth for the company is going to be primarily driven by comparable store sales growth and new store openings.
The company's first quarter report in May marked the company's 32nd consecutive quarter in which the company reported growth in comparable store sales. While the 4.8% figure was weaker than in previous quarters, management remains confident in the brand's ability to over time transition customers from buying just fresh produce to making SFM their primary grocery destination. Company research shows that the average customer's monthly spending will increase nearly three-fold as they transition out of their initial experimentation phase. With SFM only holding a 3.3% share of the $89 billion natural & organic supermarket market (which in itself only accounts for 14% of overall U.S. supermarket sales) SFM has more room to run.
In terms of unit growth, SFM management has set the target of 14% for upcoming years. As of the company's most recent quarter SFM had 207 locations across 13 states. In the next year the company plans to open 27 new stores and expand into 3 new states with the long-term goal of establishing a network of 1,200 total locations. The slide below displays SFM's current geographic presence and further expands on the company's expansion plans.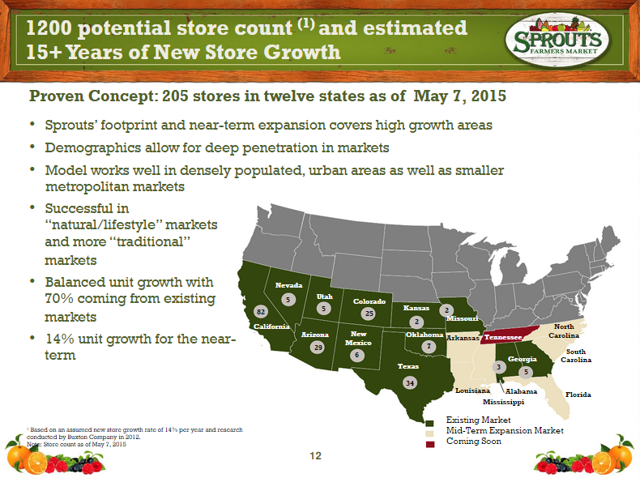 Valuation
| | | |
| --- | --- | --- |
|   | SFM | Grocery Stores Industry |
| Price to TTM Earnings | 33.84 | 19.46 |
| Price to TTM Sales | 1.22 | 0.42 |
| Price to Tangible Book Value | 21.10 | 7.20 |
As to be expected based on the company's superior operational position and aggressive growth profile, SFM trades at a rich valuation to the overall industry.
While SFM does deserve a premium to the overall industry, the company's current valuation is still too rich for me personally. Based on the company's current valuation I suspect SFM will have to exceed expectations to remain trading at such lofty levels, a risk I am not willing to take having the option of investing in the very similar, but lower priced, Whole Foods.
The Takeaway
Within the natural/healthy supermarket industry SFM stands as one of the fastest-growing companies but trades at a correspondingly rich valuation. While the company's accelerated growth trajectory may be attractive to some investors, I am worried due to the company's large debt load and rich valuation. If I am looking to capitalize on the natural/healthy market I am taking my money elsewhere.
Disclosure: I/we have no positions in any stocks mentioned, and no plans to initiate any positions within the next 72 hours.
I wrote this article myself, and it expresses my own opinions. I am not receiving compensation for it (other than from Seeking Alpha). I have no business relationship with any company whose stock is mentioned in this article.