Ever since I've watched the movie "Moneyball" (as I've written here), I've been wondering if the concept behind it can be applied loosely to the Markets. Specifically, instead of looking for stocks with "home run" or a "10 bagger" potential all the time, can wealth be built consistently by taking 10% to 15% profit per trade?
The Plan
$25,000 starting equity; split into 5 "streams" of approximately $5,000 each.
Will use mostly leveraged ETFs, midcaps, and a few well-known large caps.
Goal is to take 10% to 15% per trade and let the money "compound" by repeating the same process with another stock.
The Set Up
I'll be using FINVIZ.com to scan for midcaps with the following key parameters: A) trades at least 200,000 shares daily, B) positive earnings, C) under $10B market cap E) eps growth is positive quarter to quarter, and F) price is above 200-day moving average. This isn't written in stone.
We will use 2x or 3x leveraged ETFs.
We will use RSI (14) to screen stocks we may be interested in.
The challenge of this approach
Backtesting would be near impossible as it is not a pure mechanical entry and exit system.
Managing "greed" and "fear" - letting profits ride and selling at a predetermined stop level may be easier said than done!
No "fundamental" analysis done (except for the parameters used in our screener). It sure will be a challenge buying or selling stocks that we have a bias on [e.g. Research in Motion (RIMM)].
The timing of the article being published (may not be timely).
I'm stepping out of my "comfort zone" by buying/shorting more than three stocks that I may not know anything about in detail! My simple mind may be too lazy to follow the plan!
I'll share the results as we go along; I'll try to publish articles related to this approach monthly till March or as my time permits and see how it goes. Using the "rule of 72" and a 10% profit per trade, each "stream" would need approximately eight consecutive winning trades for that "stream" to double. Daunting!
Here is a snapshot of the $25,000 portfolio I started in January 2012. So far, we are off to a good start (up 23.6%). What isn't shown is the cash balance of approximately $1,996 for a total value of $30,909.45.
(Click charts to expand)

I know, my long time readers are probably shaking their heads right now seeing what I've got in this portfolio! Netfix (NASDAQ:NFLX), and Research in Motion used to be my favorite shorts. Direxion Developed Markets Bull (NYSEARCA:DZK), Direxion Emerging Markets Bull (NYSEARCA:EDC) and Direxion Technology Bull (TYH) are all 3x leveraged ETFs. Procera Networks (NYSEMKT:PKT) is a new name from the scan. Please note that I'm not telling you to buy or sell these names; I'm merely posting what I'm doing with a "live" portfolio. I may sell any or all of these holdings at any time.
My challenge this Monday (Jan 30th) was what to sell so I can keep the portfolio down to five stocks and raise enough money to buy Rackspace Hosting (NYSE:RAX) if it hits my trigger price of $44.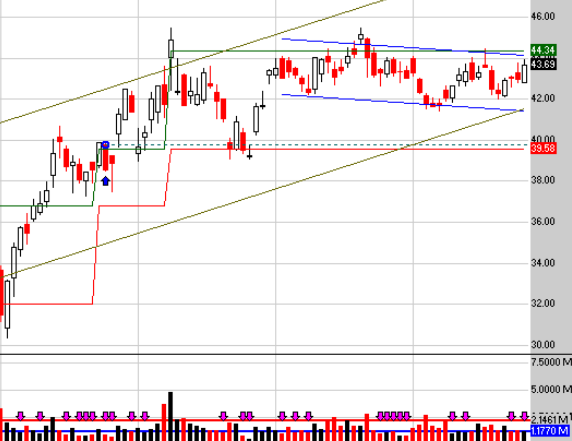 Here is an update as of Feb 1st
We have sold all of our position in Netflix and Research in Motion for a small profit.
We scaled down our Direxion Technology Bull position to 50 shares.
We used part of the proceeds from the sales of the above securities to buy 110 shares of Rackspace at $43.76.
I will try to provide update on the trades as we go along.