Allied Nevada Gold (NYSEMKT:ANV) is due to release its Q4 earnings statement on Feb. 27, 2012, but it has already release a preliminary report. According to the preliminary report ANV produced 104,000 ounces of gold from its Hycroft mine and 479,440 ounces of silver. This was roughly in-line with previous guidance of 100,000 ounces of gold. Given that only 69,840 ounces of gold and 276,236 ounces of silver were produced in the first nine months of 2011, the quarter over quarter growth was quite substantial.
By my calculations 34,160 ounces of gold and 203,204 ounces of silver were produced in Q4 2011 compared to 26,339 ounces of gold and 121,264 ounces of silver in Q3 2011. The average cost for the gold was approximately $490/ounce.
ANV simultaneously issued guidance for 2012 of 180,000 to 220,000 ounces of gold and 750,000 to 850,000 ounces of silver. The cost of the gold(with silver as a byproduct credit) is expected to be $475 to $495. The large spread of possible gold production is expected to be determined by when certain equipment is delivered. Using approximately 200,000 ounces of gold as the estimate, this is approximately a doubling of production in 2012. Analysts have forecast that this will translate into 369.40% growth in EPS in 2012.
This is impressive, and it is all from the one currently operating ANV mine -- the Hycroft. Beyond this year, gold production is forecast to grow to 300,000+ ounces in 2013 and to reach its approximate peak of 618,8000 ounces of gold and 25.9 million ounces of silver in 2015, and it is forecast to continue at approximately that level from 2015-2024 (from the Hycroft mine). Meanwhile the adjusted cash cost of the gold is forecast to decrease to $190 per ounce by 2015.
The chart below shows the efforts to grow the gold resources at Hycroft through Q3 2011.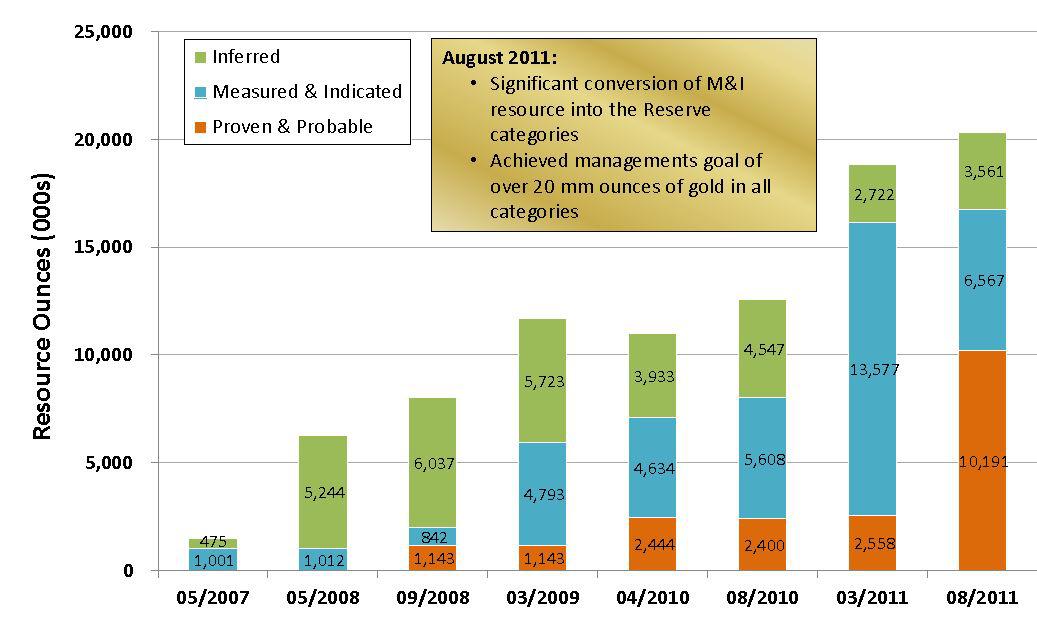 The chart below shows the efforts to grow the silver resources at Hycroft through Q3 2011.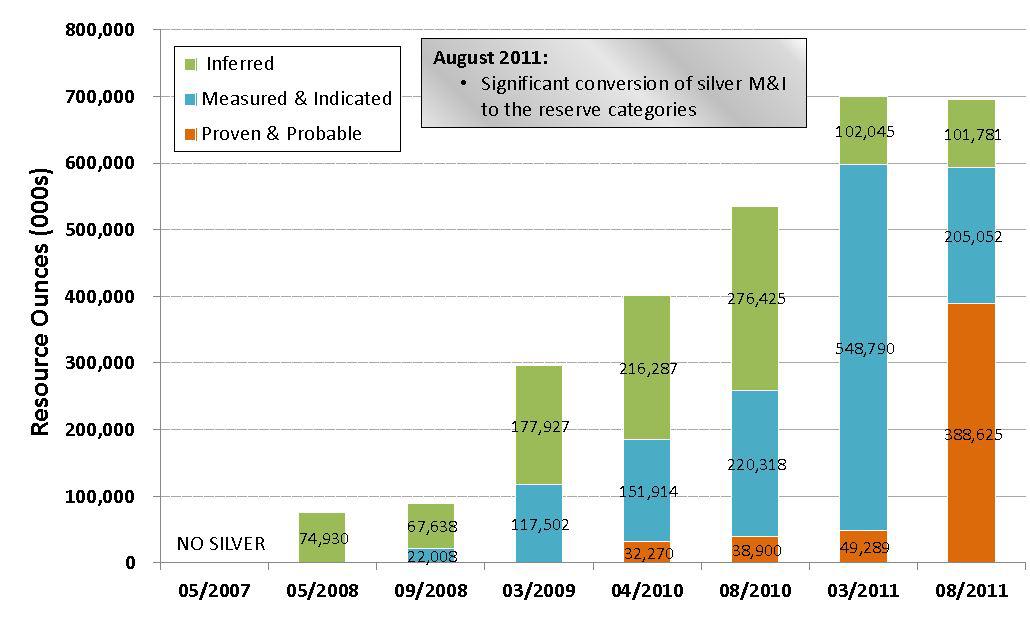 The chart below shows the forecast production growth profile at Hycroft.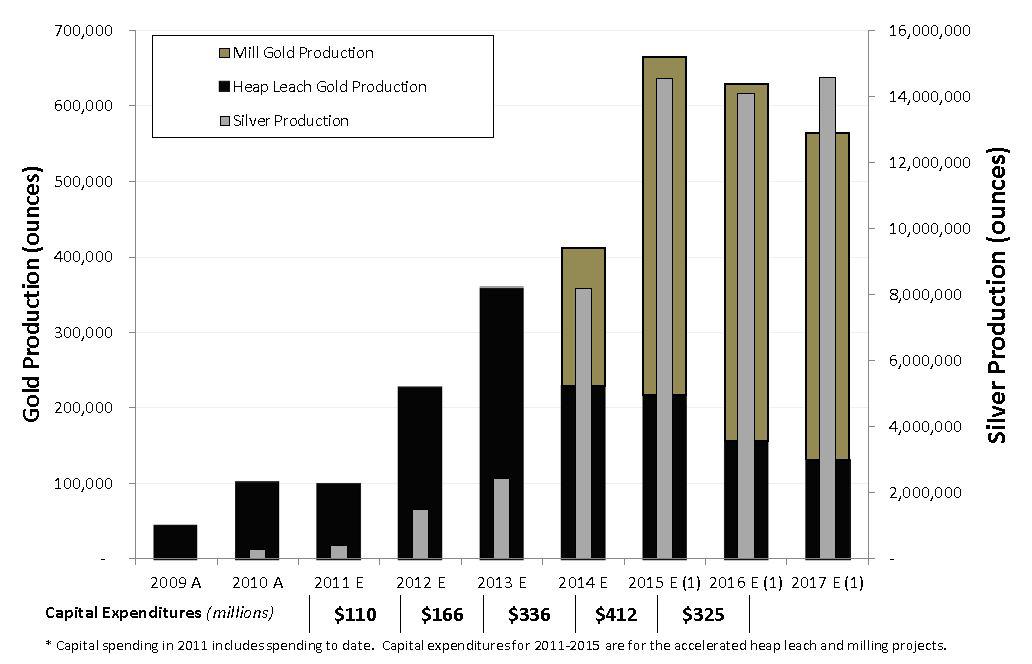 These estimates are mostly based on the Hycroft, but ANV is proceeding with various stages of development of many more mines. The advanced stage mines are Hasbrouck, Wildcat, Mountain View, Three Hills, and Maverick Springs -- a JV with Silver Standard (NASDAQ:SSRI). The late stage mines are Silver Cloud, Rock Creek, Pony Creek, Illipah, and Ocelot (49%). There are many more early stage and grass-roots stage exploration properties. It seems reasonable to expect that some of the advance stage mines will add to production before too long. This will mean further growth beyond just 2015. It will mean many new projects to replace the production of the Hycroft by the time it is depleted.
I cannot know all of the bills that ANV may have had to pay in Q4 2011. However, it seems very likely from the preliminary report that ANV will beat its estimates handily in Q4 2011 when it reports Feb. 27, 2012. This should give the stock a nice lift. The move of the FPE to 2013 as the forward year after the Q4 2011 report should move the FPE substantially lower, and it is already at reasonable value (21.24) for a high growth company.
With 300,000+ ounces of gold production forecast for 2013 (compared to FY2011's 104,000 ounces of gold) one might well expect a figure of 10 or less for the new FPE, while the growth level should remain high. This should make the average investor who sees this information on Yahoo Finance or elsewhere much more anxious to buy the stock. The lower PE should help too.
The two year chart of ANV gives some technical information for a trade.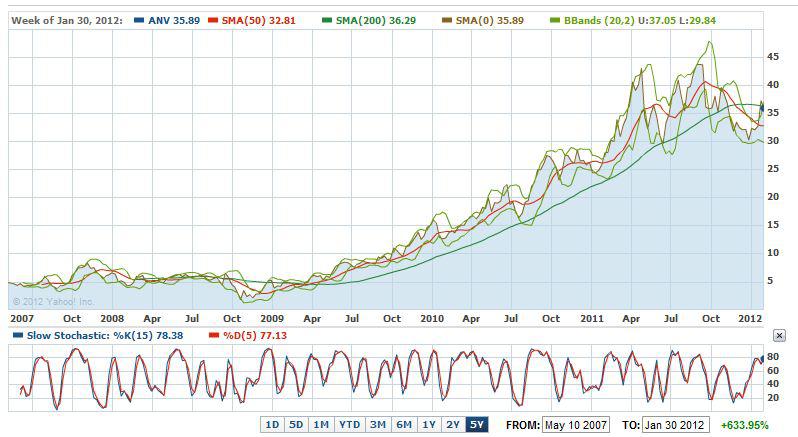 The slow stochastic sub chart shows that ANV is over bought in the near term. This may warn you not to buy it at this moment. However, on the main chart, ANV has just pushed upward through its 200-day SMA. Technically it should move higher from here if the overall market does not bring it down as it falls. A significant fall in the price of gold could also prevent such a move higher in the near term. However, the chart does indicate a still strong uptrend. This thought is backed up by the fundamentals. In sum averaging in is likely a good strategy.
Good Luck Trading.
Disclosure: I have no positions in any stocks mentioned, but may initiate a long position in ANV over the next 72 hours.