After reporting results for the second quarter of its 2015 fiscal year on July 23rd, shares of Under Armour (NYSE:UA) closed higher after touching a fresh 52-week high. Given the good news that investors were given, it makes sense why shares increased; but with the company's stock trading so high - especially in relation to Lululemon Athletica (NASDAQ:LULU), another high-flying athletic company - is it now really the time to get in on the picture or would investors be better off buying into its cheaper (but still pricey) peer?
Shares of Under Armour are priced to the moon
As you can see in the graph below, shares of Under Armour are going for a whopping 6.82 times last year's revenue. This is extraordinarily high no matter how you look at it and means that it would take nearly seven years of sales just before investors break even on the business (though revenue is likely to rise over time so this number should be expected to come down at some point). In addition to being high on an absolute basis, shares of the business are trading at a 37.1% premium compared to the hefty 4.98 times revenue that peer Lululemon is going for.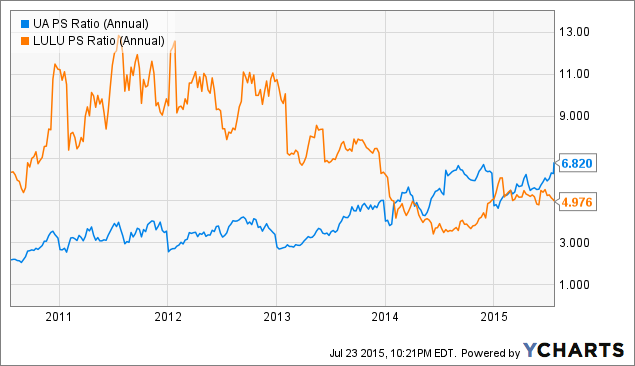 UA PS Ratio (Annual) data by YCharts
Another way to value the company is from a price/earnings standpoint. In the graph below, it's clear to see that shares of Under Armour are trading for 100.93 times last year's earnings. This is high even for a fast-growing tech stock (Facebook (NASDAQ:FB), in comparison, which is growing quickly and has margins that are much higher than Under Armour, is trading for 20.71 times earnings and has never gone for even 30 times since being public), let alone a sportswear company. Lululemon, meanwhile, is trading for a more modest (but still very pricey) 37.33 times profits.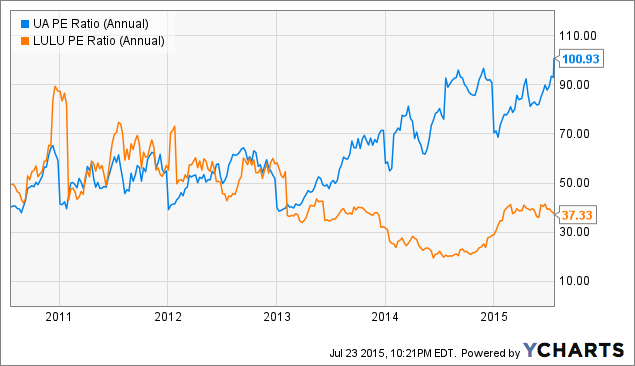 UA PE Ratio (Annual) data by YCharts
Looking at the picture from a price/free cash flow perspective, the situation is even more extreme. Currently, shares of Under Armour are trading for 267.93 times free cash flow, well above the 45.92 times for Lululemon. Seeing as how both businesses are investing heavily in growth, it may be more appropriate to back capital expenditures out of this and look solely at price in relation to cash flows from operating activities. Using this methodology, Under Armour is still incredibly pricey at 110.94 times cash flow compared to Lululemon's 33.61 multiple.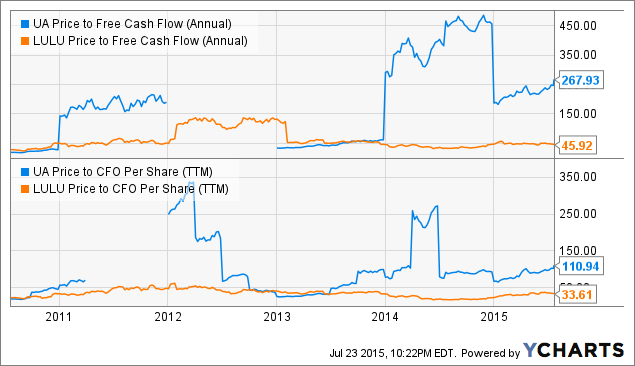 UA Price to Free Cash Flow (Annual) data by YCharts
The final way I looked at this was from a price/book value perspective. In the graph below, you can see that shares of Lululemon are trading for 7.12 times the value of its net assets (all assets less all liabilities). For a high-quality company with nice margins (like Lululemon's net profit margin of 13.3%), this is expensive but not necessarily outrageous, especially when you consider that the value of assets on the books of brand-oriented companies are likely understated due to the nature of intangible asset accounting. Under Armour, on the other hand, is trading for more than double that at 14.93 times book value, which may not be possible to justify.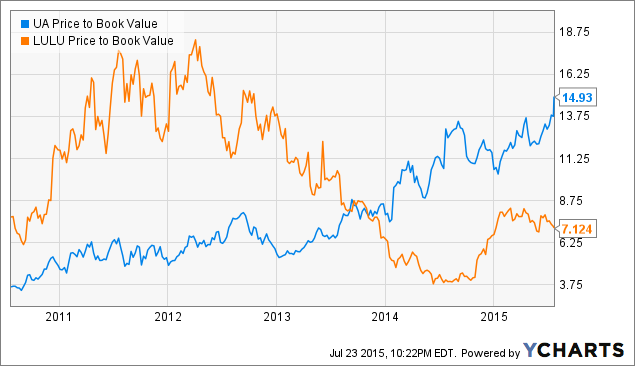 UA Price to Book Value data by YCharts
But what kind of growth do these businesses provide?
One argument from the shareholders of Under Armour in an effort to support their stance is that the company's strong growth has outpaced Lululemon's in recent years. There is no doubt that this is true but is the disparity in growth so severe that it warrants such extreme speculation on the future? In my opinion, the answer is probably not.
You see, in recent years, both companies have been growth machines but it has been Under Armour that has taken the cake. Between 2010 and 2014, the business's revenue soared by 189.9% from $1.06 billion to $3.08 billion but this hasn't been too much better than Lululemon, whose top line grew 152.5% from $711.70 million to $1.80 billion. Year-to-date (using Under Armour's first two quarters compared to Lululemon's one quarter since its second quarter isn't out yet), the picture has been a little more favorable for Under Armour, whose top line grew 27% compared to its peer's 10.1% increase.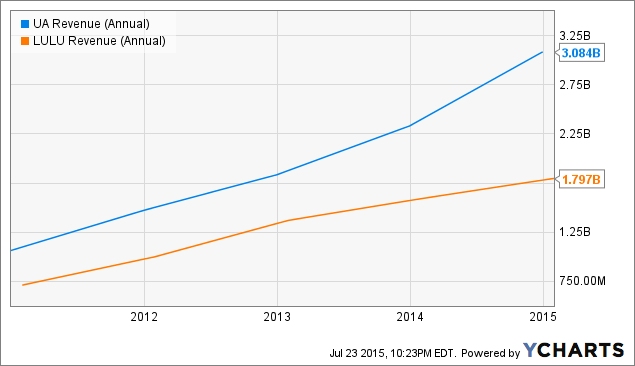 UA Revenue (Annual) data by YCharts
On the bottom line, the disparity has been greater. Over the same five-year period, Under Armour's net income shot up 203.8% from $68.48 million to $208.04 million. This significantly outpaced Lululemon, which saw its bottom line grow by 96.2% from $121.85 million to $239.03 million. So far this year, though, rising costs have pushed Under Armour's net income down by 15.2% while Lululemon's (after adjusting for a large tax expense last year) fell just 4%.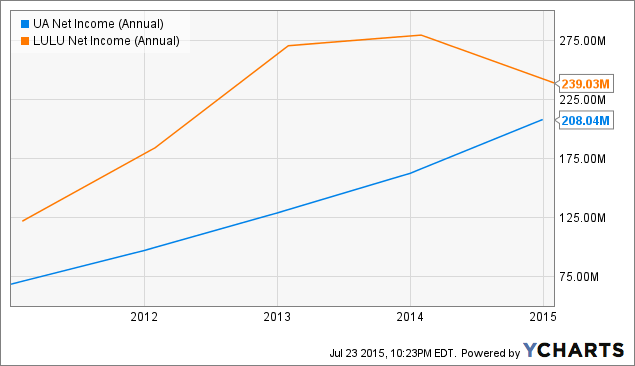 UA Net Income (Annual) data by YCharts
What's interesting to take note of here is that the bottom line tells a lot about each company's approach. With Lululemon generating a net profit margin of 13.3% last year compared to Under Armour's 6.8%, it becomes clear that one player has emphasized growth at all cost while the other has placed more value on bringing in nice profits. If, say, Under Armour were to increase its margins to match Lululemon's, its growth would certainly slow but its shares would still be priced at 50.51 times last year's profits, which is still far greater than its peer. This, to me, signifies that investors may be a little too excited about the company at this point in time compared to the potential it has to hand investors attractive returns.
Takeaway
At this moment, there's no hiding the fact that investors are excited about Under Armour and the opportunities it offers. I can understand this train of thought, but I can't quite fathom why shareholders would be willing to pay so much for something that is only generating strong sales growth by taking steep discounts. By this logic, the value of Lululemon should soar by at least 37.1% to 40.9% if the company cut its margins and focused solely on growth, which doesn't make any sense to me. For these reasons, I would personally never own Under Armour but I would consider it a short prospect for me to consider, potentially in connection with going long Lululemon so that I have a pair trade going on.
Disclosure: I/we have no positions in any stocks mentioned, and no plans to initiate any positions within the next 72 hours.
I wrote this article myself, and it expresses my own opinions. I am not receiving compensation for it (other than from Seeking Alpha). I have no business relationship with any company whose stock is mentioned in this article.