Shares of Newmont Mining (NYSE:NEM) are down another 24.25% since our most recent article was published on the company. We're throwing in the towel and switching sides, as this drop is overdone in our view. We want to use one of our favorite tools (behavioral finance) to examine our position and the position of our gold bug friends in order to gain some insight into this market. We will also go through our reasons for turning bullish on this name. Specifically, we are recommending that people start to build a position in Newmont over the next year. There's no rush, but we've turned from being bearish to bullish. We outline our reasoning below.
Newmont and Behavioral Finance
We believe the market is an emotional beast and therefore, the field of human psychology is very relevant to a growing understanding of its behavior. We want to examine both our views and the views of gold bugs we've encountered through the lens of behavioral finance. Specifically, we'll be talking about two very common, destructive biases: confirmation bias and the selective perception bias.
Selective perception is the tendency to ignore, discount or more quickly forget stimuli that contradicts prior beliefs. We believe that many of the gold bugs we've met suffer from a selective perception problem. They ignore the evidence that there seems to be a tenuous relationship between money printing and gold's price. They anchored on some ideas (that money printing is obviously good for gold, that Treasury bonds are more risky than gold, that we should participate in this market, even though it is manipulated) that has cost them money over the past few years. Our fear is that now that the shares of Newmont continue to drop, some of them might abandon those ideas and sell now, at the perfectly wrong time.
We, too, are obviously subject to selective perception. We have a view that gold represents a negative yield and offers little in the way of portfolio insurance. We likely need to adjust our thinking in light of the fact that it's growing less expensive (and therefore more attractive as an investment) by the day. In other words, we need to come to grips with the fact that at some price "cheap" trumps "low yield."
In addition to potential problems of selective perception, we run the risk of suffering from confirmation bias. Confirmation bias is the seeking out or interpreting of evidence in ways that are partial to existing beliefs, expectations, or a hypothesis in hand. Short term success is a source of confirmation bias. Shares did what we predicted they would. The fear is that we might consider recent price movements to be evidence that we're correct. We might grow to think that we're smarter than we actually are, simply because of a short term confirming price trend. This sort of overconfidence would eventually erode returns (and turn us into insufferable bores). We're specifically worried that we've underweight the possibility that the market (and we) are incorrect in pricing Newmont at these levels. There's a growing body of evidence that that is the case and that Newmont is being priced too pessimistically.
Pessimism Emerging
Whenever we consider an investment, we like to review the level of optimism or pessimism embedded in the share price. Specifically, if shares are too optimistically priced, they likely represent a bad investment, as good news has already been "priced in." This limits potential upside and keeps downside intact. If management achieved amazing results in the face of an optimistic forecast, the shares would likely not move. If, on the other hand, unforeseen problems emerged, shares would react badly. When expectations are low, companies can do little but surprise to the upside. We therefore prefer investing at times of extreme pessimism and have had most success during the most pessimistic times.
One of the ways that we use to gauge the optimism or pessimism is to compare the current PE multiple with the forward PE multiple. if the market forecasts a PE that is much lower than the current one, that's probably a sign of excessive optimism. In regard to Newmont, we see that the market is being somewhat pessimistic about the shares at the moment. The current PE multiple at the firm is 15.3 and the forward PE is a (still cheap) 15.1. Holding all else equal, this means that the market is forecasting an earnings CAGR of ~1.4%. That is a very pessimistic view indeed.
Putting the Current Price in Context
We also note that the PE multiple has collapsed relative to its past five year performance.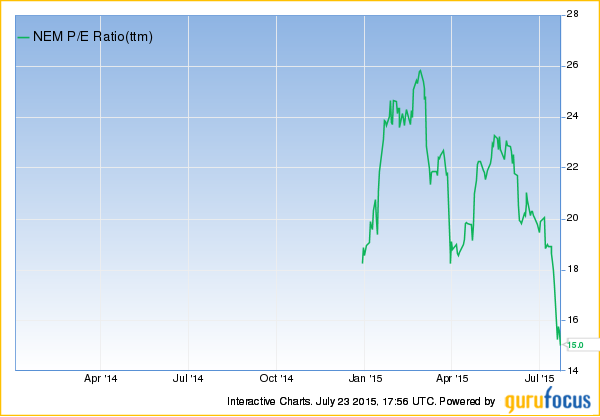 Source: Gurufocus
Even if the gold market remains stagnant from here, Newmont is trading at the same price it did in April of 2001, when gold traded at ~$263 an ounce. The company may not have been reasonably priced then, but we believe this recent drop is a bit overdone. The gold market and market for gold miners may tend to overshoot wildly, to both the upside and downside, and it's possible that this is an overreaction on the downside that we believe investors should start to take advantage of.
Conclusion
We believe that low prices are a necessary (but not sufficient) precondition to future outsized gains. High prices are almost a guarantee of poor subsequent returns. In order to get low prices, investors require that the market remain relatively pessimistic. We believe we're at a point where the market is moving from being too optimistic to too pessimistic and for that reason we must switch from our earlier bearish stance and recommend investors start to buy this name.
Disclosure: I/we have no positions in any stocks mentioned, and no plans to initiate any positions within the next 72 hours.
I wrote this article myself, and it expresses my own opinions. I am not receiving compensation for it (other than from Seeking Alpha). I have no business relationship with any company whose stock is mentioned in this article.