At a time when it appears there is nothing to stop the disintegration of the commodity bear market, my outlook for Turquoise Hill (NYSE:TRQ) remains strong.
My reasoning is I believe commodities are closing in on their lows in general, and are likely to begin a rebound in the not-too-distant future. But even if there is more downside to come for an extended period of time (meaning about a year or so), I don't see it having a negative impact on those holding a position in Turquoise Hill for the long term. That's because of the timing of the completion of the second phase construction at its flagship property Oyu Tolgoi.
Another reason is gold is going to get a hefty rebound once it bottoms out, and that is the second-most important metal at Oyu Tolgoi, behind Copper. Rounding out the top three is silver.
While silver occasionally doesn't move in unison with gold, the vast majority of times it has, and with it also taking a pummeling, it will without a doubt have a big upswing once gold once more takes off. And since it's more volatile than gold, it could move up even higher in the short term.
Turquoise Hill has had just about everything negative thrown at it in regard to Oyu Tolgoi, and I believe it's going to get a huge boost in the next commodity upswing because of its resiliency under difficult circumstances.
Even so, investors will have to be patient. I think even with a nice catalyst ahead, it is still a stock that has to be held for at least a period of five years to get the full benefit of it. For those getting in now or sometime soon, it will still be a winner for them at this entry point. It'll get a push from commodities, but the biggest push will come when it starts production in the second phase of the project. If commodity prices are at least stable or increasing at that time, it will give it a catalyst that could drive it close to $10 per share.
I'm thinking in terms of having two or three quarters of earnings reports in after production is launched there. That is probably going to take about three years or a little longer to materialize.
source: StockCharts.com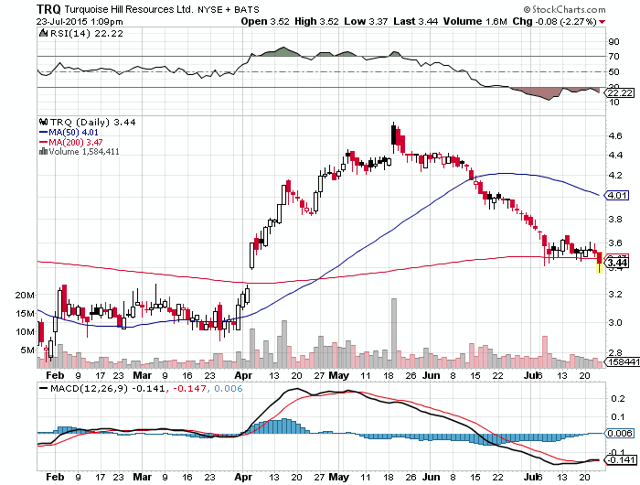 Commodities
As most investors know, commodities have been taking a beating over the last five years, with gold falling over 40 percent, silver plunging about 70 percent, and copper down approximately 45 percent. There are many other commodities down, but those are the major three that are relevant to Turquoise Hill.
The Bloomberg Commodity Index shows the overall decline of commodities over the last five years, having recently dropped to levels not seen since June 2002.
source: Bloomberg

Some of the recent decline is being attributed to the expectant boost in interest rates in the latter part of 2015 by the Federal Reserve, and there is some truth in that. But I believe it's more related to the commodity cycle, and primarily from lower demand.
My outlook is that this is going to change in the near future, and that will benefit copper, gold and silver.
Commodities and the business cycle
According to Vanguard, the time when commodities do especially well are when the business cycle enters its latter phase. Now that we're about 6 years into the recovery, I believe investors need to start looking at the strong probability we're entering into that part of the business cycle.
source: Vanguard

As you see above, in the latter part of the expansion phase, since 1956, commodities were up 22.67 percent against very negative stock returns and low-performing bonds. Combined with being beaten down so much, we're getting close to a major upswing in commodities.
In other words, commodities usually are a lagging indicator of the business cycle, while equities normally are the leading indicators.
Bear in mind we're talking about commodity futures here, and not to current spot commodity prices.
Concerning the U.S. business cycle, we see that obviously getting weaker. Taking into account about two-thirds the GDP in the U.S. is dependent on consumers, and the retail numbers coming out are, for the most part very weak, and it seems we are in fact entering into the latter phase of the cycle.
Commodities and currencies
To confirm the level of the bearishness concerning commodities, the countries with the strongest dependence on natural resources have had their currencies decline the most against the U.S. dollar.
For example, Canada has had its dollar drop to six-year lows against the U.S. dollar, as has the Australian dollar. Australia has significant metal and iron ore exposure, and Canada of course has major exposure to energy and agricultural exports, e.g., potash.
The Brazilian real has plunged to a ten-year low against the U.S. dollar. In the case of Brazil, its deeper low is partly because it doesn't have a strong domestic market to sell to.
My purpose in saying so much about this is to reinforce the fact commodities are about as bearish as they can get, and even if they fall further, which is a distinct possibility, we're almost certainly entering the latter phase of the business cycle, and along with eventual growing demand, should bring about a nice rebound in the not-too-distant future.
We'll see more outflows from commodity-based funds before this reverses, but there can be no doubt it will reverse.
Another catalyst that could surprise in the short term would be if Yellen decides not to increase interest rates in the next quarter. Most are expecting her to, and if she decides against it, which is a possibility in light of her recent comments on concerns about the sustainable economic strength of the U.S., that would bring an immediate reversal in the outlook of commodities.
I don't find a lot of value in that concerning Turquoise Hill, but it would give it a temporary boost. I'm looking for when the longer term cycle returns.
Conclusion
Turquoise Hill could be positioned perfectly to take advantage of the eventual upward move in commodity prices. There will have to be a little luck involved (if it is luck, and not planned) to have the next phase of its Oyu Tolgoi property in production at the time this moves into full swing.
Even if it does happen sooner, my thoughts are TRQ will get a nice upward move from that as well.
Gold is getting hammered, but once it does reverse course and comes back into favor, that will be another key catalyst, which will include silver in its resurgence.
These things, combined with a commodity bull cycle returning, would be an extraordinary group of events that could result in the share price of Turquoise Hill soaring. This is why I consider the entry point it's at now as a good one, even if continues to drop more toward the $3.00 per share mark. I'm not suggesting this is the time to pull the trigger. I'm saying if you do, over time it won't hurt at all. This stock will go up over time.
In fact, it could take another downward ride before these various events turn it around. Since I don't believe in attempting to time the market, I'm not concerned about that too much. If it goes lower, I'll just buy more of the stock.
Finally, it has to be understood that even though these events are going to happen, the length of time it takes to reach them means an investor has to be thinking in terms of holding TRQ for the long term. There is no doubt there will be some volatility in the stock, and that will continue on until there is more visibility concerning the business cycle and where commodities stand in relationship to it.
Disclosure: I am/we are long TRQ.
I wrote this article myself, and it expresses my own opinions. I am not receiving compensation for it (other than from Seeking Alpha). I have no business relationship with any company whose stock is mentioned in this article.