Pep Boys Manny Moe And Jack Maybe Good For Sellout Speculation
Summary
Pep Boys Manny Moe and Jack sells automotive parts and performance car services.
Pep Boys Manny Moe and Jack sports lousy fundamentals.
Pep Boys Manny Moe and Jack's shareholders have lost out over the long-term.
It's important for long-term investors to develop a guide for doing their investment research. Over the years I have developed questions to guide me in my thinking when researching the publicly traded universe. Today let's talk about Pep Boys Manny Moe and Jack (NYSE: NYSE:PBY-OLD).
1.) What does the company do?
When you buy shares in a company you effectively become part owner of that company. Therefore, it's important for an investor to understand what a company sells. Pep Boys Manny Moe and Jack sells auto parts, tires and services pertaining to automotive repairs. The company definitely fulfills a societal need. However, just because a company offers a good, practical product and/or service doesn't necessarily make it a good investment. Investors need to look under the hood at a company's fundamentals.
2.) What do the fundamentals look like?
Investors should look for companies that grow revenue and free cash flow over the long-term, retaining some of that cash for reinvestment back into the business and for economic hard times. Excellent revenue and free cash flow growth serve as catalysts for superior long-term gains. Over the past five years Pep Boys Manny Moe and Jack's revenue expanded a mere 8%. Its net income and free cash flow declined 163% and 245%, respectively, during that time, which is just plain horrible (see chart below).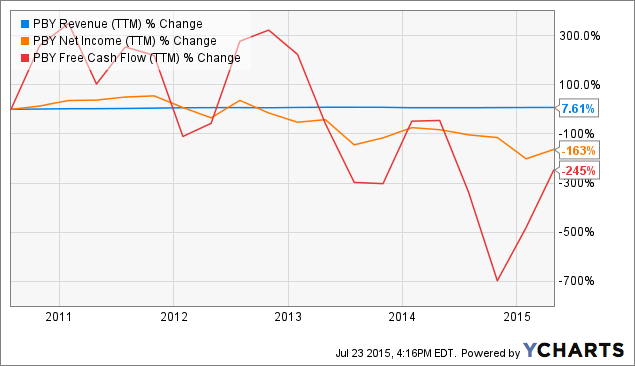 PBY Revenue (TTM) data by YCharts
Pep Boys Manny Moe and Jack attempted to grow its revenue by opening stores and acquiring others. While the company enjoys some success in the service part of its business, it struggles with bringing customers through the door to buy its merchandise due to competition.
In FY 2014, the company wrote down some of its goodwill due to the lousy prospects of some of its business, which hurt net income comparisons. The consistent loss on the disposition of assets didn't help matters any in the past five years. The only full year, during the past five years, that it had a gain on the disposition of assets was in FY 2013, according to its latest 10-K. Pep Boys Manny Moe and Jack suspended its dividend in FY 2011; the first year that it began its net income decline, which culminated into a net loss in FY 2014. This lousy net income history filtered down into the operating and free cash flow lines.
Pep Boys Manny Moe and Jack is doing a little better so far in FY 2015. Its revenue and net income increased 0.6% and 640%, respectively. Its free cash flow swung from a negative $3.1 million to a positive $22 million. Pep Boys Manny Moe and Jack actually expanded its comparable store sales on both the merchandise and service front. However, a one-time gain on the sale of a leasehold interest, as well as a gain in the disposition of assets, boosted its net income. Positive accruals in areas such as deferred income taxes and accounts receivable contributed to the gains in free cash flow.
Pep Boys Manny Moe and Jack sits on an ok balance sheet. In the most recent quarter, the company possessed $42 million in cash and equivalents, which equates to 8% of stockholder's equity. I like to see companies harbor cash equating to 20% or more of stockholder's equity to help them get through tough times.
However, to its credit, Pep Boys Manny Moe and Jack reduced its long-term debt year-over-year by 8%. Currently, the company's long-term debt equates to 36% of stockholder's equity. I like to see companies with long-term debt equating to 50% or less of stockholder's equity.
Pep Boys Manny Moe and Jack's sub-par fundamentals contributed to inferior returns for shareholders. Over the past five years, Pep Boys Manny Moe and Jack gave its shareholders a total return of 26% vs. 114% the S&P 500 as a whole (see chart below).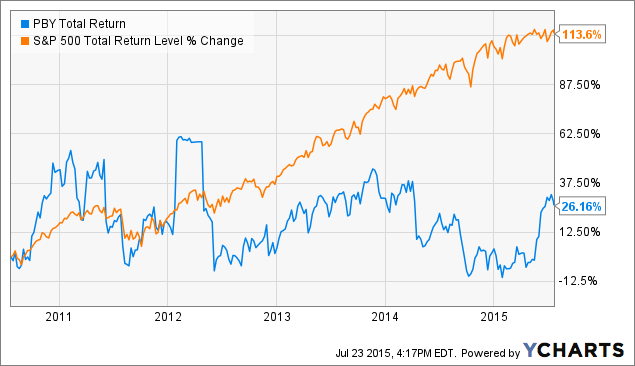 PBY Total Return Price data by YCharts
3.) How much management-employee ownership is there?
Investors should always look for businesses where the managers and/or employees own a lot of stock in the company. Managers with a great deal of stock in the company will take better care to maximize company profits, which will enhance share price and their personal wealth along with the wealth of shareholders. According to Pep Boys Manny Moe and Jack, none of the company's employees or managers own more than 1% of the company's stock. This isn't too significant it just means that this company's management lacks the extra incentive to move this company forward as evidenced by the desire of its management to pursue "strategic alternatives". More on that later.
4.) How does its "Report of Independent Registered Public Accounting Firm" stack up?
Every year a company employs external auditors to audit financial statements and evaluate whether it maintains adequate financial controls. At the conclusion of the audit, you want to see a letter from auditors with the language "unqualified" or "fairly presents", which generally means that the financial statements and internal systems in constructing them were clean or adequate. If you see "qualified" or "adverse" in the auditing letter's language then deeper issues in a company's financial statements may exist. Last year, Pep Boys Manny Moe and Jack's auditors gave its financial statements a "presents fairly" opinion. They also gave an unqualified opinion over its internal financial controls.
5.) What types of risk does it have?
It's always important for investors to weigh the various risks, such as exposure to political risk in parts of the world where war is the norm, competitive positioning, and market price risk. Pep Boys Manny Moe and Jack operates exclusively in the United States, which means political risk resides in the low range. The company operates in an immensely competitive environment in which it's losing ground. Its competitors, Advanced Auto Parts (NYSE: AAP), AutoZone (NYSE: AZO), O'Reilly Automotive (NASDAQ: ORLY), and Genuine Parts Company (NYSE: GPC), all do a better job of generating free cash flow (see chart below).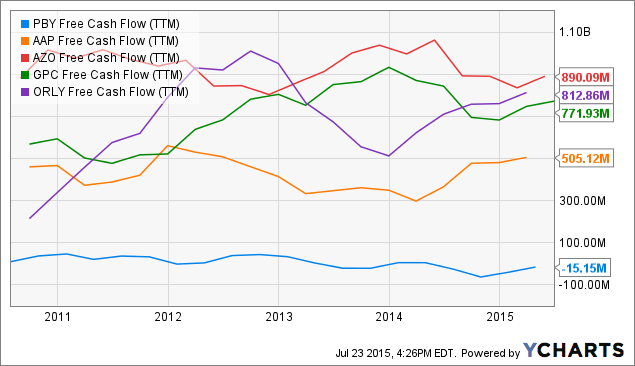 PBY Free Cash Flow (TTM) data by YCharts
Due to Pep Boys Manny Moe and Jack's lousy fundamentals, and the fact that it turned a net loss last year, the company's market price risk lies in the infinite range.
6.) What does its forward analysis look like?
Buyout speculators may be interested to know that Pep Boys Manny Moe and Jack's management is considering passing the buck to someone else. On June 30, the company announced that it is pursuing "strategic alternatives" that include the possibility of sale or merger with someone else. Someone may come in and pay a sum significantly higher than its current stock price of $12 per share. However, prudent and long-term business-oriented investors should stay away from this company due to its lousy fundamentals. I know I certainly will.
This article was written by
I have been analyzing stocks since 1992 and a freelance writer since 2012.
Analyst's Disclosure: I am/we are long GPC. I wrote this article myself, and it expresses my own opinions. I am not receiving compensation for it (other than from Seeking Alpha). I have no business relationship with any company whose stock is mentioned in this article.
Seeking Alpha's Disclosure: Past performance is no guarantee of future results. No recommendation or advice is being given as to whether any investment is suitable for a particular investor. Any views or opinions expressed above may not reflect those of Seeking Alpha as a whole. Seeking Alpha is not a licensed securities dealer, broker or US investment adviser or investment bank. Our analysts are third party authors that include both professional investors and individual investors who may not be licensed or certified by any institute or regulatory body.