The market has been on a tear and needs some consolidating. So do some stocks, as few things go up in a straight line. Here are some more trading opportunities;
US Home Systems (NASDAQ:USHS)
Here is what they do: the company is engaged in the specialty products home improvement business. The company's principal product lines include kitchen cabinet refacing products, bathroom remodeling products, storage organization systems for closets and garages and related accessories.
It is the type of company you'd expect to do well when housing starts to rebound. We just had Robert Shiller arguing that this is some time off, but the shares have nevertheless experienced a near 50% rise in January alone. We think some profit taking is near.
Some basic metrics (Yahoo):
Market cap $66M on 7.25M shares outstanding
Revenue $164.3M
Cash $12.7M, no debt
Cash flow is positive, but as you'd expect in this kind of industry, not large (see also the annual data)
Analyst expect 64 cents in eps over 2011 (rising from 27 cents in 2010), increasing to 71 cents this year, but you also see the company has a habit of exceeding analyst expectations with quite some margin, at least for the last four quarters. One would expect analysts to have learned at least a little from their conservative bias, even if much of it seems to be based on the conservative guidance from the company itself
There really isn't much we don't like about this company, if anything. Just that the share price has shot up nearly 50% in a month while the growth profile of the company is good, but steady. For this kind of a one-off ratcheting up in the share price, either the growth prospects must have increased significantly, and/or the company was undervalued.
If you read through the latest earnings PR, you come away with things developing smoothly. Revenue was up 10% (relative to Q3 2010), eps rose from 9 cents to 22 cents, that certainly is a notable acceleration but we don't see how it can keep accelerating like that. Either revenue must accelerate or margins, or a combination of both.
New orders were only up 3% so revenue isn't likely to accelerate (although this could very well be due to seasonality), and indeed guidance for Q4 is 13 cents per share in profits (the fourth quarter being seasonally weak). We prefer the alternative explanation in that the shares were too cheap for the type of performance the company delivered.
That undervaluation has now largely been taken care off with the rise, and the upshot is that while we don't see anything wrong with the company, we simply think the shares are due for some consolidation. A short trade offers good risk-reward.
(Click charts to expand)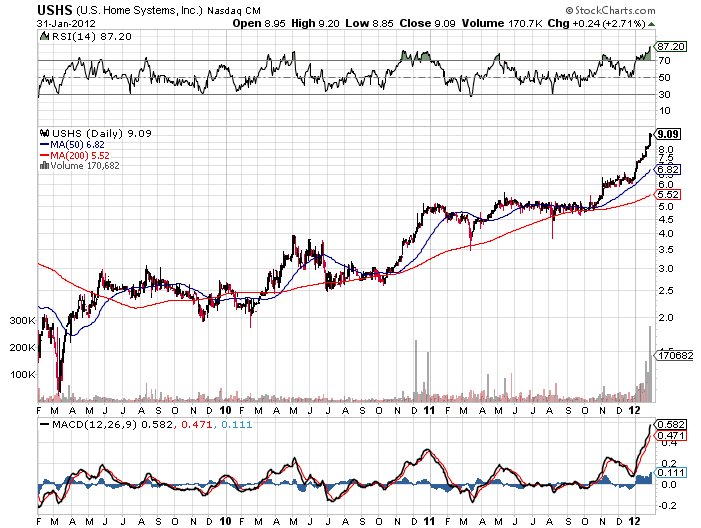 Key Tronic Corp. (NASDAQ:KTCC)
The company provides electronic manufacturing services (EMS) and solutions to original equipment manufacturers in the United States, Mexico, and China.
Some basic metrics (Yahoo):
Market cap $93.5M on 10.5M outstanding shares
Revenue $260.3M
Cash $347K with $11.3M in debt
Cash flow from operations varies quarter on quarter with some negative quarters and there has been a notable annual deterioration
Margins are low (as one would expect in this industry)
The single analyst expects eps to be 61 cents this year (up from 55 cents last year), rising to 67 cents next year, but as we will explain below, the real figures are going to be substantially higher, more like $1 for this year.
Well, it reported Q2 of fiscal 2012 on Jan 31, and this has fired up the shares, with a whopping 43% rise, so we look what's behind that. Well, eps was 30 cents, a rather impressive 83% rise compared with Q2 2011 but it includes 11 cents for research and development tax credits. It expects another 30 to 35 cents per share in earnings for Q3 so there is where the excitement is.
For Q1and 2 the company is already on 42 cents in earnings per share, add the 30-35 cents it is guiding for Q3 and it could do a dollar in eps this fiscal year, in which case it is doing 9x earnings. We can't say that's expensive, although it depends a little on what it'll do next year. It is saying that it is capturing market share from "many" of its competitors, so the new growth path could last. But this is rather a cutthroat industry with low margins, valuations don't tend to be stretched.
Notwithstanding the good performance, the shares have been on a tear, they almost tripled from October last year, so we think they're due for a breather.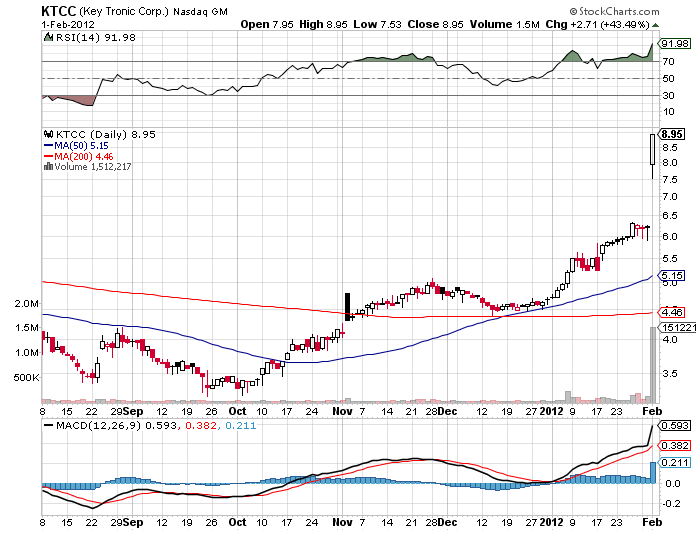 Disclosure: I have no positions in any stocks mentioned, but may initiate a short position in USHS, KTCC over the next 72 hours.