NVE Corporation (NASDAQ:NVEC) has always believed research and development (R&D) would pay off in the future. Whether the company's R&D efforts were customer-sponsored or internally-funded, profit followed. In fact, so much profit followed that the company is debt-free and its cash horde became somewhat a source of contention for some analysts. The company decided in late 2014 to "return tens of millions of dollars in total to shareholders" and began paying a $1.00 quarterly dividend in May 2015.
NVE manufactures spintronic products, which are favored in industrial, scientific, medical and military solutions. Its products take the form of sensors, couplers and MRAM (magnetoresistive random access memory). The company holds dozens of patents as a result of its R&D efforts over the past 25 years.
Product sales in fiscal 2015, which ended March 31st, were the highest in the company's history at $29.89 million. But when NVE Corporation reported fiscal 2016 first quarter results after market close on July 22nd, product sales were down. Further, product sales for the remainder of the year are expected to be down. The market reacted on July 23, taking the company's share price down over 24%.
Revenue in the quarter was actually down just 1.6% from $8.45 million in the fiscal 2015 first quarter to $8.32 million. However, product sales were down 7.9% from $8.35 million to $7.74 million. In the earnings call, NVE Corporation's CFO, Curt Reynders cautioned:
"....we currently expect product sales for future quarters including the remaining quarters in fiscal 2016 to be significantly less than product sales for the first quarter of fiscal 2016. We are currently forecasting an impact of $1 million to $2 million per quarter starting this quarter."
Therefore, product sales in 2016, at worst case, may tally only $24.96 million ($7.74 million plus $5.74 million for the next three quarters). The worst case scenario represents a 16.5% decrease from the fiscal 2015 total. On the other hand, if product sales decrease only $1 million in the next three quarters, the fiscal 2016 tally nears $27.96 million and, thus, equates to a 6.5% year-over-year decrease.
NVE also derives revenue from customer-sponsored R&D. In the fiscal 2016 first quarter, the R&D revenue was $585 thousand. For the whole of fiscal 2015, the company earned just $690 thousand in R&D revenue. This is not to imply NVE did not invest in R&D in fiscal 2015. The company actually expensed $3 million in internally-funded R&D. By comparison, the internally-funded R&D in the fiscal 2016 first quarter was $681,000. Totaling the two categories provides some clarity for the sake of comparison. For the whole of fiscal 2015, the total investment in R&D (whether it be customer or company) was $3.69 million. In the first quarter of fiscal 2016, the comparable investment in R&D already totals $1.27 million. Mr. Reynders stated during the earnings call:
"we expect our contract R&D revenue to be roughly in the same range as the first quarter".
With that information, customer-sponsored R&D should total approximately $2.3 million for the full year. Even if NVE does not internally fund further R&D in the remaining quarters of the fiscal year, the company's full-year investment should exceed $3 million.
Furthermore, the full-year revenue projection is much less concerning considering the significant increase in contract R&D revenue expected for fiscal 2016. The table below details the worst case, midpoint and better case scenarios:
| | | | |
| --- | --- | --- | --- |
| Amounts in millions | Product Sales | Contract R&D | Full-Year Projection |
| Worst Case | $24.96 | $2.34 | $27.30 |
| Midpoint | $26.46 | $2.34 | $28.80 |
| Better Case | $27.96 | $2.34 | $30.30 |
| | | Fiscal 2015 Annual Revenue | $30.58 |
A pertinent factor, again, is that R&D has, historically, paid off. Daniel Baker, NVE Corporation's CEO, outlined the company's intentions:
"Our long-term goal is to replace the revenue shortfall and then some with unique cutting-edge high value-added products. Our growth strategy is new products and lower pricing to increase market penetration in certain markets."
However, it should not be overlooked that research and development is not necessarily a speedy fix. During the R&D process, margins are impacted. First of all, contract R&D margins are significantly lower than product sales margins. In fiscal 2013, contract R&D profit margins peaked at 21.5%. For the five-year range of 2009 to 2013, the average margin was 15.6%. Comparatively, the gross profit margin for product sales in the fiscal 2015 fourth quarter exceeded 83% and net profit margin totaled 47%. In fiscal 2013, the company's total gross profit margin was the lowest in the past six years at 67.4%. As stated by Mr. Baker above, NVE intends to lower product pricing to increase market penetration. Lower sales prices will also lower gross profit margins. In short, margins will be hit twice in the near term. NVE states it is too soon in the fiscal year for speculation, but the table below offers possible scenarios for consideration. As a better case scenario, the average margin for the past six years is employed. For contract R&D, the 15.6% average margin is used.
Amounts in millions

Product Sales

Gross Profit

Contract R&D

Gross Profit

Full-Year Projection

Worst Case @ 75.9%

$18.94

$0.365

$19.31

Midpoint @ 78%

$20.65

$0.365

$21.02

Better Case @ 80.2%

$22.42

$0.365

$22.79

Fiscal 2015 Gross Profit

$24.56
During the earnings call, a typical R&D process was detailed:
conduct feasibility of a basic technology

meet specific industry goals with prototypes

introduce and demonstrate to customers and industry

get specific about commercialization plans.
There is a natural lag between R&D investment and product sales but the timeframe is not definitively standard. The chart below depicts possible lag times based on NVE totals in recent years: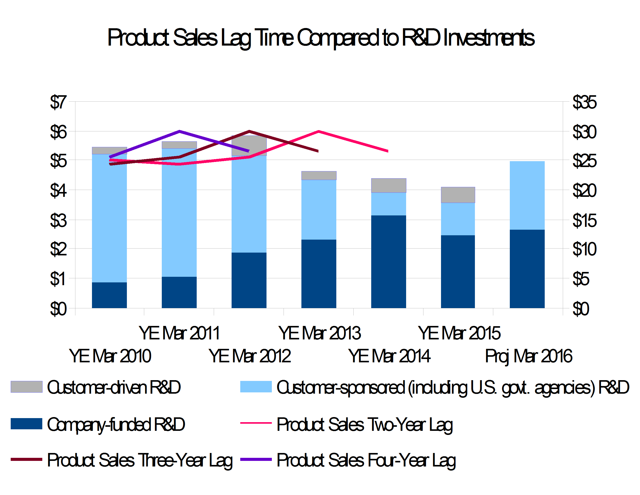 While not conclusive, the depiction suggests a three-year lag may exist when comparing sales to R&D investment regardless of the source of funding. However, when isolating on internally-funded R&D, the depiction below suggests a one-year lag time: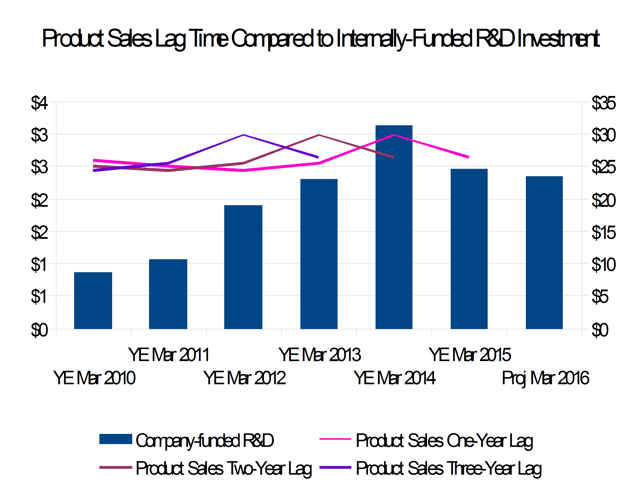 Fiscal 2016, simply, presents challenges for NVE: trim the lag time. The task is not unapproachable or infeasible. For example, when considering commercialization, NVE has already recognized the best option to reach broader markets may mean partnering.
Specifically, there are distinct opportunities capturing the focus of NVE Corporation. First, biosensors are being tested for industrial application to detect food pathogens. The goal is to provide comparable accuracy to the existing methods in large, commercial-type sample volumes at higher speeds. The company received a six-month $100 million grant from the U.S.D.A for high-throughput salmonella detection. NVE obtained two patents in the past quarter. Its Thin-Film Structure Magnetizable Bead Detector relates to biosensors that detect the presence of selected molecular species.
Second, NVE's controller area network transceivers are smaller, more precise, more rugged and require lower power than conventional product. The company is targeting the automotive and networking industries for this transceiver. In both industries, the number of units employed continues to expand rapidly.
Lastly, the second patent obtained in the past quarter was Spin-Dependent Tunneling. Spin-dependent tunneling devices can be used in anti-tamper and cyber-security applications. Besides commercial applications such as credit cards and consumer electronics, the U.S. Military also has needs for the prevention of hacking and reverse engineering. The company has existing R&D contracts with food industry leaders for anti-tamper applications.
It is true the fiscal 2016 first quarter results reported numbers that raised eyebrows about NVE Corporation in the near term. But the report also included eyebrow-raising implications about the opportunities on the horizon. The company mentioned how regulatory pressure helps speed the processes, thus trimming the lag time. Whether it be food pathogen detection, cyber-security, or anti-tamper, the company's R&D is aligned to help solve the challenges of regulatory goals and missions.
The company's position in cash, short-term and long-term marketable securities was relatively unchanged from the previous quarter despite paying its first quarterly dividend. The company ended fiscal 2015 with $100.5 million. The total was $100.3 million after the fiscal 2016 first quarter's $4.86 million dividend payment. Future dividend declarations are not likely at risk. Rather, the adjustment to the stock price simply means the dividend yield just jumped to nearly 7%.
Disclosure: I/we have no positions in any stocks mentioned, but may initiate a long position in NVEC over the next 72 hours.
I wrote this article myself, and it expresses my own opinions. I am not receiving compensation for it (other than from Seeking Alpha). I have no business relationship with any company whose stock is mentioned in this article.
Additional disclosure: I belong to an investment club that voted to purchase shares of NVEC at our July meeting. However, due to the timing of funds availability, the purchase has not yet been made. For my club, the adjustment to share price will allow us to purchase more shares (and collect more dividends) than originally planned.