The St. Joe Company (NYSE:JOE), a residential and commercial land developer in Florida, is a publicly traded company on the New York Stock Exchange. JOE gained attention on October 13, 2010, when David Einhorn of Greenlight Capital released a 139-page Powerpoint presentation titled "Field of Schemes" on why his hedge fund took a short position in JOE's common shares beginning in 2006. In 2006 shares of JOE traded as high as $68.41 and declined over 81% to reach $12.72 in November of 2011.
Current "short interest" or borrowed shares is 15.2 million or 16.9% of the 92,280,732 shares outstanding as of January 13, 2012.
As of September 31st, 2011; institutional ownership of JOE was 95,553,193 shares. The top 3 institutions were:
Fairholme Capital MGMT, LLC 26,471,591 28.6%
Fidelity Investments 12,889,816 13.9%
BlackRock Inc 10,437,054 11.3%
On January 10, 2012, BlackRock Inc. (NYSE:BLK) filed a 13G form with the Securities and Exchange Commision, which indicated an increase of ownership to 17,587,527 shares of JOE or 19% of total shares outstanding.
According to recent SEC filings there should be nearly zero shares of float that are NOT owned by institutions. Despite this, "shorts" or traders who borrowed shares to sell are piled into JOE's stock at an astonishing 16.9% of the total shares outstanding as of January 13, 2012.
The warning signs of a rapid short squeeze are evident. JOE shares have rallied from its 52-week low of $12.72 in November 2011 to $16.38 representing a 27% gain.
(Click chart to enlarge)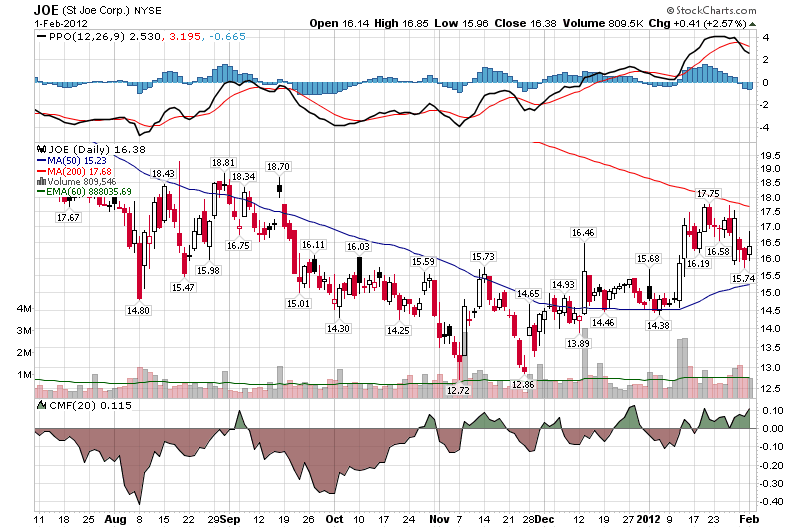 David Einhorn was correct in many ways, but if you focus on recent filings and positive changes in JOE's management, his short thesis no longer has enough warrant and there are apparently a very limited number of remaining shares (free float) to borrow against.
We've all heard the short case, now let's talk about some key positives going forward.
JOE is finally writing down assets by taking a 325-375 million dollar charge (Form 8K, 1/27/2012).
Pending litigation with Transocean (NYSE:RIG), Halliburton (NYSE:HAL), and M-I SWACO from the Deepwater Horizon Oil Spill.
Cash Position of $188,000,000 as of 9/30/2011.
New revenue streams from the latest 10Q:
Covered parking Northwest Florida Beaches International Airport.
Build to suit lease with CVS Caremark Corp. (NYSE:CVS).
Build to suit lease with ITT Corporation (NYSE:ITT) on 10.8 acres in Ventures Crossings.
Resort and Club Revenue in 2011 was $12,000,000 at a cost of $10,600,000, while in 2010 R & C revenue was $8,700,000 at a cost of $8,800,000.
According to JOE's most recent 8K, a new real-estate investment strategy will reduce future capital expenditures. I believe that JOE's management is taking the right steps to cut costs and develop new revenue streams and due to the tremendous amount of institutional ownership and short interest; JOE's shorts could be caught in a parobolic squeeze situation.
Disclosure: I am long JOE.
Disclaimer: The content of this article is provided as information only and should not be taken as investment advice