Chinese Internet search giant Baidu (NASDAQ:BIDU) continues to enthrall investors with its dominant position in the world's most populated country and the globe's number two economy by size. Visions of an Asian Google (NASDAQ:GOOG) dance in their heads and the thought of the onrushing growth of the Sino colossus. But with a recent share price near $130 placing it in the mid-point of its 52-week trading range of $100.95-$165.96, is Baidu a buy right now? I analyzed its fundamentals to see if it should be added to a portfolio.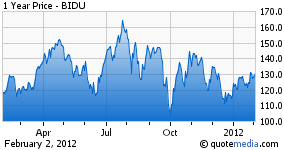 First, looking at its basic numbers, the company has a current market capitalization of $45.6 billion. Earnings per share for the trailing twelve months stands at $2.60, which calculates out to a heady price earnings ratio of 50.4. Other numbers are also extremely pricey, with price to sales at a blood-curdling 82.4, price to tangible book at 29.7, and price to cash flow at 46.4. Clearly, the market has priced in expectations that heady growth will continue. This is especially true considering how high share valuation is, considering the share price is merely mid range of its recent trading zone. Of course, growth companies by nature command high valuation ratios. The question being is there enough room for higher growth and higher share price to make the high price worthwhile?
One key indicator is earnings growth which stands at a satisfying 105.46%, higher than the price earnings ratio almost by a factor of two. Third quarter 2011 results came in at earnings of $0.84 per share. This result beat 2010 third quarter results by 86.67% and was in line with Street predictions. Growth for 2011 far outpaced the price earnings, so if Baidu can keep the same growth curve, the price would indeed be a bargain based on 2011 results. Forward looking though, there are concerns over the company's ability to continue the same growth rate.
Web-paying customers for Baidu stood at over 450,000 at the end of 2010 and could only have increased dramatically to allow for the revenue growth of 2011. While such staggering growth is possible in the early years of a new innovative technology, it eventually has to level off as Baidu's market share reaches the point of saturation. True, the Chinese economy should continue to grow at a healthy double-digit pace. Despite its already great size, China's economy is still at an early stage in its emerging growth cycle, and I expect the Chinese Internet presence to increase at a double-digit rate for at least the next seven years. However, I expect that growth to be more in the neighborhood of 25%-30%, instead of the 50% or more needed to justify the current stock valuation.
Baidu seems to recognize this and even with its massive growth in the domestic Chinese sector, Baidu is also casting its gaze internationally. The company is building a new office in Shenzhen, which will be the headquarters for growth initiatives into Asia, Japan and the USA. The big question is how well can Baidu translate its success in China, where it is the dominant player, to new markets and societies. Most countries already have established search engines, as well as international players such as Google and Yahoo (YHOO), so can Baidu compete effectively as a late comer? I expect that the results of those international initiatives will disappoint management.
I would expect that to make Baidu a good buy now, it needs to have great growth possibilities so it can maintain a 40%-45% earnings growth into the future, and that is where things get sticky. At the present price of around $130, the stock is selling at too high a premium to make it a good buy opportunity now.
Investors should note that Baidu, and most Chinese companies, carry additional risks with which most investors are not comfortable. The first note is that Baidu, as are most Chinese companies, is not as transparent as most western observers are used to in providing information to be analyzed. There is not the same reporting of independent auditing, as well as transparent requirements for timely announcement of any activity that could impact stakeholder value. There are some since the company is listed on the NASDAQ, but it provides a "fog of war" situation, which makes for a greater possibility of nasty surprises.
Similarly, Baidu also works within the Chinese system which is heavily censored by the Chinese government, and overall, control of companies by the government can be heavy handed at times. While there are no specific worries from Baidu's situation, the possibility of its actions being suborned to the advantage of the Chinese government, as opposed to shareholders' welfare, will always hover in the background.
In the final analysis, Baidu is still going to experience high growth, however it is unrealistic to expect it to continue the explosive growth of 2011 as the Chinese market slowly begins to mature. If the share price corrects back into the $100 range, then investors should consider hitching a ride on this shooting star.
Disclosure: I have no positions in any stocks mentioned, and no plans to initiate any positions within the next 72 hours.