Yesterday, in the midst of a market rally led by cyclical stocks, something strange happened. The Baltic Dry Index made a new historic low - 62, beating out the former low from December 12, 2008.
Click to enlarge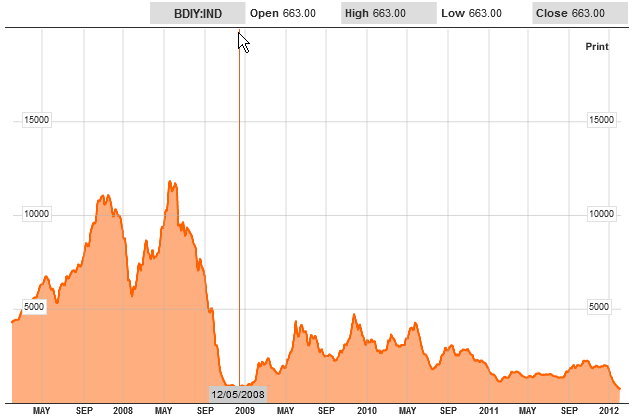 At these levels most, if not all, of the dry ship bulkers will be showing losses, except where they contracted rates through this period. The excess capacity is not likely to abate before 2013, and before then we should be seeing several bankruptcies in the sector.
Although the Chinese New Year was being partially blamed for the fall not long ago, January 23 has come and gone and the fall persisted. Other short term explanations like the force majeure declared by Vale (NYSE:VALE) or cyclone Heidi hitting Port Hedland are also being forward regarding the latest leg down, but the oversupply of ships together with signs of reduced steel demand in China, both for automobile production and residential construction, have to be playing a part - even in the face of still-record iron ore cargoes in December, which have kept iron ore prices from following the BDI much lower.
What to Expect
Given that two large steel consuming industries in China are undergoing a slowdown, we would expect a further slowdown in iron ore demand, with iron ore prices breaking down severely (with the same happening with copper). This prospective fall in demand will conspire to keep freight rates depressed, so the environment has the ingredients to keep the rates at unprofitable levels for dry bulkers for most of 2012.
As such, the already much punished stocks of DryShips (NASDAQ:DRYS), Diana Shipping (NYSE:DSX), Eagle Bulk Shipping (NASDAQ:EGLE), Excel Maritime Carriers (NYSE:EXM), Genco Shipping (NYSE:GNK), Navios Maritime Holdings (NYSE:NM) and Paragon Shipping (PRGN) will probably see further pressure as some of these companies file for bankruptcy.
Later in 2012, a cyclical chance to buy these stocks will probably emerge, as the building up of ships abates (another negative factor for steel, however). This can be a chance if significant bankruptcies and capacity mothballing are already occurring by then.
Disclosure: I have no positions in any stocks mentioned, and no plans to initiate any positions within the next 72 hours.