What happened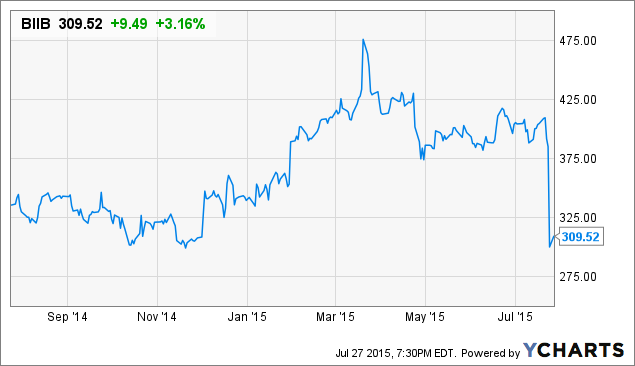 BIIB data by YCharts
Recently, Biogen's (NASDAQ:BIIB) stock has been hammered down to approximately $310 a share. The Aducanumab data was not as impressive for the 6mg/kg dose as investors or the medical community wanted. This data, unfortunately, was released right before a poor earnings announcement with cutting to Tecfidera's growth forecast in half. This also caused the company to decrease its 2015 revenue growth guidance from 14-16% to 6-8%.
Major Overreaction Causing Undervaluation
I had written previously about how investors should be skeptical of the upcoming data and the probability of success for Aducanumab in Phase III clinical trials. Also, in the article, I wrote about how the upcoming spending spree negatively affects shareholder value. This caused a decrease in the fair value estimate from $453 to $413.
Now, with the Tecfidera's growth forecast cut in half, investors appear to be running for the hills, when they should, in fact, be buying.
Previously, the 5-year growth estimate for Tecfidera was 18%, whereas it has now been halved to 9%, dropping the total 5-year growth rate to 9.44% from 12% previously.

The above table shows the new fair value estimate at $380 a share. With the stock price dropping within a 10% range of significant undervaluation at approximately $290, investors should be looking to accumulate shares instead of selling.
Disclosure: I/we have no positions in any stocks mentioned, but may initiate a long position in BIIB over the next 72 hours.
I wrote this article myself, and it expresses my own opinions. I am not receiving compensation for it (other than from Seeking Alpha). I have no business relationship with any company whose stock is mentioned in this article.