Two weeks ago China's stock market dropped 30% over a month's span and wiped out about $4 trillion in paper value. The panic-selling was only staunched after the government halted over 1,000 stocks from being traded and banned large investors from selling shares. There were reports that the government was even threatening to arrest short-sellers.
After the dust settled, Goldman Sachs (NYSE:GS) stepped in and urged investors to buy China:
But Wall Street's counterintuitive and ironic bullishness on China is most evident in the powerhouse investment firm Goldman Sachs. Goldman is urging investors to buy stock in China right now!

In Observing 40 years of statistical history the Goldman team in China believes "…the market is currently experiencing a standard bull market correction, not a transition into a bear market."
On the surface Goldman's "Buy on the dip" advice made sense. Despite the sudden sell-off in the Shanghai Index, it had still nearly doubled since 2012.

Source: Financial Times
Long-Term Capital Management Case Study
Goldman's advice was counter to my own. I predicted that once the government bans were removed, China's stock market would unwind just like Long-Term Capital Management ("LTCM") in 1998. Chinese stock investors are highly-leveraged - margin debt peaked at $355 billion this summer. Secondly, investors could not exit the market due to illiquidity or government sanctions. This was the predicament LTCM found itself in 1998. The hedge fund had invested its $5 billion fund in esoteric securities like the Russia ruble. It was also levered at 28x its equity. When Russia devalued its currency, LTCM attempted to sell securities into an illiquid market.
Goldman - "Do As I Say, Not As I Do"
Goldman's current advice to "Buy on the dips" is counter to its treatment of LTCM. Fearing LTCM would liquidate its positions, Wall Street sold securities held by the fund in advance of such liquidation. Intense selling by rivals depressed LTCM's asset values further. According to the book, Shock Exchange: How Inner-City Kids From Brooklyn Predicted The Great Recession And The Pain Ahead, Goldman participated in the feeding frenzy:
Long-Term reached out to Goldman Sachs for a capital infusion and divulged its trading positions during Goldman's due diligence ... 'According to witnesses, the headstrong Goldfield appeared to be downloading Long-Term's positions ... from Long-Term's own computers ... Meanwhile Goldman's traders in New York sold some of the very same positions. At the end of the day, when the fund's positions were worth a good deal less, some of Goldman's traders in Long-Term's offices sauntered up to the trading desk and offered to buy them back.'
If history is repetitive, enterprising capitalists would also turn predatory pursuant to the Chinese market. Some of China's $355 billion margin loans have commodities as collateral. If investors cannot sell stocks to cover margin loans, the next avenue would be to liquidate commodities. That appears to be the case as investors' rush to raise cash to cover margin loans has led to a rout in the commodities markets.
Other Reasons To Avoid China
Other reasons to avoid China include the following:
China's Stabilization Plan May Not Be Working
In addition to halting thousands of securities from being traded and banning short sellers, China has also purchased shares and provided liquidity to the market. Through state-owned banks, the government provided Rmb1.3 trillion ($209 billion) to China Securities Finance Corporation ("CSF") - China's margin finance agency. CSF then loaned the money to brokerages to support stock purchases, and invested some directly into mutual funds. The following chart details China's stabilization efforts: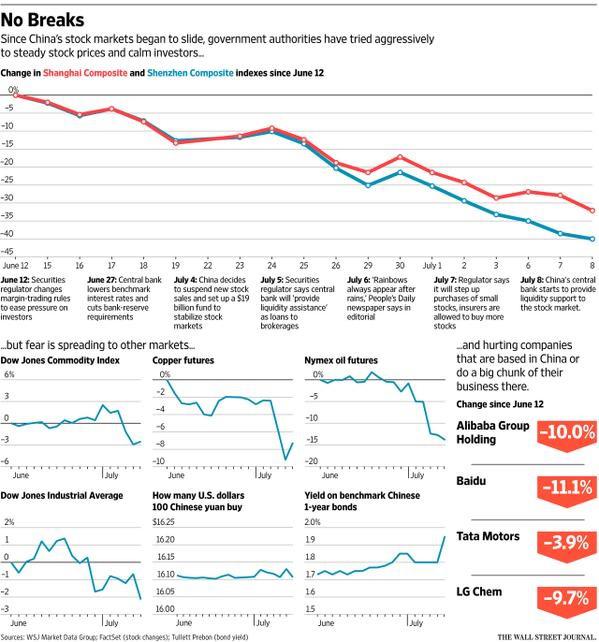 Source: Wall Street Journal
The massive stabilization gives the impression that the end to the stock market decline was the handiwork of the government, and not due to investor confidence. The problem is twofold. First, the government has marketed the benefits of stock market investing to the populace as part of its conversion to a fee market society. Reaction to the market's mini-correction could portend that the populace may not be able to stomach the downside of free markets.
Secondly, the government's stabilization efforts may not be working. If they were then why would the market decline another 8.5% in one day? A $209 billion capital injection and a ban on short sellers make the Chinese government appear frightened. Instead of assuaging investors, such actions could unnerve them. Without more guarantees of government support, investors may decide to get out of the market while the getting's good.
China's Economic Growth Is Slowing
It is difficult to divorce the stock market performance with the perceived health of the underlying economy. It seems to be more than a coincidence that the market is selling off as China's economic growth is slowing. According to the Economist, the global economy grew 2.7% in Q1 2015, with the U.S., India and China contributing about 80% of that growth.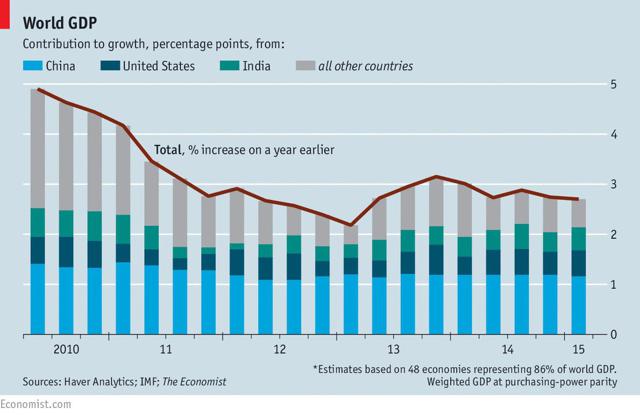 Source: The Economist
While China's economy grew 7.4% in 2014, the IMF projects growth to slow to 6.8% and 6.3% in 2015 and 2016, respectively. Even more damning is that China's finance industry is becoming a larger contributor to its GDP growth. As my previous article explains, a declining stock market may pose a threat to that growth:
On the strength of the bull market for stocks, China's finance industry accounted for 1.3 percentage points of China's 7% GDP growth; it was only 0.7 percentage points of its 2014 GDP growth of 7.4%. The stock market sell-off is already impacting some sectors of the economy. Prices for luxury German automobiles are plummeting due to declining demand from affluent buyers. Two weeks ago China's automobile association slashed its 2015 vehicle sales growth expectations from 7% to 3%.
The Play
There are two plays here, [i] Sell commodities with the potential to repurchase them cheaper at a later date, and [ii] short commodities, that's assuming China's enterprising capitalists haven't beaten you to it:
Chinese investors banned from shorting equities may be selling copper instead, exacerbating the metal's collapse to the lowest in six years.
Conclusion
Ignore Goldman Sachs. Do not buy China.
In addition, the article may also impact the following securities:
WisdomTree Chinese Yuan ETF

(NYSEARCA:CYB)

First Trust China AlphaDEX ETF

(NASDAQ:FCA)

iShares China Large-Cap ETF

(NYSEARCA:FXI)
Disclosure: I/we have no positions in any stocks mentioned, and no plans to initiate any positions within the next 72 hours.
I wrote this article myself, and it expresses my own opinions. I am not receiving compensation for it (other than from Seeking Alpha). I have no business relationship with any company whose stock is mentioned in this article.