Although there may never be another housing bubble like the one that peaked in 2006, there is one certainty: U.S. citizens will continue to need a roof over their heads, business premises to work in and highways to drive on for the foreseeable future, and Martin Marietta Materials (NYSE:MLM) will play a part in providing them. Its aggregates division, providing almost 90% of net sales, quarries and distributes crushed stone, sand and gravel, mixing and testing it to meet customers' specific needs and federal and state construction standards. The magnesia, chemicals and lime subsidiary produces additives for a variety of industrial, chemical, agricultural and environmental applications. A composites business sector manufactures products used in transportation (truck bodies and rail cars), bridge decks, and temporary roadways and site work pads for utility and energy companies and military aircraft. Asphalt and ready mixed concrete are also produced, in Texas and Arkansas. Martin Marietta Materials' business is not glamorous. It's fundamental.
During the third-quarter earnings conference call, President and CEO Howard Nye understandably concentrated on the positives: EPS above market expectations, pricing growth, sales growth in the minor non-aggregates business segments, continuing efforts at cost control, maintenance of dividend payouts. Responding to a participant's question, he agreed that 'the world isn't falling apart like the headlines might lead us to believe' and confirmed that the company was expecting a year-on-year volume increase in the fourth quarter, despite the fact that Q4 2010 had itself posted a significant increase on 2009.
The aggregates division has more than 285 quarries and distribution facilities in 27 U.S. states, Nova Scotia and the Bahamas. It shipped more than 130 million tons of aggregate in 2010, making it the nation's second-largest producer. The group has approximately 4,500 employees.
The biggest news about Martin Marietta occupying current headlines is its proposed merger with Vulcan Materials (NYSE:VMC), its major competitor and the largest U.S. aggregate producer. According to Bloomberg, Vulcan has reported net losses in three of the last four quarters and reduced its quarterly dividend to one cent per share. Vulcan has rejected Martin Marietta's bid of 0.5 Martin Marietta shares for each Vulcan share, saying that it takes advantage of the construction downturn to undervalue Vulcan. For its part, Martin Marietta asserts that the deal would result in $250 million of cost savings, and on January 12, 2012, it issued a presentation to shareholders (pdf) detailing its own side of the argument. A major shareholder of both companies has made a statement favoring the merger. If the merger does go ahead, Vulcan shareholders will gain ownership of about 58% of the combined company.
The construction recession also persists. Martin Marietta's net sales of $1.55 billion in 2010, yielded $196 million in operating income and net earnings of $97 million, $2.10 per diluted share. Sales had peaked in 2007, at $1.95 billion (operating income $430 million), and the 2010, sales figures show only a modest recovery from their 2009 low point, despite the assistance derived from government stimulus programs for infrastructure. The aggregates business was operating at approximately half of its capacity during the year. Four of the company's top sales states have deployed stimulus funds at a rate slower than the national average. Operating income tells a better story, with operating margins benefiting from an improved, leaner cost structure.
As well as managing its own operations during the downturn, the company must also face the risk of bad debt write-off as its construction industry customers struggle with their own problems. But recession is not the only challenge. Production and transport of aggregates are regularly affected by severe weather conditions. The company's operations also involve the handling of sometimes hazardous and toxic materials and perceived damage to the environment from quarrying operations, so it is exposed to the risk of environmental remediation costs. Volatile and recently higher diesel fuel costs are not mitigated by any hedging activity, since Martin Marietta chooses to concentrate instead on creating fuel efficiencies and leveraging its buying power. The continued uncertainty regarding the timing and amount of the federal highway bill means that capacity is kept idling. Martin Marietta competes with its merger target, Vulcan, and with Swiss-owned Aggregate Industries U.S. In the chemicals arena it competes with Ashland Inc (ASH).
As a result of these risks and challenges, sales have grown only slightly in 2011, as revealed in the third-quarter earnings news release (pdf). Sales increased 1.25% over comparable 2010, to $1.2 billion for the nine months ended September 30. Operating income of $136 million was down by 16%. Selling prices rose during the period, but volume fell, and the company expects full-year volumes to be less than those recorded in 2010.
Martin Marietta Materials has a very expensive stock price with trailing and forward Price-to-Earnings (P/E) ratios of 46 and 34, respectively. The company's stock price has ranged from $60 to $92 over the previous year as shown below: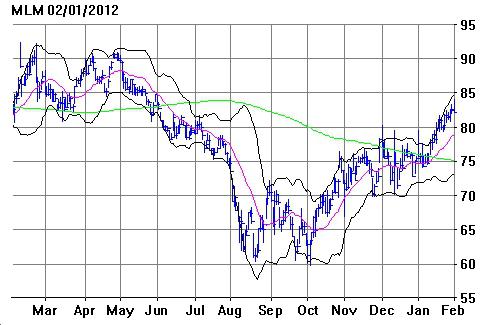 The company pays a modest dividend with an annual yield of 1.9% and the next dividend of $0.40 is payable on March 30, 2012, to shareholders of record at the close of business on March 1, 2012, resulting in a ex-dividend date of February 28, 2012.
The story for Martin Marietta Materials in the last two years has been one of grim determination to weather the storm, and it certainly appears to be faring better than its major competitor, Vulcan, now the target of its smaller rival. The future for Martin Marietta Materials is somewhat foggy with the potential merger. Sometimes the results of antagonistic mergers of this size don't fare so well.
Martin Marietta Materials' next earnings release is on Tuesday, February 7, 2012. With the upcoming earnings release and the company's premium stock price, any hint of bad news, and the price of the stock could drop to its previous support level around $60. An investor might consider entering a collar position for Martin Marietta Materials. A collar position may be entered by selling a call option against the stock and using some of the proceeds to purchase a put option for protection.
Using PowerOptions tools, a collar position was found for Martin Marietta Materials with a potential return of 1.3% (annualized return of 10.5%), a maximum potential loss of 8.3% (even if the price of the stock goes to zero). The specific call option to sell is the 2012 Mar 85 at $1.90 and the put option to purchase is the 2012 Mar 75 at $1.25. The potential return and maximum loss include the upcoming $0.40 dividend payment, since the investor is long the stock and may participate in receiving the dividend. A profit/loss graph for one contract of the position is shown below: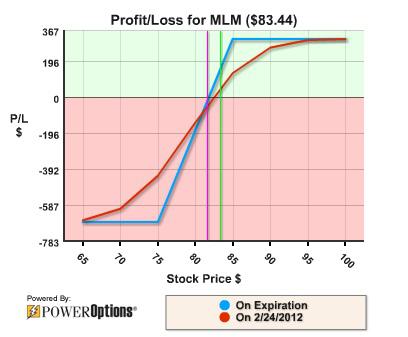 As a bonus, if the price of the stock is greater than or equal to the $85 call option strike price, the position will return 3.9% at options expiration in March of 2012. If the price of the stock drops below the $75 strike price of the put option, the value of the collar remains unchanged. If the price of the stock increases to the $90-$95 price range, the position can potentially be rolled in order to realize additional potential return.
Disclosure: I have no positions in any stocks mentioned, and no plans to initiate any positions within the next 72 hours.