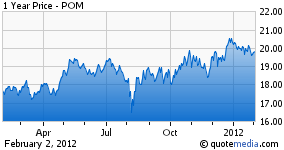 The market has had quite a run in the last few months. Unfortunately, it is feeling more and more toppy to me. I am trimming my long positions, selling my position in Warren Resources (NASDAQ:WRES) yesterday after a 37% return in three weeks. Given the problems in Europe and the increasing challenge in finding undervalued equities in our market, I am getting in a more defensive stance. Utilities have underperformed this year so far, but should hold up well when we hit market turbulence. One utility I like here that provides a 5.5% yield is Pepco Holdings (NYSE:POM).
7 reasons POM is a solid dividend play at just over $19 a share:
The company has a solid balance sheet, low beta (.54) and yields 5.5%.
Insiders are staying put. There even has been small net insider buying over the prior six months.
For investors seeking stability and a good yield, POM is worth looking at as it is doesn't move much. It basically has been in a 20% trading range over the past two years and is trading over its 200 day moving average. (See Chart).
Although not particularly cheap on a PE basis, POM sells at 6 times operating cash flow and just 3% over book value.
Credit Suisse has an "Outperform" rating on POM and just raised its price target to $23.
As long as 10 year treasury yield is this low, the dividends utilities provide will remain attractive to income orientated investors and should put a floor under this stock.
It was a busy year for M&A in the utility sector in 2011 and this should continue into 2012. A proposed $8 billion tie-up between Mid-Atlantic players Exelon (EXC) and Constellation Energy (CEG) occurred last April in Pepco's backyard. Fitch also highlights POM as its largest potential utilities target.
Disclosure: I have no positions in any stocks mentioned, and no plans to initiate any positions within the next 72 hours.