Income oriented investors are increasingly starved for yield.
In an environment where the Federal Reserve has committed to keep interest rates locked at 0% for roughly the next three years, high quality yield is becoming increasingly difficult to find. This has induced risk averse investors to migrate out into areas of the markets that they may be unfamiliar and would otherwise forgo under normal conditions. Unfortunately, such moves can also lead to unpleasant surprises along the way.
A particular market segment that has attracted income-oriented investors is the preferred stock market. In short, these are securities that essentially behave like bonds but trade like stocks. In other words, preferred stocks offer the high income and relative price stability of bonds along with the liquidity and price transparency of stocks. This preferred stock asset class heading includes a variety of security subsets including preferred stocks, trust preferreds, third party trust preferreds, exchange traded debt and convertibles. Each category has its own unique characteristics, and for those who are interested in exploring the preferred stock market in greater detail, I highly recommend reading articles on Seeking Alpha by Doug Le Du and Five Plus Investor, as both do an absolutely outstanding job of covering this area of the market with extensive detail and tremendous clarity.
Preferred stocks, just like nearly all investments, come with risks that must be carefully considered and closely monitored along the way. In the past, I have published a set of articles detailing trading strategies focused specifically on Exchange Traded Debt securities issued by utilities. Representative names include Xcel Energy 7.60 (XCJ), Dominion Resources 8.375 (NYSE:DRU), Entergy Louisiana 5.875 (NYSE:ELA) and Gulf Power 5.75 (NYSE:GUA), among others. This is strategy that comes with specific risks and must be monitored closely along the way.
The utilities "preferreds" mentioned above are attractive to investors for a variety of reasons. Leading among these are two in today's market. First, while roughly 85% of the entire preferred stock market is concentrated in financials, which has endured extreme volatility in recent years, the Utilities Exchange Traded Debt securities list above are among the few offerings that reside in the more stable area of the preferred stock market. Also, these securities also rank among the highest quality issuance in the preferred stock space all with investment grade ratings.
Utilities preferred stocks typically trade at a premium to par as a result. Preferred securities in general are often issued at a price of $25 per share, which represents the price per share that investors will receive when these securities are redeemed in the future, as they do not trade in perpetuity like common stocks. And when these preferred shares are issued, they are often callable in roughly five years. In other words, the company that issued the preferred stock into the market and is paying the interest payments on these securities has the option to buy them all back at $25 per share once the call date is reached. So if a preferred stock is trading at a premium to par, this can become a significant downside risk to investors if it turns out that the holding is called by the company.
Call risk is critically important to consider when evaluating preferred stocks (a good resource for such information and much more on Preferred Stocks is Quantum Online). Events surrounding an exchange traded debt security issued by AT&T highlights the risk associated with owning preferred stocks trading at a premium after the call date or anywhere near it for that matter.
AT&T issued 46 million shares of exchange traded debt securities at $25.00 per share on February 7, 2007, under the name AT&T 6.375 (ATT). The securities were callable on February 15, 2012. And over the next five years, this security mostly traded at a premium to par, particularly once the financial crisis struck in late 2008.
But once ATT's call date approached, it was time to step aside and stand clear. I frequently owned shares of ATT over the last several years as part of the preferred stock trading strategy mentioned above that I continue to implement today. But by early summer 2011, I removed ATT from my list of candidate holdings to buy under this strategy. And by August 2011, I had sold all positions in ATT. My primary reason for eliminating ATT from my strategy was almost exclusively driven by call risk. Not only did the potential exist that the price of security would increasingly descend toward par as it approached the call date, but the potential for an unexpected jolt resulting from the sudden call of the security by AT&T increasingly loomed as a measurable downside risk.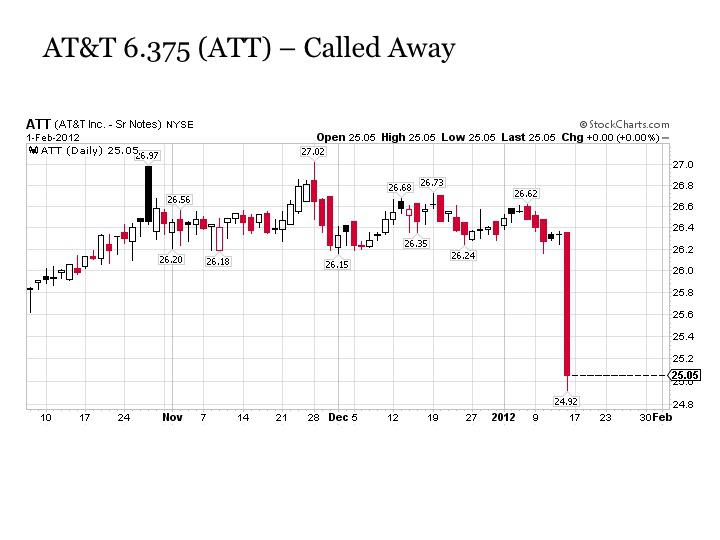 This call risk played itself out just the other day. ATT opened the year trading above $26.40 per share. And by January 6, 2012, it reached as high as $26.62, which represented a healthy 6.5% premium to par. But only one week later, AT&T issued notice that it would be calling all shares of this exchange traded debt security on February 15, 2012. This occurred even though it was still over a month BEFORE the call date. So after closing at $26.33 the previous day, the value of ATT shares immediately plunged toward its par price of $25.00, and that is where it will remain until the securities are redeemed and the cash value is paid out to investors the day after Valentine's Day. This represented a sudden -5% loss in value that would have effectively wiped out much of the dividend payment an investor would have received if they owned the security over the past year. And for those investors who bought it more recently, it represented a swift and unpleasant loss on a security that otherwise moved with little price movement on any other given day.
Thus, when investing in preferred stocks for income including all of its various subset asset classes, it is critically important to understand the call risk associated with the investment. For when selecting preferred stocks that are trading at a premium anywhere close to the call date, it can lead to a most unpleasant downside surprise on any given day.
This post is for information purposes only. There are risks involved with investing including loss of principal. Gerring Wealth Management (GWM) makes no explicit or implicit guarantee with respect to performance or the outcome of any investment or projections made by GWM. There is no guarantee that the goals of the strategies discussed by GWM will be met.