Back in January 5 I wrote that the DRAM market was witnessing a rally with possible positive implications for semiconductors in general. Since then, the semiconductor sector has been one of the hottest with the SOX (Philadelphia Stock Exchange) going from 368.6 to 421.27 today, for a 14.3% gain.
However, since then the price rally on DRAMs has slowed, and now shows signs of inverting, as we can observe in DRAMexchange's DXI Index: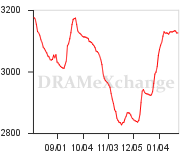 Since DRAMs, and semiconductors in general, are so economically sensitive, and we expect a further slowdown in China and also see the recent economic releases in the U.S. as losing strength, this might be a decent time to move away from semiconductors again.
As an added indicator, also from DRAMexchange, flash memory hasn't really rallied at all. Not surprisingly, SanDisk (SNDK) was one of the few semiconductor stocks not participating in the recent rally: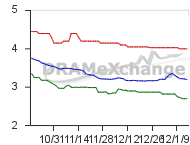 Conclusion
As the DRAM price rally falters and economic doubts surface, it might be a good timing to leave memory stocks in particular, such as Micron (NASDAQ:MU), and semiconductors in general, namely Intel (NASDAQ:INTC) and the Market Vectors Semiconductor ETF (NYSEARCA:SMH). Regarding Intel it would be mostly a tactical withdrawal, while one waits for this short term cycle to play out.
Disclosure: I have no positions in any stocks mentioned, and no plans to initiate any positions within the next 72 hours.